Starting with Windows 10 Fall Creators Update, Microsoft is ditching the good old Paint app and replacing it with a new Modern app called "Paint 3D". Classic Paint's new home will be the Windows Store, but I am afraid it won't stay there forever. Many people are not happy with this change because the old mspaint.exe loaded faster, was more usable for mouse and keyboard users and allowed quickly pasting images from the clipboard, cropping them and saving them. If you would like to get the classic Paint app back in Windows 10, it is possible. In this article, we will see how to restore Classic Paint back in Windows 10.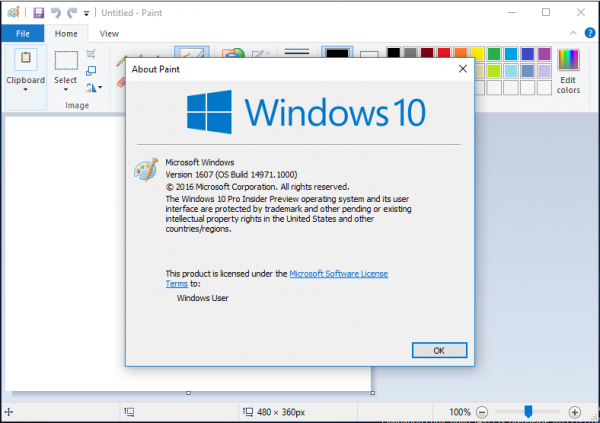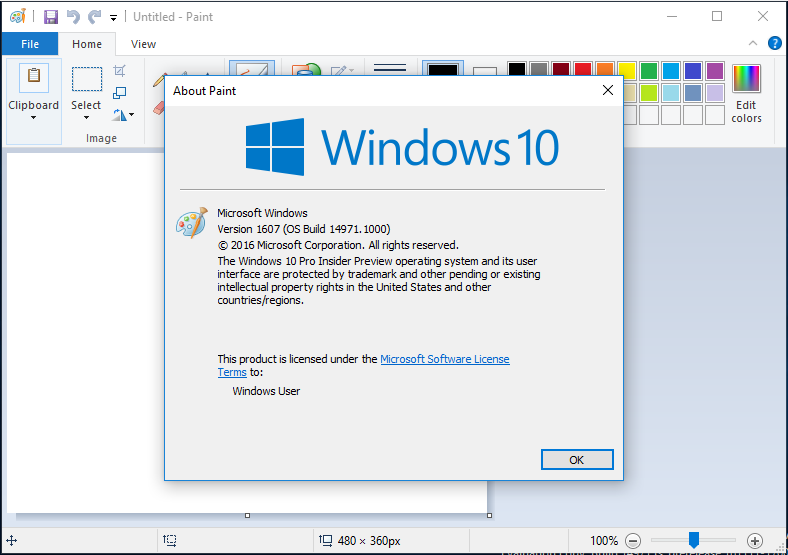 As of this writing, the most recent Windows 10 "Fall Creators Update" version is build 16241. While it still comes with the files required for classic Paint to work, it already "promotes" the modern app. It is expected to be removed from the OS very soon. Once this happens, here is what you should do.
To get classic Paint in Windows 10, do the following.
You are done. The Paint app will be revived completely, e.g. you will be able to launch it as "mspaint.exe" from the Run dialog or from the taskbar's search box or from Cortana. It will have the same user interface language as your operating system.
I made it possible for the Paint app to "survive" after sfc /scannow, Windows updates and so on. No system files will be replaced.
If you decide to revert to the Modern Paint 3D app, just uninstall Classic Paint from the Settings app\Uninstall a program as shown in the following screenshot: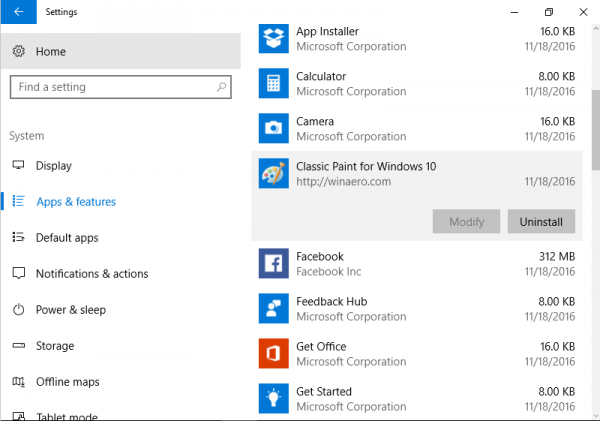 The package supports the following locales:
af-za
am-et
ar-sa
as-in
az-latn-az
be-by
bg-bg
bn-bd
bn-in
bs-latn-ba
ca-es
ca-es-valencia
chr-cher-us
cs-cz
cy-gb
da-dk
de-de
el-gr
en-gb
en-us
es-es
es-ms
et-ee
eu-es
fa-ir
fi-fi
fil-ph
fr-ca
fr-fr
ga-ie
gd-gb
gl-es
gu-in
ha-latn-ng
he-il
hi-in
hr-hr
hu-hu
hy-am
id-id
ig-ng
is-is
it-it
ja-jp
ka-ge
kk-kz
km-kh
kn-in
kok-in
ko-kr
ku-arab-iq
ky-kg
lb-lu
lo-la
lt-lt
lv-lv
mi-nz
mk-mk
ml-in
mn-mn
mr-in
ms-my
mt-mt
nb-no
ne-np
nl-nl
nn-no
nso-za
or-in
pa-arab-pk
pa-in
pl-pl
prs-af
pt-br
pt-pt
quc-latn-gt
quz-pe
ro-ro
ru-ru
rw-rw
sd-arab-pk
si-lk
sk-sk
sl-si
sq-al
sr-cyrl-ba
sr-cyrl-rs
sr-latn-rs
sv-se
sw-ke
ta-in
te-in
tg-cyrl-tj
th-th
ti-et
tk-tm
tn-za
tr-tr
tt-ru
ug-cn
uk-ua
ur-pk
uz-latn-uz
vi-vn
wo-sn
xh-za
yo-ng
zh-cn
zh-tw
zu-za
That's it!
Support us
Winaero greatly relies on your support. You can help the site keep bringing you interesting and useful content and software by using these options:
If you like this article, please share it using the buttons below. It won't take a lot from you, but it will help us grow. Thanks for your support!