How To Set Up a VPN Connection in Windows 10
There are a number of reasons you may want to set up and configure a VPN connection. A VPN connection can make your network more secure and combine multiple remote computers into a virtual local network over the Internet.

Virtual private networks (VPNs) are point-to-point connections across a private or public network, such as the Internet. A VPN client uses special TCP/IP or UDP-based protocols, called tunneling protocols, to make a virtual call to a virtual port on a VPN server. In a typical VPN deployment, a client initiates a virtual point-to-point connection to a remote access server over the Internet. The remote access server answers the call, authenticates the caller, and transfers data between the VPN client and the organization's private network.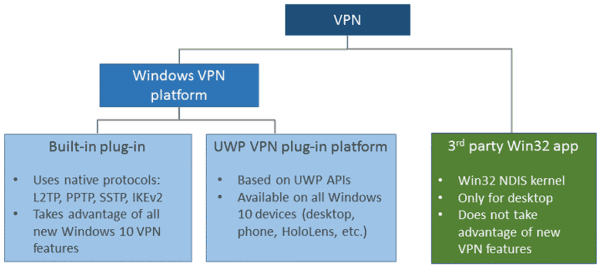 There are many options for VPN clients. In Windows 10, the built-in VPN functionality and the Universal Windows Platform (UWP) VPN plug-in are built on top of the Windows VPN platform.
To set up a VPN connection in Windows 10, do the following.
Open the Settings app.
Go to Click Network & Internet -> VPN.
On the right, click Add a VPN connection.
On the next page, select a provider in the VPN provider drop down list. If you can't find your provider in the list or you need to set up a manual connection, select the item Windows (built-in)
Now, fill in the Connection name box.
Specify the value in Server name or address if required for your provider. It is a mandatory parameter if it's a manual connection type.
Specify the VPN type value (protocol). You can leave it as "Automatic". It will work for most of the cases.
You might need to set a user name and password if required by your VPN provider.
Now, you can connect to the VPN that you just set up. Select it in the connection list as shown below: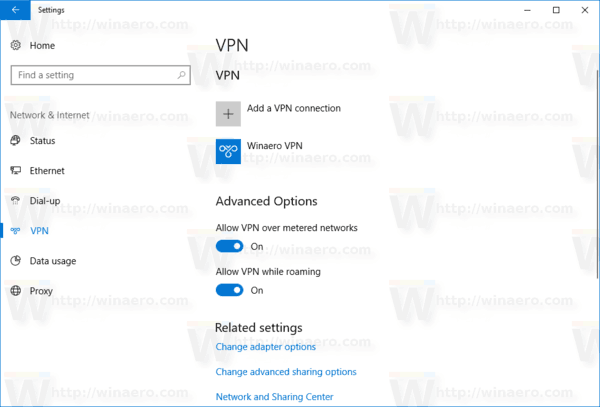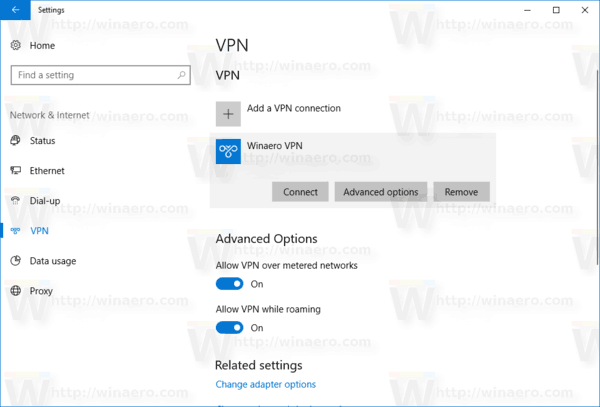 Click on the Connect button and you are done.
Related posts