Recently, Microsoft has released a number of cumulative updates for the current stable version of Windows 10. After installing these updates, you will see a teaser in Settings which invites you to try out the next generation of Windows 10 before its official release.
RECOMMENDED: Click here to fix Windows errors and optimize system performance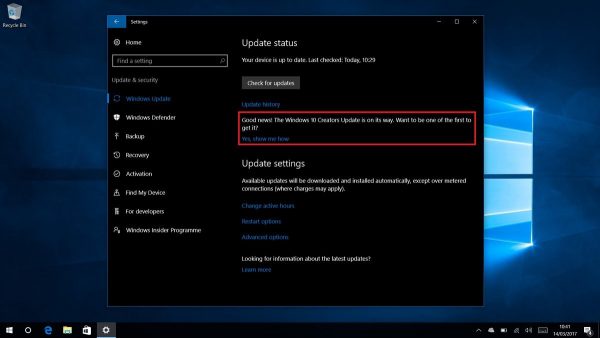 After installing the update, open the Settings app at Update & recovery - Windows Update. There, the following message will be displayed:
Good news! The Windows 10 Creators Update is on its way. Want to be one of the first to get it?
If you click the link Yes, show me how, then the following web page will be opened: Windows 10 Creators Update is coming soon
You will be prompted to join the Windows Insider program.
If you are not happy to see the teaser, here is what you can do.
To disable Windows 10 Creators Update Teaser in Windows Update, you need to do the following.
Open Registry Editor.
Go to the following registry key:

HKEY_LOCAL_MACHINE\SOFTWARE\Microsoft\WindowsUpdate\UX\Settings

Tip: See how to open the desired Registry key directly with one click.
If you do not have this key, then just create it.

Here, create a new 32-bit DWORD value named HideMCTLink and set its value data to 1.

Even if you are running the 64-bit Windows 10 version, you need to use 32-bit DWORD as the value type.
Now, re-open the Settings app. The Windows 10 Creators Update teaser should have disappeared.
Many thanks to my friend Nick Huitema for this tip!