Starting with Windows 10 Fall Creators Update, the operating system is able to automatically reopen apps which were running before shutdown or restart. This behavior is totally unexpected for most Windows users who upgraded to the recent release of the OS. To avoid this issue, you can add a special "Shut Down" context menu to the Desktop that restores the classic behavior.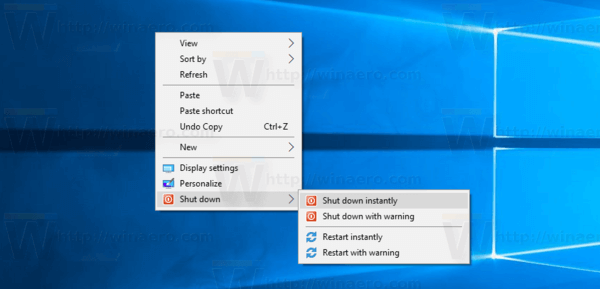 According to Microsoft's support engineer Jason, the behavior of the shutdown procedure has changed intentionally in Windows 10.
Hello to everyone in this thread!

This is actually a change in the core functionality of Windows in this development cycle.

Old behavior:
- When you shut down your PC, all apps are closed

- After reboot/restart, you have to re-open any app you'd like to use

New behavior:

- When shutting down your PC, any open apps are "bookmarked" (for lack of a better word)

- After reboot/restart, these apps will re-open automatically

If you want to start with no apps open (other than those set to auto-start via Task Manager/Start), you'll need to ensure all apps are closed before shutting down or restarting the PC.

Why?

The desire is to create a seamless experience wherein, if you have to reboot a PC, you can pick back up quickly from where you left off and resume being productive. This has far-ranging impacts across the OS (in a good way).
So, official recommendations HERE and HERE are to use the console "shutdown" command in order to restart or turn off the OS without having apps started automatically on the next boot. Refer to the following article for details:
Disable Apps Auto Reopening in Windows 10
To save your time, you can add a special context menu which includes the required shutdown and restart commands. The apps won't reopen automatically if you use this menu. You can use these commands in earlier versions of Windows 10 too if you want. They will remain useful, since they provide direct access to the shutdown actions.
To add the shutdown context menu in Windows 10, do the following.
Download ready-to-use Registry files from here:
Extract the archive's contents to any folder you like. You can extract it directly to your Desktop.
Double click the file "Add Shutdown Menu to Desktop.reg" and confirm the import operation when prompted.
Right-click the Desktop. You will get a new "Shut down" submenu with four commands as shown below:
The 'Restart with warning' and 'Shutdown with warning' options will produce a message box which informs that Windows 10 will restart or shut down. You have about 15 seconds to abort the procedure with the command
shutdown -a
You can type it in the Run dialog.
You can add this menu quickly using Winaero Tweaker. Go to Context Menu\Shut Down to enable it.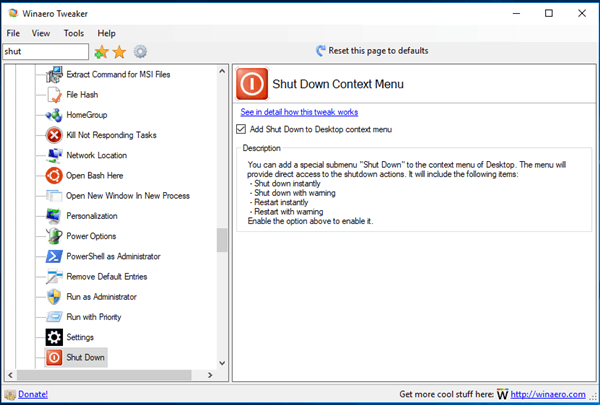 You can download the app here:
There are two alternative solutions. If you don't like context menus, you can create shutdown shortcuts.



Refer to the following article:
Create Shutdown, Restart, Hibernate and Sleep Shortcuts in Windows 10
Finally, you can create a shortcut to the classic Shutdown dialog. It uses the legacy shutdown behavior, because the new functionality which restarts apps is not available in this dialog yet.
You can press Win + D shortcut keys together on the keyboard to minimize all opened windows (Tip: See What is the difference between Win + D (Show Desktop) and Win + M (Minimize All) keyboard shortcuts in Windows and then press Alt + F4 right on the Desktop. This will bring up the classic Shut Down dialog.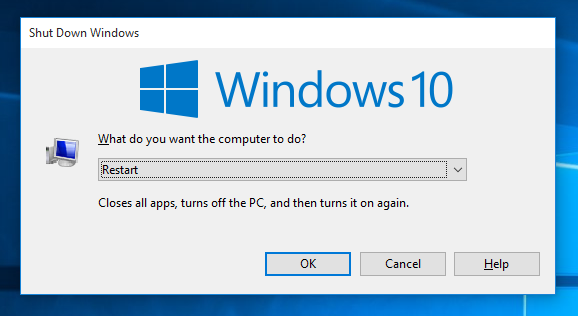 Alternatively, you can create a special shortcut to the classic Shut Down Windows dialog to save your time. Refer to the article
How to create a shortcut to the Shut Down Windows dialog in Windows 10
Once you create it, you can pin it to the taskbar as described in the article above. In this case, you can access it with one click!
You can also change the default action for the Shut Down Windows dialog if you want.
Personally, I prefer the last solution over the context menu or desktop shortcuts. I find it the most useful.
Support us
Winaero greatly relies on your support. You can help the site keep bringing you interesting and useful content and software by using these options:
If you like this article, please share it using the buttons below. It won't take a lot from you, but it will help us grow. Thanks for your support!