Microsoft is releasing a new Insider Preview of Windows Server. Build 18346 represents a release in the Windows Server vNext Semi-Annual Channel.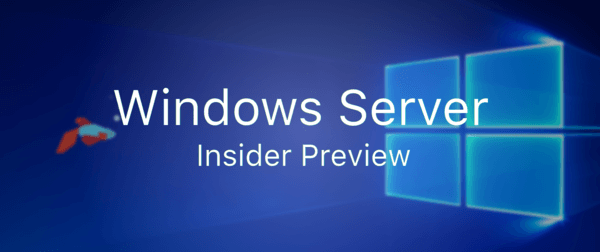 The official announcement comes with the following change log.
What's New
Server Core App Compatibility feature on demand (FOD):
The Server Core App Compatibility FOD was new in Windows Server 2019 and Windows Server, version 1809.  We are continuing investment in the App Compatibility FOD based on customer and Insider feedback.
New in this Insider release for App Compatibility FOD:
Hyper-V Manager (Virtmgmt.msc)

Create and connect to VMs hosted on Server Core + the App Compatibility FOD!!

Task Scheduler (Taskschd.msc)
Please try it and let us know!  More to come….
Available Content
Windows Server vNext Semi-Annual Preview The Server Core Edition is available in the 18 supported Server languages in ISO format and in English only in VHDX format.
Windows Server Core App Compatibility FoD Preview
Windows Server Language Packs
Windows Admin Center 1902
The following keys allow for unlimited activations of Windows Server Previews
Server Standard: V6N4W-86M3X-J77X3-JF6XW-D9PRV
Server Datacenter: B69WH-PRNHK-BXVK3-P9XF7-XD84W
This Windows Server Preview will expire July 5th, 2019.
Symbols are available on the public symbol server – see Update on Microsoft's Symbol Server blog post and Using the Microsoft Symbol Server. Matching Windows Server container images will be available via Docker Hub. For more information about Windows Server containers and Insider builds, click here.
How to Download
Registered Insiders may navigate directly to the Windows Server Insider Preview download page.  If you have not yet registered as an Insider, see GETTING STARTED WITH SERVER on the Windows Insiders for Business portal.
Windows Server Bug Fixes
(New) Error after remoting to machine with RDP post FOD installation.  The error message indicates immediately that the remote session has ended with potential reasons, followed by a black RDP screen. This only impacts remoting to a physical machine with Server Core + FOD.
(New) Applies to App Compat FOD MMC.exe only: Multiple Active Directory Users and Computers snap-ins added to the same MMC.exe instance could show inconsistent or no data on part of the snap-ins after adding extra columns to the UI view.  Wokaround: for UI user management, use a separate MMC for each ADUC (DSA.MSC) snap-in.
A local user's last logon time output from "net user username" may not be recorded even when the user has accessed the server's network share.
Scheduled startup tasks may fail to run. An event is logged, ID 101 with the error code ERROR_LOGON_FAILURE when the failure occurs.
A virtual machine may not report all virtual fibre channel (vfc) LUNs after powering on if there are 2000+ vfc LUNs. WMI queries from the host show the LUNS available.  Restarting the VMMs may show the LUNS again as available.
DCPromo fails if the interface metric of the physical NIC is larger than Loopback Interface.
Third-party password filter dlls may not be notified when the local Administrator account's password was changed.
[New] Attempting system image recovery from an image located on a network share may result in error "A specified logon session does not exist. It may already have been terminated"
Server FODs are not retained after in-place (or B2B) upgrade.
Domain Controller rename updates incorrect attributes in AD leaving orphaned data behind (ValidateSPNsAndDNSHostNameActual).  This can be reproduced by adding a new FQDN, setting it as primary, restarting the domain controller, then removing the current FQDN.  Checking the msDS-AdditionalDnsHostName, msDS-AdditionalSamAccountName and servicePrincipalName attributes will incorrect values.
Invalid file may be created in %Systemroot%\System32\LogFiles\Sum by User Access Logging.
Self-service users cannot install Feature on Demand (FOD) packages and Language Packs for Windows Server Update Service (WSUS), System Center Configuration Manager (SCCM), and Autopilot scenarios.
A container host may become unresponsive due to a deadlock when attempting to mount a volume. On an affected system, Docker hangs on all commands.
When a Windows Defender Application Guard container crashes, the resulting type of dump may be unexpected.
Support us
Winaero greatly relies on your support. You can help the site keep bringing you interesting and useful content and software by using these options:
If you like this article, please share it using the buttons below. It won't take a lot from you, but it will help us grow. Thanks for your support!