Microsoft had rolled out the graphing mode feature of Windows Calculator to the public. It allows visualizing equations, and will be helpful to students who learn linear algebra. For insiders, Microsoft has issued a small update to graphing mode, and made it following the app theme in Windows 10.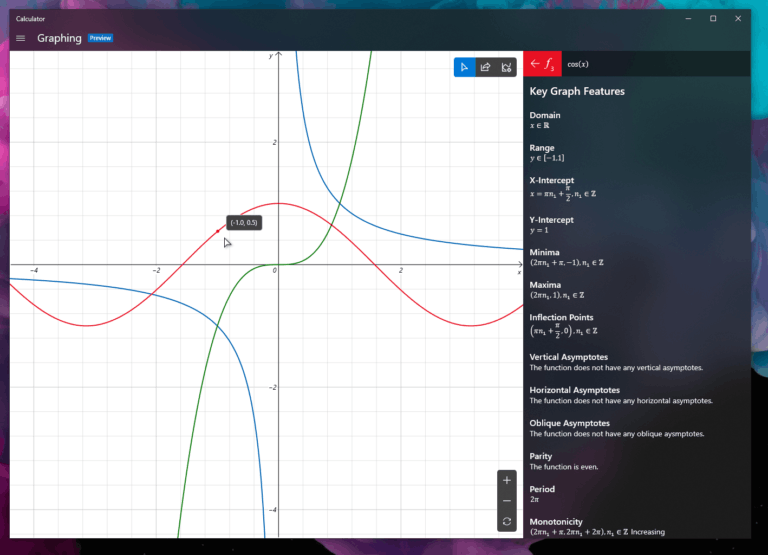 In Windows 10, Microsoft replaced the good old calculator with a new Modern app. Microsoft has opened its source code, that allows the app to be ported to Android, iOS, and Web. Now, the company adds a new feature, Graphing Mode, to Windows 10 Calculator.
Tip: You can launch Calculator directly as described in the following article: Run Calculator in Windows 10 directly.
The modern Calculator app constantly receives improvements. Some time ago it has got a Currency Converter. Also, Microsoft has added the Always on Top feature. The Always on Top feature of the app will allow Calculator remain always visible on the screen in the system at all times.
Graphing Mode
The key features of Graphing Mode are as follows.
Plot one or more equations on the graph. Enter multiple equations so that you can compare plots against each other and see interactions between the lines. You can also customize the line style and graph viewing window to suit your needs.
Add equations with variables. If you enter an equation with a secondary variable (e.g., "y = mx + b"), you'll be able to easily manipulate those variables so that you can quickly understand how changes to the equation affect the graph.
Analyze the graph. Trace plots with your mouse or keyboard to better understand the relationship between variables in the equation on the graph. You can also analyze equations to help identify key graph features, like the x- and y- intercepts.
Dark mode support
The latest app update released to Insiders now includes the ability to turn on the dark theme in graphing mode.
This has been added with Calculator version 10.2005.23.0. Please note that by default the graph will be white, whether or not you're using Calculator in dark theme. If you'd like the graph to be dark too, select the "Graph Options" button in the corner of the graph, and the choose "Match app theme" under Graph theme.
The announcement was done via the Feedback Hub.
Support us
Winaero greatly relies on your support. You can help the site keep bringing you interesting and useful content and software by using these options: