For Insiders in the Beta channel, Microsoft updates Windows 11 22H2 with two new builds. Build 22631.2262 comes with several new features, while build 22621.2262 has them hidden. The new release comes with the KB5029339 patch.
What's new in Windows 11 Build 22631.2262
New Home page in Settings
Microsoft has added a new home page in the Settings app that offers quick access to key settings and lets you manage your Microsoft account.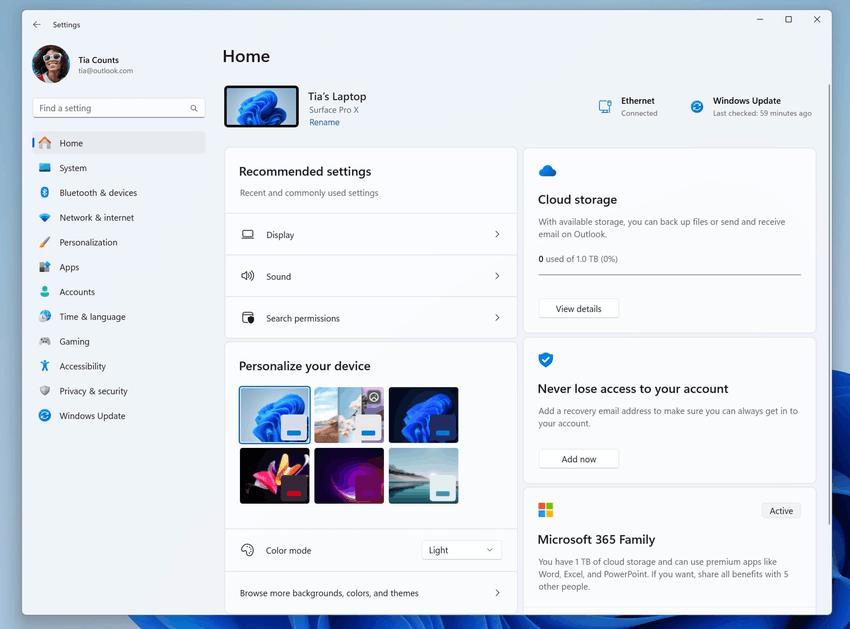 Interactive cards offer various operating system and account settings. Each card is designed to provide the user with up-to-date information and essential options. In this build, up to 7 cards will be displayed on the Home page, but there will be more in the future.
Recommended settings: This card adapts to your specific usage patterns, providing timely and relevant settings options. It's designed to streamline your settings management and save you time.
Cloud storage: Gives you an overview of your cloud storage use and lets you know when you're nearing capacity.
Account recovery: Helps keep your Microsoft account more secure by helping you add additional recovery info so you never get locked out of your account, even if you forget your password.
Personalization: Brings customization to the forefront by offering one-click access to update your background theme or change your color mode.
Microsoft 365: Provides a quick glimpse of your subscription status and benefits, along with the ability to take some key actions right in Settings instead of going to the web.
Xbox: Similar to the Microsoft 365 card, you'll be able to view your subscription status and manage the subscription from the Settings app.
Bluetooth Devices: To simplify your Bluetooth device management experience, we've brought this to the forefront so you can quickly access and connect to your favorite Bluetooth-enabled devices.
The feature will only be available on Windows 11 Pro and Home that are not managed by an organization. It is rolling out gradually.
Backup and Restore improvements
Microsoft is introducing new system settings backup and restore options to make it easier to migrate to a new PC and help developers retain customers. The goal of the changes is to provide users with a familiar desktop so that you can return to work on another device in minutes.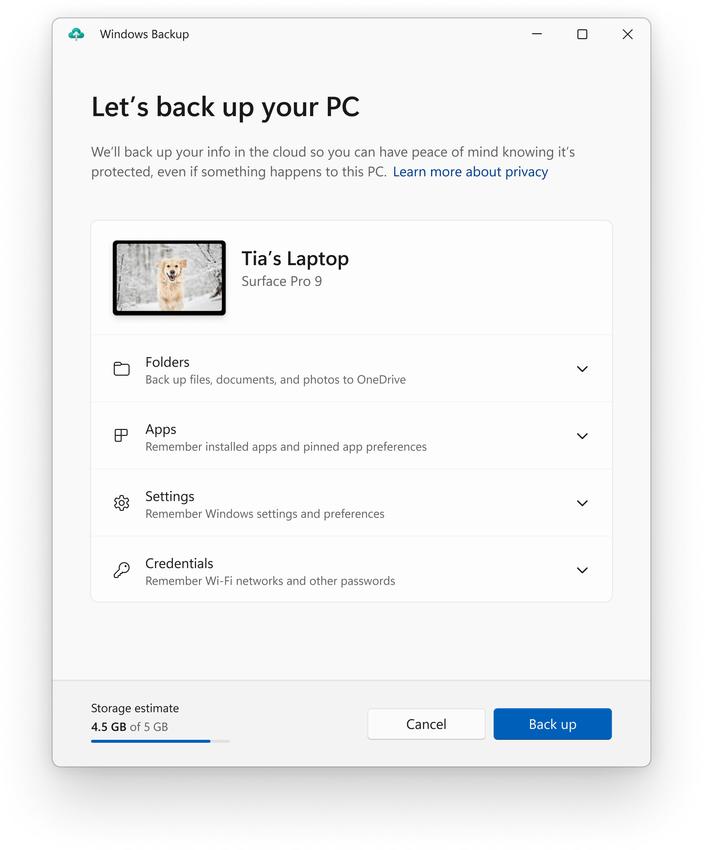 The Windows Backup app is a new app that lets you quickly back up your PC in preparation for migrating to another device.
Pinning apps - Your Microsoft Store apps from your previous PC will be pinned to the same places where you had them. This applies to both the taskbar and the Start menu.
Settings - Settings from your previous computer will be restored to your new device so you can get back to work faster.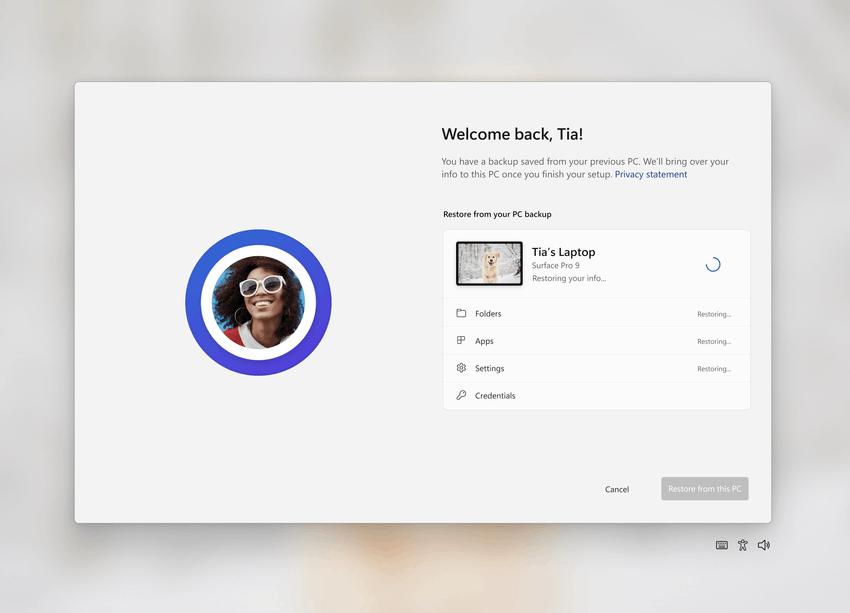 After creating a backup, either using the new Windows Backup app or under Accounts -> Windows Backup, you can try out the restore feature during the Windows 11 Initial Setup (OOBE) on a new PC or after a factory reset on your current device.
Users will see restored desktop app icons in the Start menu and taskbar, even if those apps weren't installed from the Microsoft Store.
Those applications that are available from Microsoft can be easily restored by clicking on the icon.
If the app is not in the Microsoft Store, you will be redirected to a web page where you can manually download the installer.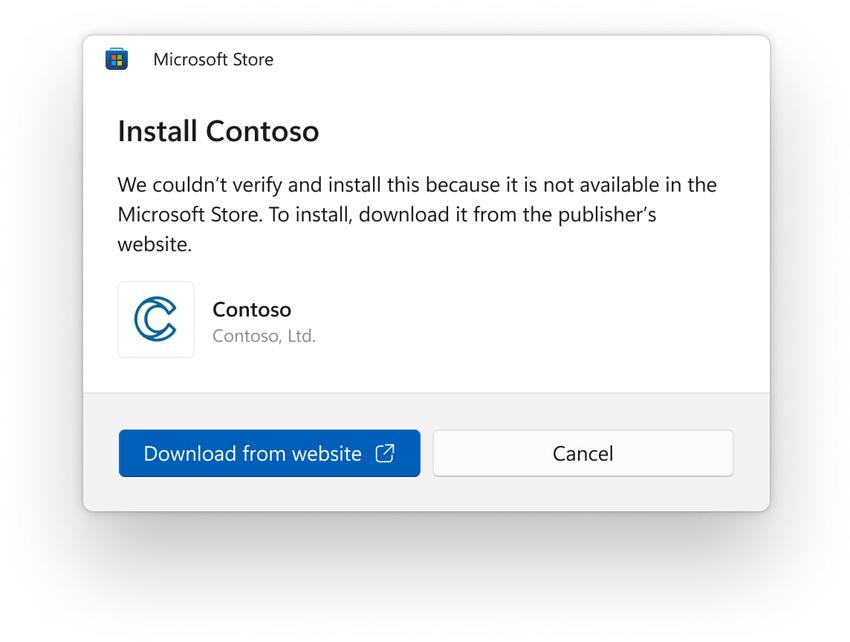 NOTE: An easy way for Insiders to try this experience out is by running the Windows Backup app on a PC running this build and choosing "Reset this PC" under Settings > System > Recovery and then going through OOBE for the new restore experience.
Changes and improvements in build 22631.2262
File Explorer
Includes some changes that should noticeably improve performance in the Compute phase when pushing lots of files to the Recycle Bin from Explorer at the same time.
Cast improvements
Updated the "Cast" popup in Quick Actions. Now there is a link to a troubleshooter in case of problems with display detection, set up the connection, etc.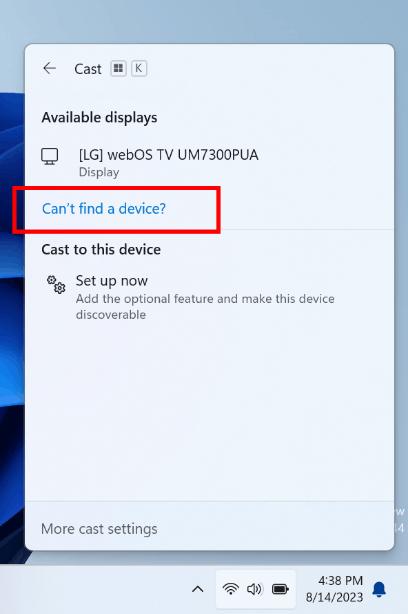 Dynamic Lighting
You can now instantly sync your Windows accent color to your peripherals using the Match Windows Accent Color option under Settings -> Personalization -> Dynamic Lighting -> Effects. This change was introduced in the previous Dev channel build.
Added the ability to select your own color for the RGB lighting of devices.
Fixes in build 22631.2262
Taskbar and system tray

Fixed an issue where, after updating, the Bluetooth icon might not appear in the system tray, even if the computer supports Bluetooth and the corresponding settings are in the Settings app.
Fixed an issue where the bell icon was hard to see in some cases as it used a dark outline when the taskbar was dark.
Fixed an issue resulting in the item thumbnails on the taskbar not having titles when using the tablet-optimized taskbar with item grouping disabled.
Fixed an issue that caused the icons on the taskbar to become blank after switching between desktops.
Fixed an issue where selecting the "Don't group" option for the taskbar would continue to show animation even if it was disabled.
Disabled a setting that disables taskbar grouping on other screens by default if no additional monitors are connected.
Fixed an issue where dragging icons in the taskbar overflow area did not work if the "Don't group" option was enabled.
Fixed an issue resulting in app indicators not displaying correctly when using the taskbar with item grouping disabled.
Fixed an issue where the hidden icons menu could close unexpectedly when using the keyboard to move focus between icons.

File Explorer

Fixed an issue where the context menu background in File Explorer was transparent in some cases. This fix also affects dropdown menus on the toolbar.
Fixed an issue resulting in the context menus and drop-down menus in File Explorer not working when using the touch screen.
Fixed an issue that caused the search field in File Explorer to not work correctly with IMEs.
Fixed white flash in dark theme when switching between Home and Gallery sections.
Fixed an issue that affected the stability of File Explorer.
Fixed an issue resulting in the "Auto Type in Search Box" feature not working when the home page is open in File Explorer.
Fixed an issue where it was not possible to paste content into the address bar using the context menu. Other address bar context menu actions didn't work either.
Increased padding between the "Home" item in the navigation bar and the bottom of the toolbar.

Input

Fixed an issue where typing with the Japanese and Chinese IME in some apps did not perform as expected when selecting a previous version of the IME.
Fixed an issue where when hovering over a text field, if the text is entered in Chinese, some characters were treated as clicks in the field and were not entered.
Fixed an issue that caused handwriting to work incorrectly when using Magnifier because the handwriting characters were misaligned.

HDR Background images

Fixed an issue resulting in explorer.exe intermittently crashing when using HDR wallpapers.

Task Manager

Fixed an issue resulting in the Task Manager crashing when using the "Reset all settings to default" button in the app's settings.
Improved performance when switching between different pages of the Task Manager.
Fixes in both builds
Fixed an issue resulting in the "Check for Updates" button not appearing in Settings -> Windows Update. After updating to this build, the button should appear in its usual place. If you are using a previous build for the Beta channel, you can manually check for updates by opening the Terminal (or the Run dialog box) and typing , USOClient StartInteractiveScanwhich will perform the same function as clicking the Check for Updates button. Note that running the command will not produce any results. To verify that the operation completed successfully, you can run the command while the Windows Update page is open. You should notice that it will start checking for updates.
Fixed an issue where in previous builds turning off the monitor while actively connected to Cloud PC resulted in a black screen with only the mouse cursor.
Known Issues
General

Microsoft is working on a fix for an issue that causes explorer.exe to crash (with an error popup) in safe mode when trying to login to a profile on the system.

File Explorer

In some cases, all desktop icons may be empty. In this case, right-click on the desktop and select the Refresh option.

Narrator

You may notice that some strings are NOT translated into your chosen language. This issue will be fixed in a future build for the Beta channel.
Support us
Winaero greatly relies on your support. You can help the site keep bringing you interesting and useful content and software by using these options:
If you like this article, please share it using the buttons below. It won't take a lot from you, but it will help us grow. Thanks for your support!