Microsoft has released new Windows 11 version 22H2 builds  22621.1245 and 22623.1245. They are available via the KB5022358 update to Insiders on the Beta channel. They traditionally follow the new feature shipping pattern:
Build  22623.1245  - New feature testing available.
Build  22621.1245  - New features disabled by default.
If you are in a group with features disabled by default (build 22621.xxx), then check for updates and install an optional update that will make these features available and move you to the build 22623.xxx branch.
Here are the key changes.
Snipping Tool with video recording pause is now available in the Beta channel
Microsoft has begun rolling out an updated version of the Snipping Tool for Windows 11 that adds the ability to pause video recording of your computer screen. In addition, the labels on the "Snip" and "Record" buttons have been removed, and the controls for setting up the area for recording video have been changed. The new version of the application is 11.2212.24.0.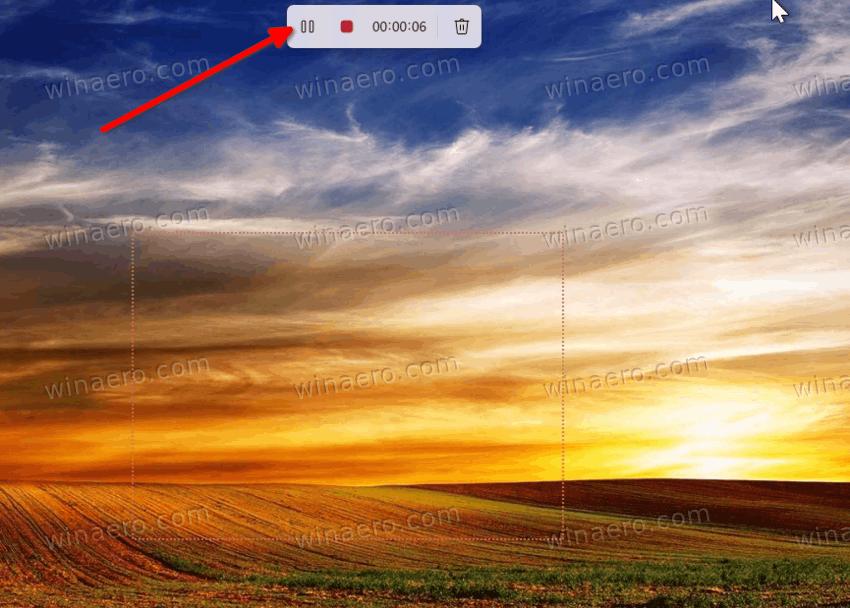 Fixes in build 22623.1245
Taskbar and system tray:

Fixed a crash in ShellExperienceHost when interacting with the Quick Actions menu.

Task Manager:

Fixed several issues that caused Task Manager to crash.
Now you don't need to make the Task Manager window too wide for the navigation bar to appear.
If text is scaled up, the search box will no longer overlap text in the title bar.
Made some fixes to fix issues where text in dialog boxes was cut off when text was zoomed in.
Fixed an issue where some portions of the title bar could not be used to drag a window.
Fixes in both builds
New!  The procedure for installing pre-release updates for the .NET Framework has changed. Now all future pre-release (optional) .NET Framework updates will show up in Settings -> Windows Update -> Advanced Options -> Optional Updates . On this page, you can control which optional updates you want to install.
Fixed an issue with ReFS that resulted in high non-paged pool usage, which reduced free RAM.
 Fixed an issue that affected the speed of copying from the network to a local drive. For some users, copying was slower than expected.
Addressed an issue affecting Windows Server 2022 domain controllers (DCs) that become unresponsive when processing Lightweight Directory Access Protocol (LDAP) requests.
Addressed an issue that affected Group Policy for Expanded Toasts.
Fixed an issue that could occur when the Input Method Editor (IME) was active. Applications may become unresponsive when using the mouse and keyboard at the same time.
Fixed an issue with the conhost.exe process that could become unresponsive.
Addressed resource conflict between two or more threads (known as deadlock). This lock affected COM+ applications.
Addresses an issue that occurs on devices covered by Microsoft Exploit Protection Export Address Filtering (EAF). This issue caused some applications such as Microsoft Office and Adobe Reader to stop responding or not open.
Fixed an issue resulting in the file being unable to be found by its contents.
Fixed an issue with searchindexer.exe that sometimes prevented you from logging in or logging out.
Addressed an issue that could occur when converting or re-converting Japanese Kanji using a multibyte character set (MBCS) application. The cursor could move to the wrong place when typing.
Changed how Windows diagnostic data processing configuration is enabled in preparation for  EU Data Boundary. Detailed information can be found at this link.
Fixed issue with mstsc.exe. The program stopped responding when connecting to RemoteApp and Desktop Connection.
Fixed an issue that could affect the FindWindow() or FindWindowEx() functions. They could return an invalid window handle.
Fixed an issue that affected image files found using taskbar search. Because of this issue, these images could not be opened.
Fixed an issue that could affect applications that use Microsoft Edge WebView2 to display content. These applications include Microsoft Office and the Widgets component. This issue could result in content being missing or showing a gray background instead.
Source: Microsoft
Support us
Winaero greatly relies on your support. You can help the site keep bringing you interesting and useful content and software by using these options:
If you like this article, please share it using the buttons below. It won't take a lot from you, but it will help us grow. Thanks for your support!