Microsoft has updated the official system requirements for Windows 10 version 1903. You might want to know if your PC is capable of running the latest operating system from Redmond.
RECOMMENDED: Click here to fix Windows errors and optimize system performance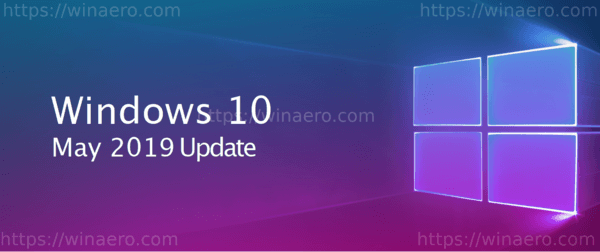 Windows 10 system requirements which Microsoft officially stated initially were not changed for a long time. However, for the upcoming Windows 10 version 1903, also known as May 2019 Update, system requirements have been raised by Microsoft.
Windows 10 Version 1903 System Requirements
Windows 10 version 1903 will require a PC which fits the following specifications:
Processor: 1 gigahertz (GHz) or faster processor or SoC
RAM: 1 gigabyte (GB) for 32-bit or 2 GB for 64-bit
Hard disk space:

32 GB for both 64-bit and 32-bit OS

Graphics card: DirectX 9 or later
Display resolution: 800 x 600, a minimum diagonal display size for the primary display of 7-inches or larger.
The key change in the list is the new storage size requirement. For Windows 10 version 1809 and prior, it was 16 GB for 32-bit OS 20 GB for 64-bit OS. The new value is at least 32GB for version 1903.
Also, storage controllers used in devices that run Windows 10 for desktop editions must meet the following requirements:
Storage controllers must support booting using the Extensible Firmware Interface (EFI) and implement device paths as defined in EDD-3.
Storage host controllers and adapters must meet the requirements for the device protocol used and any requirements related to the device storage bus type.
Bus-attached controllers must implement the correct class/subclass code as specified in the PCI Codes and Assignments v1.6 specification.
The processor should meet the following requirements:
Compatible with the x86 or x64 instruction set.
Supports PAE, NX and SSE2.
Supports CMPXCHG16b, LAHF/SAHF, and PrefetchW for 64-bit OS installation
It is worth mentioning that Microsoft has also updated the Windows Processor Requirements page, that lists details for the processors that can be used in  Windows 10 devices. The page now features Windows 10 version 1903 in the list of OS versions, however, the CPU list hasn't changed. Surprisingly, it doesn't include a few latest Intel and AMD chips, along with Qualcomm Snapdragon 8cx SoC. Microsoft may include them in the list in the near future.
RECOMMENDED: Click here to fix Windows errors and optimize system performance