A new Insider Preview build of Windows 10 hits Windows Update servers. If you are a Windows Insider in the Fast Ring, your device will be upgraded to Build 18945 from the 20H1 branch.
Here are the key changes introduced in Windows 10 Build 18945.
Introducing new Cortana experience for Windows 10
We are beginning to roll out a new Cortana experience for Windows 10 as a Beta to Windows Insiders in the U.S. This new experience features a brand-new chat-based UI that gives you the ability to type or speak natural language queries.

It supports most of the Cortana features people enjoy using on Windows, such as Bing answers, Assistant conversations, opening apps, managing lists, and setting reminders, alarms, and timers. And we've added some new features we think people will enjoy:
Cortana now supports both light and dark themes in Windows.
We have created a new, less intrusive screen for "Hey Cortana" queries so you can stay in the flow while you work.
We have updated Cortana with new speech and language models, and significantly improved performance – making it faster and more reliable than ever before.
Not all the features from the previous Cortana experience are available just yet. As a Beta, we plan to add more features over time with updates to Cortana from the Microsoft Store.
To get started, choose the Cortana icon on the taskbar next to the search box. You can also leverage the speed and convenience of voice with improved speech recognition by simply saying "Hey Cortana"*. You may need to sign-in with your account to get started.
*Note: This requires enabling this functionality in Settings > Voice activation privacy settings  – Talk to Cortana. 
If you're an Insider in the U.S. and are not seeing the new experience, please be patient as we're slowing rolling it out. Additional markets and languages will become available at a later date. You must be signed in to use Cortana. Historically, there were quite a few skills that could be used unauthenticated (Bing answers, open apps, Assistant conversations) but this is no longer the case. Only limited skills are currently supported in the new experience. Don't worry we'll be bringing back many skills over the coming months.
(WSL) Improvements: Added connecting via localhost to WSL 2 Linux apps from Windows and global WSL configuration options
You'll now be able to connect to your WSL 2 Linux networking applications using localhost. For example, the image below shows starting a NodeJS server in a WSL 2 distro, and then connecting to it in the Edge Browser with localhost.
Additionally, we've added global configuration options for WSL. These are options that will apply to each of your WSL distros. This also allows you to specify options that relate to the WSL 2 virtual machine (VM), as all your WSL 2 distros run inside of the same VM. The most exciting option that you'll get access to in this build is being able to specify a custom Linux kernel!
For the full details on what's new in this release, check out What's new for WSL in Insiders Preview Build 18945 on the Windows command line blog.
Accessibility Improvements
Narrator now provides a more efficient reading experience when reading messages in Outlook or Windows Mail
When the message is opened, Scan Mode will turn on automatically. This allows the user to use their arrow keys to read the message in addition to all other Scan Mode hotkeys to jump through the text of the message.
Email messages like newsletters and marketing content are often formatted using tables to visually represent the look of the message. For a screen reader user, this information is not needed while reading the message. Narrator now recognizes some of these situations and will remove the information about the table to allow you to quickly move through the text contained in the message. This lets you to be much more efficient while reading these types of email messages.
Known issues
The cursor may not move to the location last read as Narrator auto-reads when an Outlook message is opened while in Scan Mode.
Narrator will start reading when replying to a message. Press the control key and move to the top of the message to write your reply.
Narrator's Outlook folder reading has been enhanced for an optimal triaging experience
As you read through your emails in Outlook, such as the inbox, Narrator now reads the information more efficiently. Each line item now starts with the status of the email, such as unread, forwarded, etc., followed by the other columns, such as from, subject, etc. Column headers will be silenced and columns with no data or that have the default (expected value) will be silenced, such as normal importance or unflagged, etc. While in Outlook, headers can be turned back on by pressing Narrator + H which will toggle their reading on and off.
Text cursor indicator
Have you ever had an issue finding the text cursor in the middle of a large amount of text, during a presentation, or on the screen in an educational setting? The new Text cursor indicator will help you see and find the text cursor wherever you are at any time! Select from a range of sizes for the text cursor indicator and make it a color easy for you to see. Or, personalize the color of your text cursor indicator to your personal preference. In the Ease of Access settings, open the new Text cursor page, turn on the text cursor indicator, and never lose track of your text cursor ever again!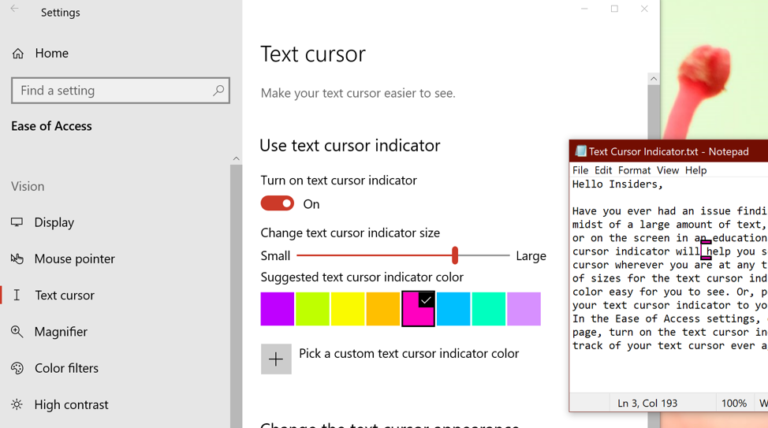 Known issues
Text cursor indicator color and size might not persist when you sign in. To work around that, simply turn off and turn on the "Use text cursor indicator" setting again.
Occasionally, you might see that the text cursor indicator stay on the screen or reappear after the app has been closed or the page contents have scrolled away.
Updated File Explorer search rolling out to all Insiders
Over the next few days, the new File Explorer search experience will be rolling out to all Insiders in the Fast ring! Thanks everyone who's shared feedback so far and helped us to improve the experience. Please don't hesitate to share any other comments – you can file feedback for this area under Files, Folders, and Storage > File Explorer in the Feedback Hub.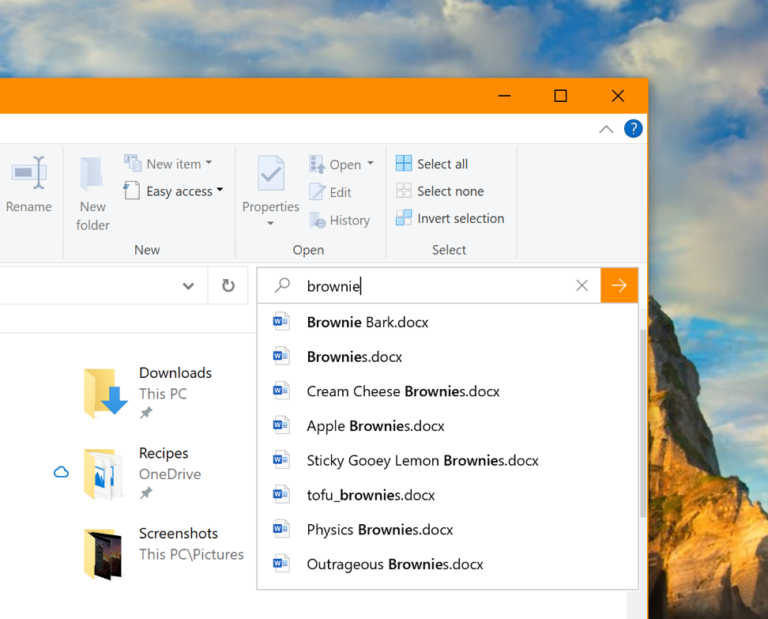 General changes, improvements, and fixes for PC
We have fixed the issue causing some Insides to experience install failures with error code c1900101 due to a compatibility bug with a storage driver on their device.
We've made a few fixes to improve reliability when installing a Windows Subsystem for Linux 2 distro.
We are extending Windows Defender ATP capabilities beyond the Windows OS and as a result are renaming to Microsoft Defender to reflect our cross-platform approach to endpoint security.
We fixed an issue where Settings might crash if you selected Activation under Updates & Security.
If your network connection is unexpectedly disconnected, the Miracast banner will now have a close button for you to use if needed.
We fixed an issue where the Performance tab of Task Manager wouldn't expand from a collapsed state if you double clicked on the text.
We've updated the Details tab of Task Manager so if you right-click a process, Provide Feedback will now be listed after End Task and End Process Tree (rather than between).
We fixed an issue where the network icon in the taskbar might show that there was no internet, even though there actually was connection.
We fixed an issue impacting Windows Hello reliability in recent flights.
We fixed an issue where if you manually updated the DNS server settings in Settings, it wouldn't apply.
We fixed an issue from the previous two flights resulting in mobile hotspot unexpectedly turning off if enabled.
We fixed an issue that could result in the system hanging after resume from hibernation.
We fixed an issue potentially resulting in the error, "MMC has detected an error in a snap-in and will unload it." when you try to expand, view, or create Custom Views in Event Viewer.
Known Issues
There has been an issue with older versions of anti-cheat software used with games where after updating to the latest 19H1 Insider Preview builds may cause PCs to experience crashes. We are working with partners on getting their software updated with a fix, and most games have released patches to prevent PCs from experiencing this issue. To minimize the chance of running into this issue, please make sure you are running the latest version of your games before attempting to update the operating system. We are also working with anti-cheat and game developers to resolve similar issues that may arise with the 20H1 Insider Preview builds and will work to minimize the likelihood of these issues in the future.
Some Realtek SD card readers are not functioning properly. We are investigating the issue.
Tamper Protection may be turned off in Windows Security after updating to this build. You can turn it back on. In August, Tamper Protection will return to being on by default for all Insiders.
Occasionally, the candidate selection in prediction candidate window for the Japanese IME doesn't match with the composition string. We are investigating the issue.
Insiders may notice some changes in Magnifier with today's build. These aren't quite ready yet for you to try, but we'll let you know once they are in an upcoming flight.
Your Phone app – Expanding phone model support for Phone screen
We are continuing to expand support for Phone screen. Today, we're excited to announce the feature availability for these devices:
Samsung Galaxy A6, Samsung Galaxy A7, Samsung Galaxy A9, Samsung Galaxy A10, Samsung Galaxy A20, Samsung Galaxy A30, Samsung Galaxy A50, Samsung Galaxy A70, and Samsung Galaxy S8 Active
If you have any of these devices, try out Phone screen and give us your feedback. We will continue to expand this list of devices over time.
If you have configured your device to receive updates from the Fast Ring ring, open Settings - > Update &recovery and click on the Check for Updates button on the right. This will install the latest available Insider Preview of Windows 10.
Source: Microsoft
Support us
Winaero greatly relies on your support. You can help the site keep bringing you interesting and useful content and software by using these options:
If you like this article, please share it using the buttons below. It won't take a lot from you, but it will help us grow. Thanks for your support!