Microsoft today released yet another Windows 10 Insider Preview version. Windows 10 build 17035 which represents the upcoming feature update to Windows 10, code name "Redstone 4", is available now for Fast Ring Insiders and in "Skip Ahead". This build comes with several new features. Let's see what's new.
Microsoft Edge Improvements
Mute-a-Tab
This build introduces a new experience for muting a tab playing audio. The audio icon that displays when a tab is playing media is now clickable and will mute the audio streams that tab is playing when clicked. The tabs audio will unmute when clicked again. This feature is also available from the context menu via the right click action on the tab.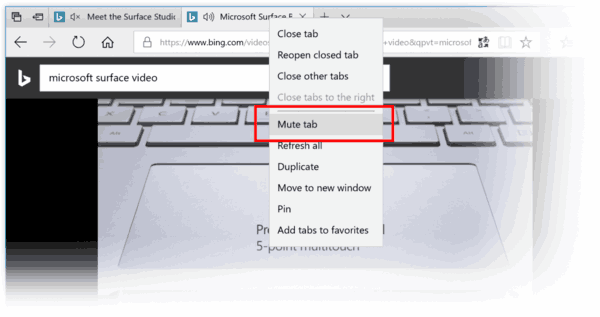 Save free EPUB books
If you're reading a free EPUB book from the web in Microsoft Edge and want to save it, you can now do that.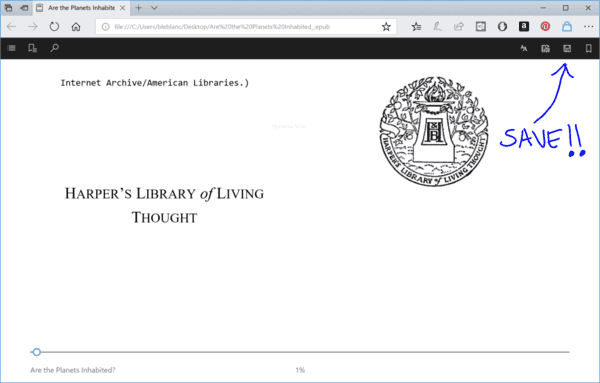 For your convenience, the context menu of the Book pane comes with new items, including View in Microsoft Store, Pin to Start, and Refresh books. Remove from here has been renamed Remove from device.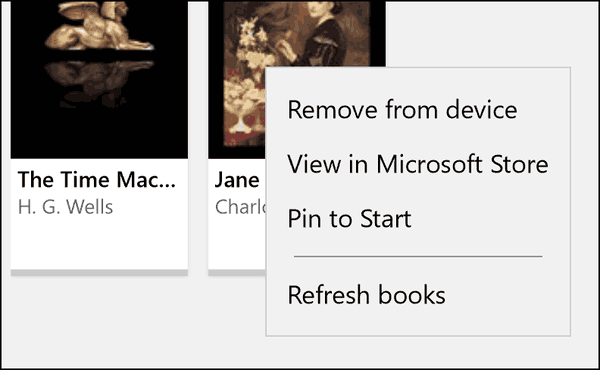 Say you're in a meeting with your boss and need to quickly send them the report you're looking at on your screen? Or you and a sibling are hanging out on the couch using your laptops, and you want to send him a screenshot of your latest Minecraft creation? You can now wirelessly share files and URLs to nearby PCs using the new Near Share feature.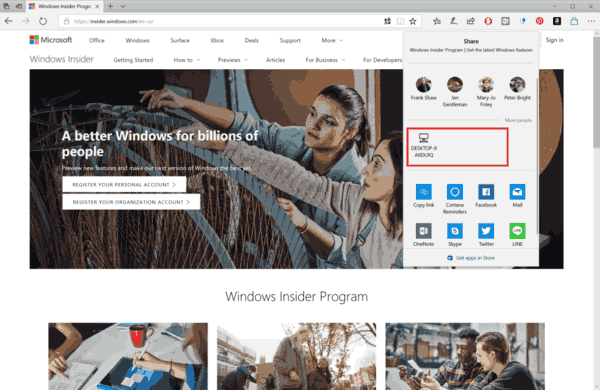 So how do you use it? If your PC supports Bluetooth:
Ensure that Near Share is turned on for your PC (and the PC you are trying to Share with – that means both PCs will need to be on RS4 Build 17035+) – there's a new quick action in the Action Center that will need to be set to ON. If the quick action isn't immediately visible and your PC has Bluetooth, check if it's enabled under Settings > Notifications & Actions > "Add or remove quick actions".

Look for the Share icon in any of your favorite apps – e.g. Photos, Microsoft Edge, and or even File Explorer (right-click a file and choose Share).
Click on Share! You will now see a list of devices at the top – select the one you want to share to, any nearby PCs in Bluetooth range with the feature enabled should show up.
Once the recipient accepts (they will get a notification via Action Center to accept or decline), watch your file magically transfer wirelessly!
Shop Surface hardware using the Microsoft Store app
Navigate to this page in the Store: http://aka.ms/ShopSurfaceOnWin10. This feature is available on Windows 10 PCs running version 11709.1001.7 or newer version of the Store app. Try it out and make sure to do this quest!
Note: Currently only available for U.S., U.K. and Australia markets, and looking to expand to more markets soon.
Settings Improvements
Windows Update
You can now limit the download bandwidth that is used in foreground downloads. Foreground downloads take place when you interactively start a download, for example – you click on "Check for updates" or start downloading an App from Windows Store.
Sound Settings are moving to Settings
You can now change some of your common sound settings, such as switching devices and troubleshooting, in Settings > System > Sound. Head on over for a preview of how sound settings are moving out of the legacy Control Panel and into the Settings app. We still have some things to add and fix on this page, so stay tuned!
Updated Ease of Access Settings
This build adds additional Ease of Access settings to further round out the revamping of settings which flighted for the first time with Build 17025. New sections on Display, Audio, Speech Recognition and Eye control (beta) have been added to group related settings. (NOTE: Eye control settings are not yet in this flight but coming soon.)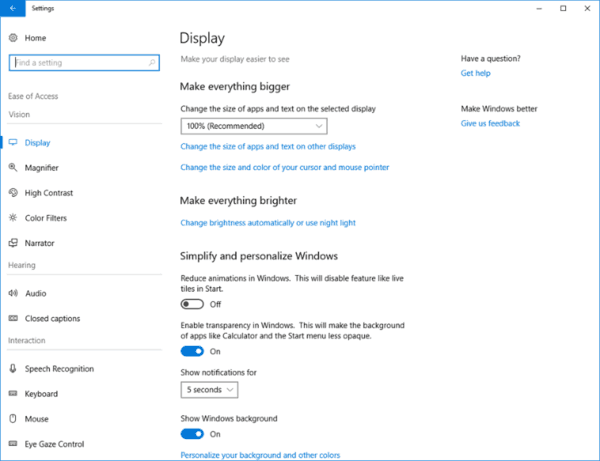 Touch keyboard Improvements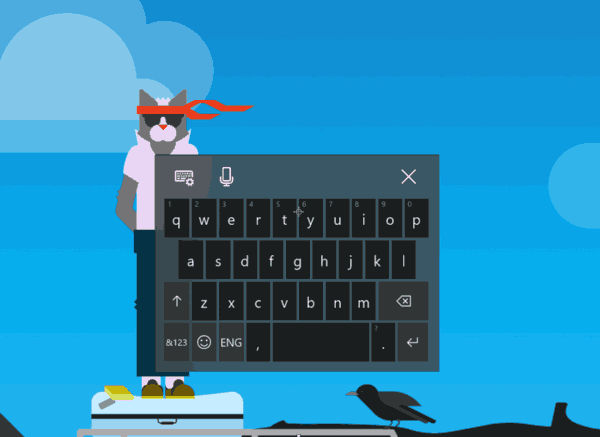 Now with Acrylic! With this build we've updated the touch keyboard to now have an acrylic background. This change is reflected in all keyboard layouts hosted in the XAML touch keyboard, including the wide layout, the one-handed layout, and the handwriting panel. Thanks everyone who logged feedback about this!
The standard touch keyboard layout option comes to 190+ more keyboards: We've been hard at work addressing your feedback, and we're happy to announce the touch keyboard now supports the standard keyboard layout for all languages except Korean, Japanese, Traditional Chinese and Simplified Chinese (which we're still working on). If you want to switch between wide, onehanded, and the standard touch keyboard layouts, just tap the button in the top left of the keyboard. This includes adding the standard keyboard layout to the following keyboards and more: English (United Kingdom), Irish, Czech, Danish, Greek, Canadian French, Finnish, Hebrew, Hungarian, Latvian, Dutch, and Polish. More details about touch keyboard usage here if you need it.
Handwriting panel Improvements
Streamlined text insertion
In this release, we've added some slick new animations and changed the button layout of the handwriting panel based on your feedback. Ink some words in the panel and watch them appear in your selected text field!
In this release, we've added some slick new animations and changed the button layout of the handwriting panel based on your feedback. Ink some words in the panel and watch them appear in your selected text field!
Improved re-recognition of words
Write a letter on top of another, and the handwriting panel will recognize your corrections more accurately than ever before.
Use a gesture to create more space between words
Draw a "split" gesture between two words in the handwriting panel by drawing a vertical line between them. More space will be created where you drew the line so that you can write more in the newly-created space. As a reminder you can also draw a split gesture inside a word to break apart the word and ink more characters in the new space.
Japanese Input Method Editor (IME) Improvements
Text suggestions from AI chatbot Rinna
Microsoft AI chatbot Rinna has more than 6 million friends (users) on LINE, which is the most popular messaging service in Japan. Starting with Build 17030, the Japanese IME can now leverage her strong communication skills to suggest possible phrases as you're typing. Her suggestions are indicated by a Rinna icon next to the candidate. This feature is off by default, however you can enable it in the Japanese IME settings (right-click the IME mode icon "A" or "あ" in systray, select "Properties", then "Advanced" – on the "Predictive Input" tab you will find a new checkbox to enabled "Rinna – AI Chatbot" under Suggestion Providers).
Bringing inclusive design to the hardware keyboard
We're introducing the ability to see text suggestions while typing on a hardware keyboard. You can see three text suggestions near caret while typing and choose candidates in text suggestions if you find a word you want to insert. Set focus to the first suggestion by tapping the up arrow key on your keyboard and using the left/right arrow keys to change focus. To select the desired candidate, tap space or enter.
This is an opt-in feature targeting English language learners, education and accessibility. We only support en-US at this time. To enable the feature, make sure English (United States) language is added in Settings > Time & languages > Region & languages, then set this feature to On by enabling the "Show text suggestions as I type on hardware keyboard" setting under Settings > Devices > Typing.
Source: Microsoft.
Support us
Winaero greatly relies on your support. You can help the site keep bringing you interesting and useful content and software by using these options:
If you like this article, please share it using the buttons below. It won't take a lot from you, but it will help us grow. Thanks for your support!