Microsoft has released a new build of Windows 10. Participants of the Windows Insiders program can get Windows 10 build 14291. Besides regular bugfixes and minor changes, this build comes with extensions support for Microsoft Edge.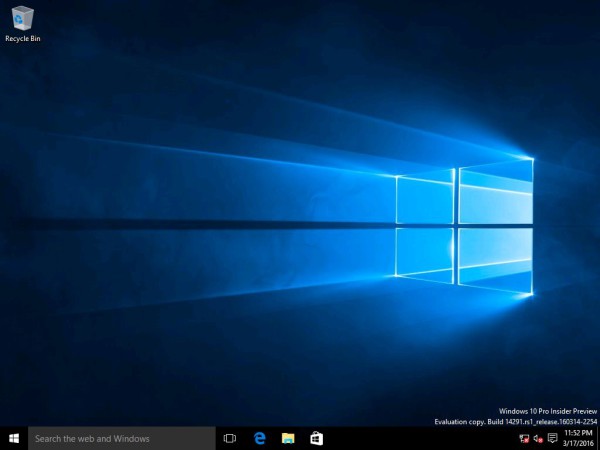 The whole release is dedicated to the Edge browser improvements.
In Windows 10 build 14291, Edge got a lot of updates and new features. Microsoft claims the following changes:
Extensions in Microsoft Edge: Today we are very excited to introduce extensions for Microsoft Edge. To try out an extension, just click on "More" (…) at the top right in Microsoft Edge and click "Extensions" to open the Extensions pane and click "Get extensions". You can try out the Mouse Gestures, Microsoft Translator and Reddit Engagement Suite extensions today with more on the way. Extensions are only available on PC. For more information on extensions for Microsoft Edge, check out this blog post from Drew.

Pinned Tabs in Microsoft Edge: Microsoft Edge now lets you pin tabs, making it super easy to keep your most-used sites and web apps always available. To pin a tab, right-click on the tab you want to pin and choose "Pin tab". To unpin a tab, right-click on the pinned tab you want to unpin and choose "Unpin tab". Pinned tabs always appear at the start of the tab row, and only showing the site's favicon. Pinned tabs don't show a close button, so you won't accidentally close them. Pinned tabs that are in your Microsoft Edge window when you close the app will come back the next time you open Microsoft Edge.

Other Microsoft Edge Improvements: You can now copy any link into your clipboard, and right-click on the address bar in Microsoft Edge and choose "Paste and go" from the context menu. Microsoft Edge pastes the URL into the address bar, and navigates to the site. You can also copy words to your clipboard, and choose "Paste and search".

We have also made it easier to close tabs in Microsoft Edge on your mobile device, especially on devices with a larger screen size by increasing the size of the close button for tabs on the Tabs page.

Updated Maps app: This build includes a updated Maps app for Windows 10 that brings a more lightweight, scalable, and consistent UI as well as underlying architecture improvements and new features for you to try!

One-tap access to search and directions from anywhere, even on your phone. This is great especially for one-handed use.
You can view multiple searches and directions at the same time, on the same map as they are layered on top of each other and you can use tabs or the map to switch between them.
You can now minimize search results, directions, and location info to enjoy more of the map, while keeping them in easy reach.
You can see labels for your search results directly on the map. No more numbers to match between the map and the list.
Cortana will give you turn-by-turn directions (if Cortana is enabled).
We have improved the logic for nearby searches so you should see better (closer) results.
We have added the ability to search for your favorite city in the 3D cities list so no more scrolling forever to get to the city you want.
You can now access your favorites offline and add notes to them.
We have updated the turn-by-turn design to improve glanceability and landscape layout.

For more information on the updated Maps app for Windows 10 – check out this blog post from the Maps Team.

Updated Alarms & Clock app: We have pushed out an update to the Alarm & Clock app that introduces a new inline time picker and improved design for creating and editing alarms and timers.

Japanese one-handed kana touch keyboard: You can now choose one-handed kana touch keyboard for Japanese text typing. Type text in the same familiar way you would on your mobile device. One-handed keyboard is smaller than full-size touch keyboard, so it doesn't hide your desktop too much. It can also be placed anywhere on the desktop. If you want to type with left hand, bring one-handed touch keyboard to the left side.

Japanese Lined-mode Text Input Canvas: Now, you can have a new experience with the Japanese lined-mode Text Input Canvas. It provides you natural and intuitive text input for people who enter Japanese text. Edit the written characters, such as striking out inked text and modifying characters, can be easily done with a pen.

Introducing Feedback Hub: As we announced last week, we are bringing together the Insider Hub and Windows Feedback apps into a single app called the Feedback Hub. And the Feedback Hub is now available in this build for both PC and Mobile. The Feedback Hub carries over all of the best things from the previous two apps plus a few new things. When you open Feedback Hub for the first time, you will see a search box at the top so you can quickly find and upvote feedback items from other Insiders or submit new feedback. You will also notice that Announcements and Quests show up together in a single feed under "What's new". When you submit new feedback to us, we have added a new description field so you can explain in more detail the feedback you are sending to us. The most helpful feedback for us includes a brief title that summarizes your feedback, then you can use the new description field to provide more detail, for example: the steps that an engineer could take to recreate a problem, or more information about a feature suggestion. And you'll start seeing Microsoft engineers leaving comments on your feedback too! The familiar experience for browsing feedback is still a click away, just navigate to the Feedback tab from the left-hand navigation menu. We're just starting to add capability to the new unified app and we're excited to take this first step. We're excited to hear what you think of the new Feedback Hub, go to Apps and Games > Feedback Hub and tell us what you think.
Windows 10 build 14291 has a number of known issues which might affect your user experience and impressions from this build. Microsoft published the following list of known bugs:
We continue to investigate an issue in which some Surface Pro 3, Surface Pro 4, and Surface Book devices experience a freeze or hang and all input such as keyboard/trackpad and touch do not work. The workaround is to hold down the power button to force the device to hard-reboot.
Your PC may freeze when plugging in an Xbox One or Xbox 360 controller and other gamepads in this build.
If you use Hyper-V and have a Virtual Switch configured for your network adapter, you may see an error indicator (red-colored "X") for your network adapter in the notification area of your taskbar. The error indicator is incorrect and your network adapter should continue to work just fine.
We are seeing reports of some apps such as QQ crashing. We are currently investigating, and this bug may also impact older apps such as Windows Live Mail and Expression Encoder 4.
If you have Kaspersky Anti-Virus, Internet Security, or the Kaspersky Total Security Suite installed on your PC there is a known driver bug that prevents these programs from working as expected in builds from the Development Branch. We are partnering with Kaspersky to fix this issue for a future release, but at this time there are no known workarounds. While this issue is present, we recommend using Windows Defender or another third party anti-virus product of your choice to remain protected.
Also, a number of bugs were fixed in this build:
We fixed the issue where connectivity to older Wi-Fi networks using the WEP encryption security method may be broken.
We fixed an issue resulting in slower text input speed the more words were typed.
We have improved Word Flow recognition of longer words.
The All apps list has been updated to now follow the "Make Text Larger" ease of access setting.
We fixed an issue where Settings would sometimes list unresolved app names under Extras.
We fixed an issue where touch targets could be out of alignment in the Photos picker.
That's it.
Support us
Winaero greatly relies on your support. You can help the site keep bringing you interesting and useful content and software by using these options:
If you like this article, please share it using the buttons below. It won't take a lot from you, but it will help us grow. Thanks for your support!