Read Frequently Asked Questions for Winaero Tweaker.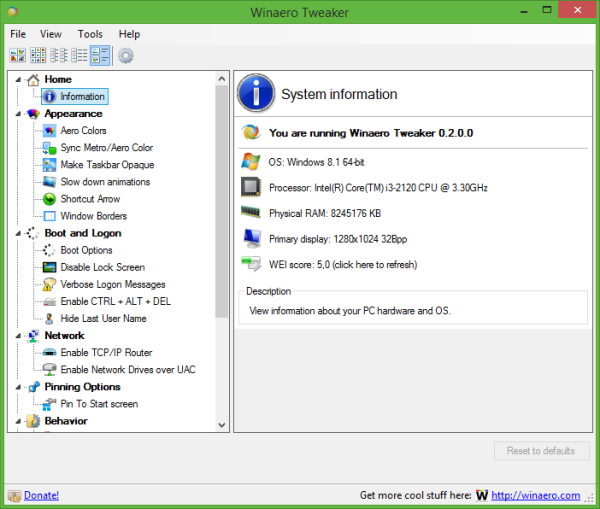 q. What is Winaero Tweaker?
a. Winaero Tweaker is my latest software which consolidates all the tweaks from my smaller, standalone apps. It has an easy to use UI to access all the features from a single app.
q. Is it freeware?
a. At this moment, it is free of charge. This can change in the future because it provides great value but at this moment I have no such plans.
q. How do I obtain and start Winaero Tweaker?
a. You can download Winaero Tweaker by downloading the ZIP file. Extract all the files from the ZIP to a single folder and then run WinaeroTweaker.exe.
q. What is the WinaeroTweakerHelper.exe file?
a. Some operating system options require a background process to be continuously running to monitor those changes. For example, if you change the wallpaper or the theme, the taskbar in Windows 8 will automatically become translucent. If you previously made it opaque using Winaero Tweaker, it needs to make sure that the Taskbar turns opaque even after you close the Tweaker app. So, WinaeroTweakerHelper makes such tasks possible by running in the background and consuming a minimal amount of memory.
q. Why is WinaeroTweakerHelper.exe 32-bit even though the Windows OS I am running is 64-bit?
a. It needs to be 32-bit. It is required by Windows API implementation, see THIS for more details.
q. Why does WinaeroTweakerHelper.exe run at Windows startup?

a. You enabled some features in the Tweaker which caused the helper process to run when you sign in to complete those tasks. For example, you may have turned on "Make taskbar opaque at startup":
q. Hey! Why does Winaero Tweaker try to access the internet or "phone home"? Does it collect any personally identifiable info?
a. It does nothing except check for updates. You can disable it from the Tools -> Preferences menu. Thereafter, Winaero Tweaker will not connect to the Internet.
q. Where's the apply button that was on Boot UI Tuner/Close Threshold/Window Borders/Any other app combined with tweaker?
a. There is no such button in Tweaker for most of its settings. They are applied instantly after you change the appropriate setting and you don't need to click any additional buttons. It is better for your productivity.
However, for some features, an additional confirmation makes sense. For example, changing the shortcut arrow requires a restart of Explorer, so it is better to let the user perform this action manually to prevent any inconvenience.
In most cases, you don't need to click any 'Apply' button or anything else. Just change the settings you want according to your preferences.
q. How to uninstall Winaero Tweaker?
a. Winaero Tweaker can be installed as a portable app:
Delete the folder where you extracted it to remove it. If you are unable to delete WinaeroHelperTweaker.exe, kill it from Task Manager.
If you have installed it using the Normal mode, go to Control Panel - Programs and Features - Uninstall a program. Uninstall the app there:

q. Will updating Tweaker over the existing installed version cause me to lose my settings?
a. It won't. You can safely install the app over any previous version you have installed.
q. When will feature XYZ be implemented?
a. I am developing ALL my apps in my free time. So, your favorite feature will be implemented whenever I get time to code it.
q. Can you please add feature ABC?
a. I am always listening to your suggestions. Feel free to leave a comment.
q. After the Aug. 2 2016 update ("anniversary update", version 1607) some features disappeared from Winaero Tweaker. Why?
a. Microsoft has changed Group Policy and locked some options to Enterprise and Education editions. Unless you are running Windows 10 Enterprise or Education, you can't get features like "Disable Lock Screen" and "Disable Unwanted Apps". See this article for reference: Microsoft locks some Group Policy options to Enterprise editions in Windows 10 Anniversary Update.
q. Is it a virus? My Microsoft Defender/Malware Bytes/Some other AV software flags it.
a. This is a false-positive. It happens from time to time with a variety of security software, and not only to Winaero Tweaker. Almost all tweakers are a special software that change system settings or its behavior, often using undocumented or hidden options, sometimes using Group Policies or documented APIs.. This is mainly the reason for such reaction. Also, I have expressed my opinion regarding the situation in this post.
In short, no, it is not a virus, not a potentially unwanted software, but I always assume that you know what you are changing and for what. If you have any doubt, don't change the option. Click on the "See how it works" link on the specific tweak's page in the app, and read carefully what it does.
Support us
Winaero greatly relies on your support. You can help the site keep bringing you interesting and useful content and software by using these options: