A new version of Winaero Tweaker is out. I did a lot of work to make this release feature rich and notable. I fixed several bugs in the app and added a number of new features which I hope you will find useful.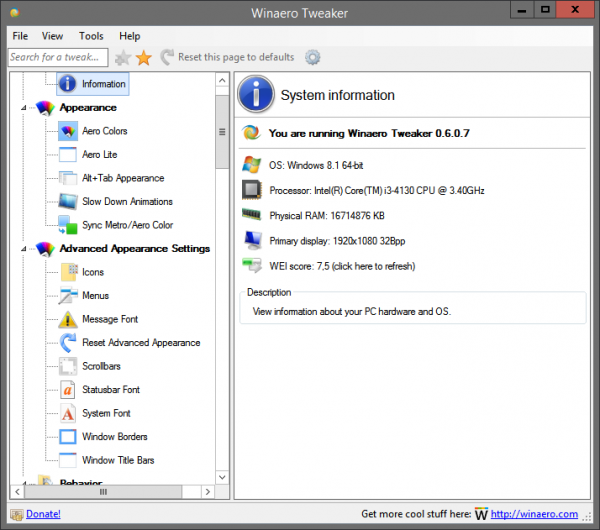 Winaero Tweaker 0.6.0.7 comes with plenty of changes. Here is the change log.
I resolved the following bugs:
The annoying bug with search. If your previous search result contained only a single item in the list, the next search would open only the first item which matched the search query. Thankfully I fixed this issue.
Fixed all appearance issues report by our reader MDJ:
fixed the trackbar layout in Behavior\Show Menu Delay
fixed the trackbar layout in Behavior\Xmouse
fixed the trackbar layout in Advanced Appearance\Windows Title Bar
fixed the trackbar layout in Advanced Appearance\Icons
fixed the trackbar layout in Advanced Appearance\Menus
fixed the trackbar layout in Advanced Appearance\Scrollbars
Winaero Tweaker now respects the maximized window state of its window and saves its position and size. Thanks to our readers for feedback.
The option File Explorer\Drive Letters now requires logout to work properly.
Network\Network Drives over UAC added again when running in recent builds of Windows 10, since the option is seen to be working again.
New features in this release are as follows.
New features in Winaero Tweaker 0.6.0.7
Context menu tweaks
The ability to remove "Scan with defender".
The ability to remove "3D print with 3D Builder".
The ability to remove "Cast to device".
See the following screenshot: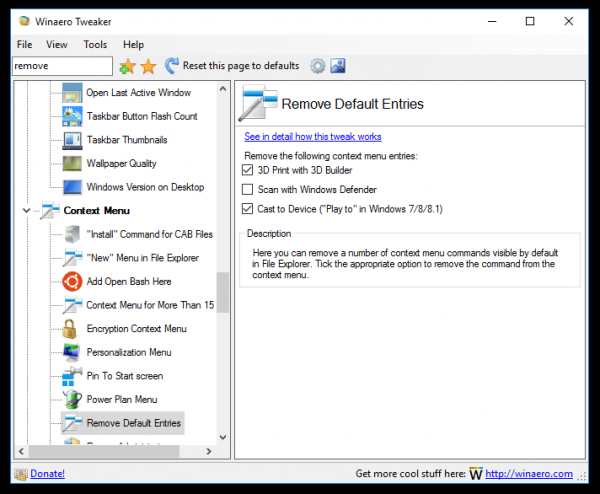 The ability to add "New -> PowerShell script file" to the New menu of File Explorer:
When you select more than 15 files, File Explorer disables certain context menu commands. Now you can bypass this limitation with a single click:
A new command "Open Bash Here" specially for users who use Bash on Ubuntu frequently.
Security and Privacy
Other changes
A new tool has been added to find your current lock screen image or grab the entire Spotlight image collection which Windows 10 has downloaded and stored on your drive. Unlike scripts you might be using for this, the tool doesn't collect "garbage" files like provisioned app icons and promoted app tiles. Also, it sorts images according to their screen orientation (Landscape and Portrait).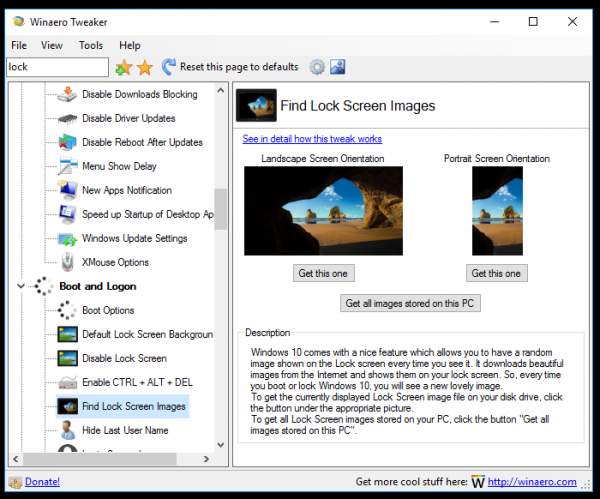 The option Show BSOD Details will allow you to disable the "user-friendly" sad smiley which Windows 8 and Windows 10 show instead of the classic blue screen. Once it is disabled, Windows will display a BSOD with technical information like Windows 7. This is very useful for troubleshooting.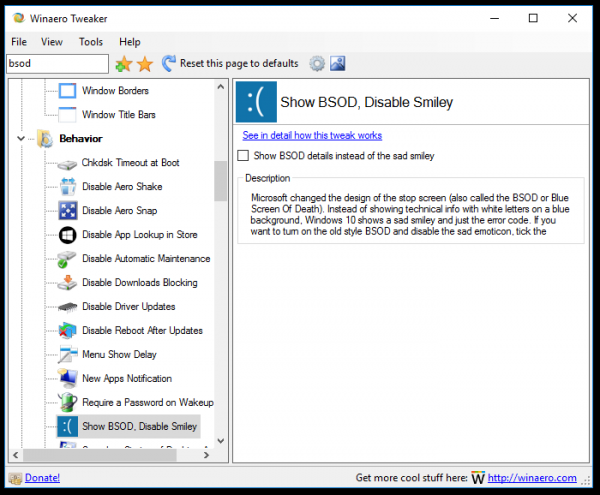 I have started to code an Import/Export feature to save and apply all the changes again that you have made. This will be useful after a clean reinstall, Windows build upgrade or on another PC. As of this writing, the feature is implemented partially so it did not make it into this release. I hope to finish it for the next release. I also did some code improvements and optimizations to make the application more stable.
I would like to say thanks to all users of Winaero Tweaker and all the readers of our blog. I really appreciate your feedback and support. It allows me to make my app better with every release and gives me confidence that all Winaero projects are worth my time.
That's it. Feel free to report any bugs you find and make your own suggestions.
You can download Winaero Tweaker here:
Download Winaero Tweaker | The list of Winaero Tweaker features | Winaero Tweaker FAQ
Support us
Winaero greatly relies on your support. You can help the site keep bringing you interesting and useful content and software by using these options:
If you like this article, please share it using the buttons below. It won't take a lot from you, but it will help us grow. Thanks for your support!