I am happy to present a new version of Winaero Tweaker. This version features lots of improvements and new features. In case you aren't following the development of this free app, it's a powerful tool to adjust numerous hidden settings in Windows which Microsoft does not allow you to configure easily. It incorporates Windows-related tweaks from my past tweaking tools at Winaero plus new hidden settings I have discovered in modern versions of Windows. Over time, I am gradually adding all the tweaks from my standalone tools to this app to make it an all-in-one tool to fine-tune Windows. This new release of Tweaker deserves a major version number increment because a lot of coding work went into it. Let's see which changes are included in this version of Winaero Tweaker.

Let's start with bugfixes.
Windows 10 users might be happy to know that Winaero Tweaker does not freeze any more when you change the options in the Advanced Appearance section. Actually, it was never a bug in Winaero Tweaker. It is a bug in Windows 10. From what I have observed about Windows 10, it seems the SystemParametersInfo API function is a bit broken. Internally, it broadcasts something like WM_WININICHANGE and waits for every window to respond. If any of your running apps have a non-responsive "sleeping" window, it causes the application to freeze. There are lots of background tasks in Windows 10. Some of them cause this issue.
As a workaround, I have disabled the ability to change the options in Advanced Appearance on-the-fly. To prevent the app from hanging in Windows 10, you will need to sign out to apply any changes. Windows 8 and Windows 7 users can enjoy instant changes because the metrics API is not broken in those OSes.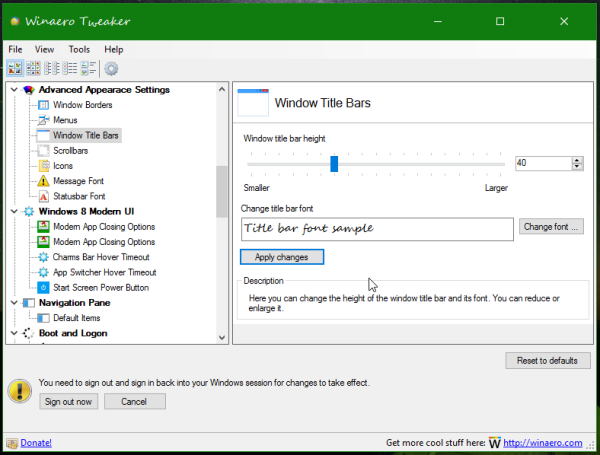 Another change related to Advanced Appearance is the all-in-one reset button. I received a few emails where people asked for help in resetting all Advanced Appearance options to their defaults. The new button resets all options with one click and restores the original look of windows and controls: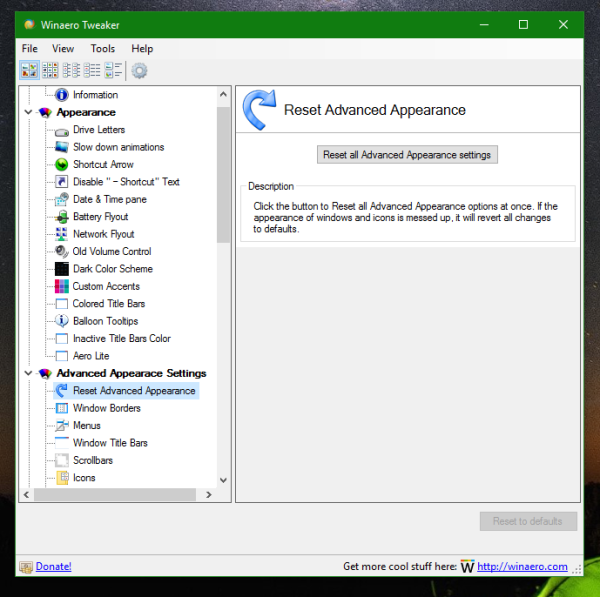 Another bug which was fixed is the "Disable Snapping" option in Behavior\Disable Aero Snap. It was always unchecked, regardless of the state of the feature.
Now let me walk you through the new features I added to this major release. There are many new features in Winaero Tweaker 0.4.
Windows 10 version 1511 support
Now the application properly handles Windows 10 version 1511 (Threshold 2/November update). It detects it properly. Previously, some users tried to use the option "Enable Colored Titlebars" on TH2 builds, but this feature was designed for Windows 10 RTM build 10240. Now it works properly with build 10586 too: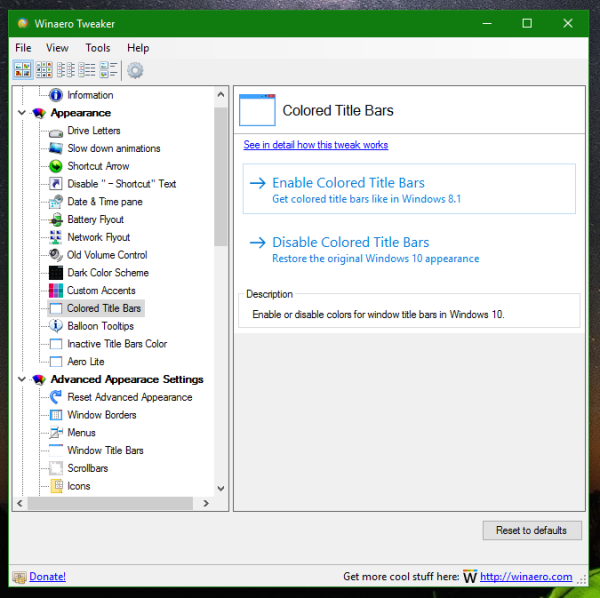 Also, in Windows 10 version 1511, you can specify the title bar color for inactive windows. This can be done using a user-friendly interface with a few clicks.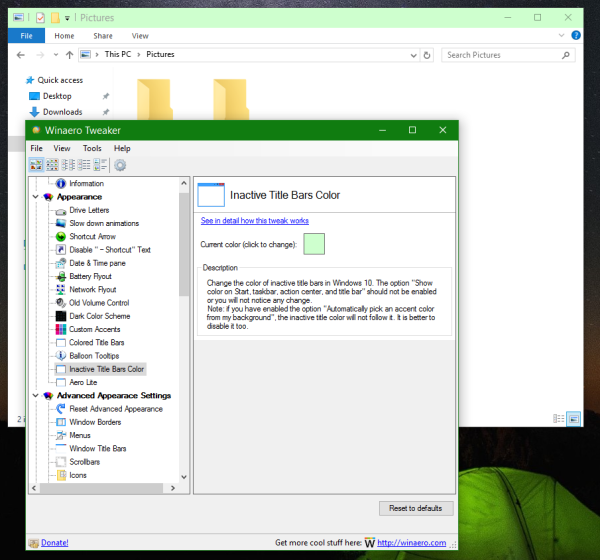 The ability to customize the Explorer navigation pane
With Winaero Tweaker 0.4, you will be able to hide unused items in the navigation pane of File Explorer. This feature was long awaited. It was actually very hard to implement it without breaking anything in the operating system. In Windows 10, you will also be able to restore Favorites to the navigation pane and hide the Quick Access item!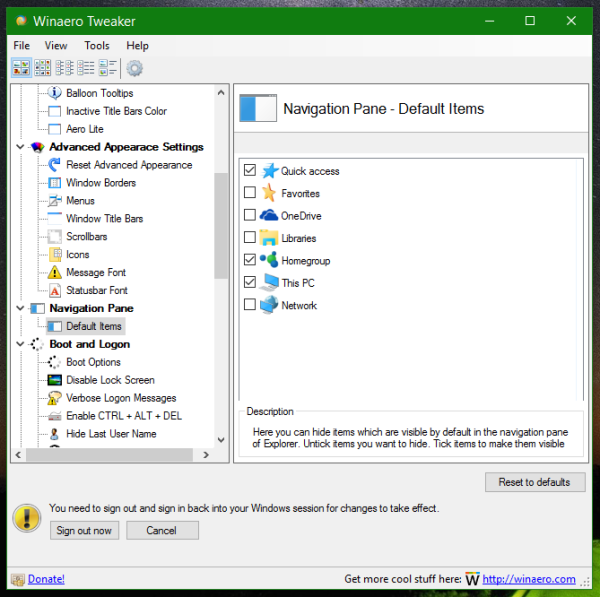 Desktop context menu
Two new options allow you to add a Personalization submenu to the Desktop context menu. When enabled, it shows items to let you access the classic Appearance settings on Windows 10 as shown below: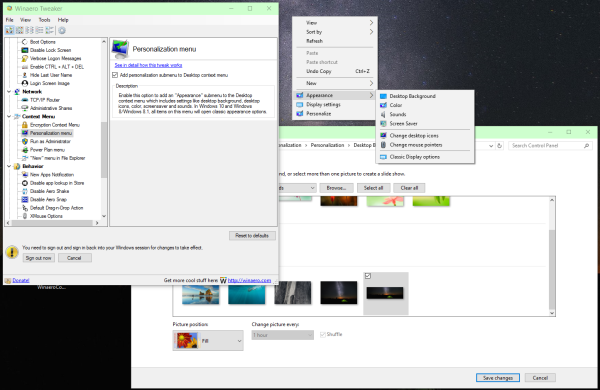 The other useful feature is the "Switch Power plan" submenu. When enabled, it will allow you to switch the power plan quickly using the Desktop context menu: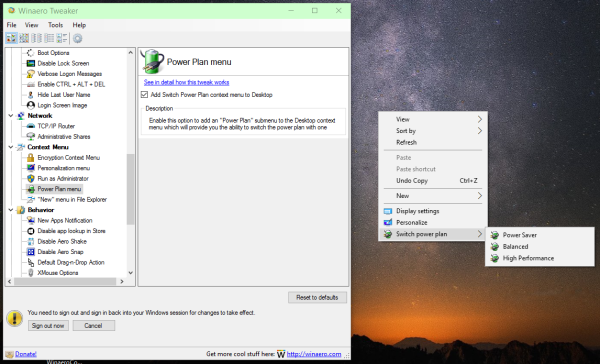 File Explorer context menu
There are new options to extend the context menu of files and folders in File Explorer. The first one will add commands to Encrypt/Decrypt files using the Windows EFS (Encrypting File System) feature: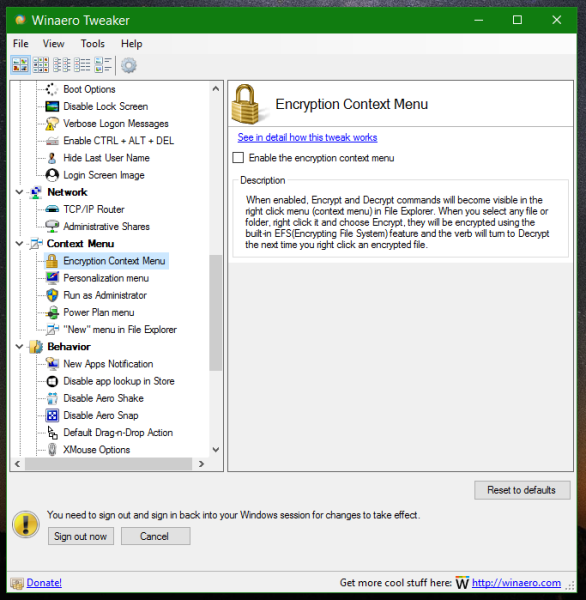 The second option allows you to add a "Run as administrator" command for those file types which don't have such a command available by default. Such file extensions are *.vbs and *.msi: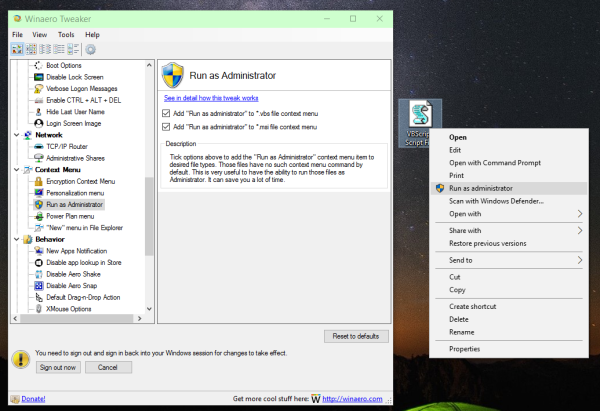 The last option extends the "New" submenu in File Explorer and lets you create new empty *.reg, *.vbs, *.cmd and *.bat files: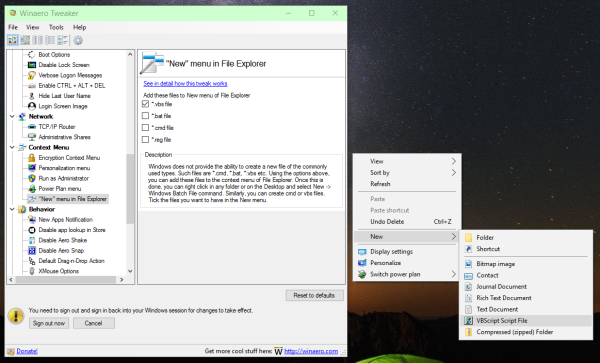 Balloon tips in Windows 10
If you don't like the new notification toasts in Windows 10, it is possible to bring back balloon notifications for apps which used them. When enabled, you will see the familiar balloon tip instead of the toast notification when, for example, a USB flash drive is safely removed. Note that some apps still continue to use toast notifications but the ones which used balloons will revert to the classic style: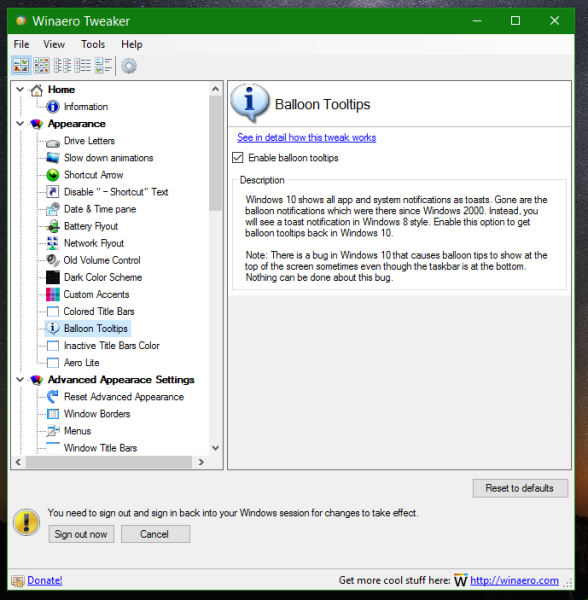 Disable the " - Shortcut" text for new shortcuts
This feature will allow you to disable the annoying " - Shortcut" suffix which Explorer adds to all shortcuts you create.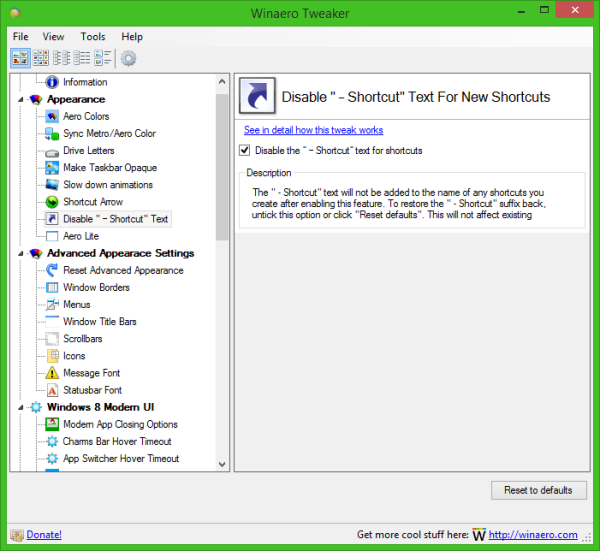 Microsoft Edge default download folder
If you want to set the default download location for the Microsoft Edge browser to a folder other than %USERPROFILE%\Downloads, Winaero Tweaker will allow you to adjust this with one click. Just select the required folder and you are done: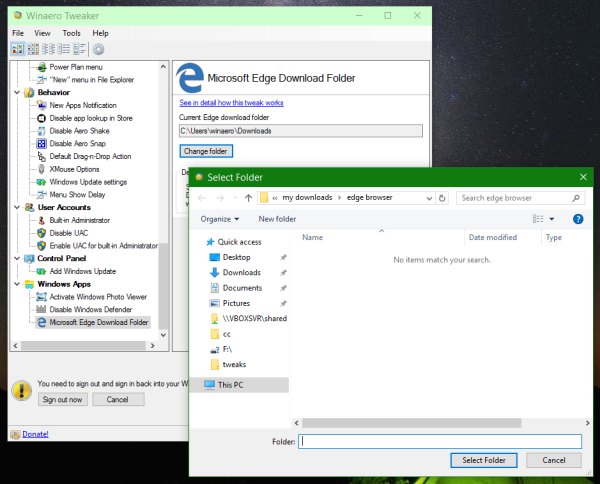 Add a link to Windows Update in the classic Control Panel.
Enable this option to restore the "Windows Update" link inside the Control Panel\System and Security category. By default, in Windows 10 this link is missing. To access Windows Update, you need to use the Settings app. This tweak can save you some time if you prefer to use Control Panel.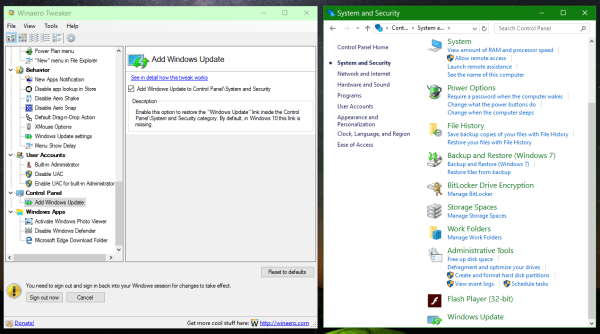 And finally, a small but significant addition is a hyperlink for various tweaks which describes in detail what that tweak exactly changes in the operating system. Many users requested this change to be confident that the tweak is safe to perform. Many others are curious about the options my Tweaker modifies under-the-hood. So to add more transparency in letting you see what exactly is being changed in your OS, I finally implemented this so you can click the link and read in detail about the tweak.
That's it. I hope you enjoy the new version of Winaero Tweaker. Feel free to report any bugs you find and make your own suggestions. You can download Winaero Tweaker here:
Download Winaero Tweaker | The list of Winaero Tweaker features | Winaero Tweaker FAQ
Support us
Winaero greatly relies on your support. You can help the site keep bringing you interesting and useful content and software by using these options:
If you like this article, please share it using the buttons below. It won't take a lot from you, but it will help us grow. Thanks for your support!