Windows 10 version 1909 is  rumored to become generally available tomorrow, so I am releasing a new version of Winaero Tweaker that is able to properly recognize it.  The new version also includes a number of bugfixes and new features.
Winaero Tweaker 0.16 comes with the following changes.
Fixed bugs
App crashes when you type [ or ' in the search box.
The "Make network computers visible" checkbox doesn't remember its state.
The Open Windows Defender Settings button opens the Documents folder on 1909+.
The Take Ownership command doesn't respect symbolic links (missing the /skipsl argument).
The Windows Experience Index doesn't use separator defined in user's regional settings.
Improvements
The search now includes the parent category's name, so you can quickly tell what tweak you are going to open.
The App mode/Windows mode context menu now has icons.
I have added a lower value limit to the number of simultaneously selected files in File Explorer. Setting it to 0 would broke File Explorer, so Tweaker won't allow you to harm the shell any more.
New features
Automatic Registry backup
Starting in Windows 1803, Microsoft has turned off the automatic registry backup feature by default, so the operating system doesn't create automatic backup copies of registry hives any more. Winaero Tweaker allows you to re-enable this feature in order to have a working copy of Windows 10 registry.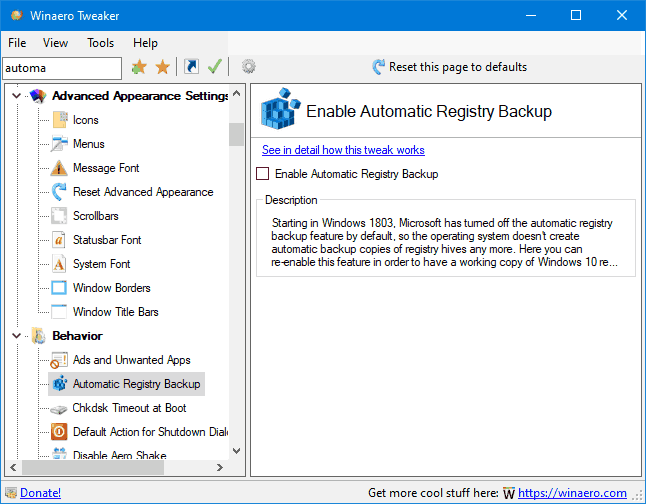 The ability to remove the "Print" context menu command.
In modern Windows versions, File Explorer includes the Edit command in the context menu for images. If you right-click an image, and select Edit, the image will be opened in Microsoft Paint. Now you can change the app for the Edit command and replace it with an image editor of your choice using Winaero Tweaker.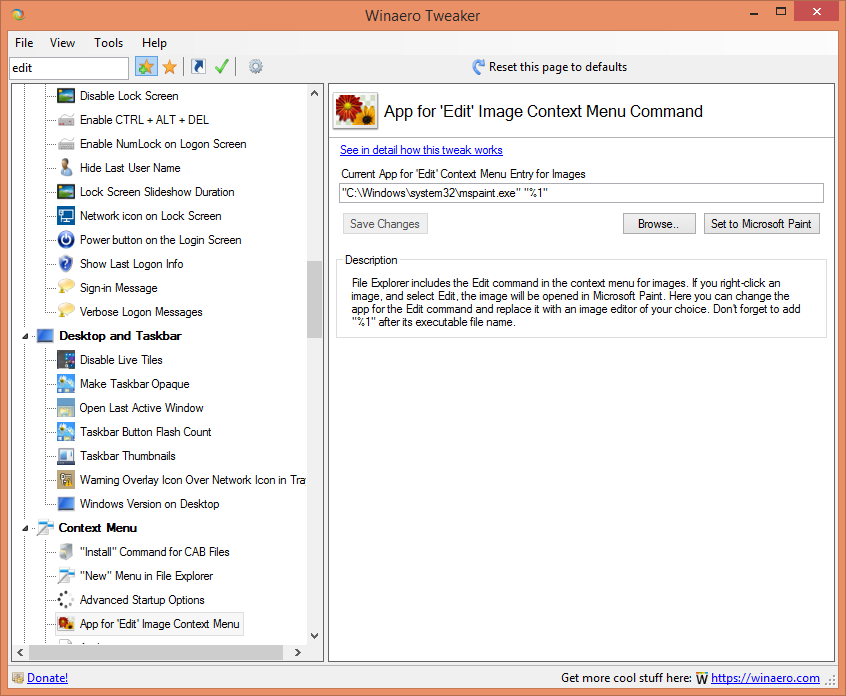 A new feature will allow you to add the "Restart the Start menu" context menu command to restart the Start menu process in recent Windows 10 versions.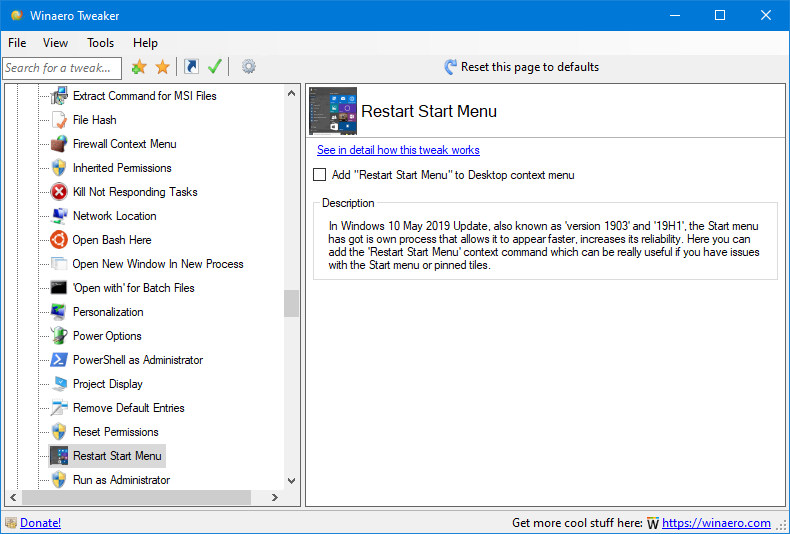 Project Display
If you have multiple displays or an external projector, you might find it useful to add a special context menu to quickly switch mode for multiple displays in Windows 10.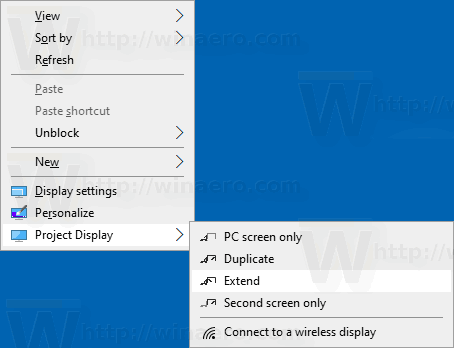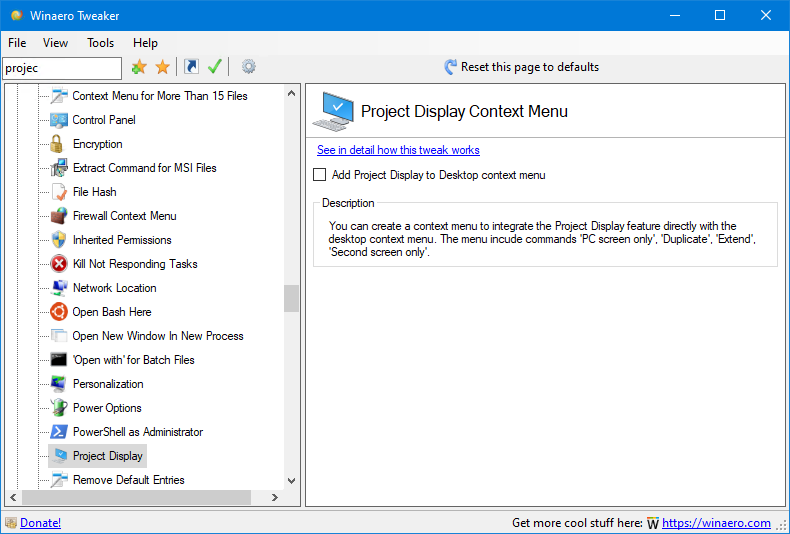 Advanced startup
You can create a special Desktop context menu to reboot the OS quickly and launch the Advanced Startup Options (troubleshooting options).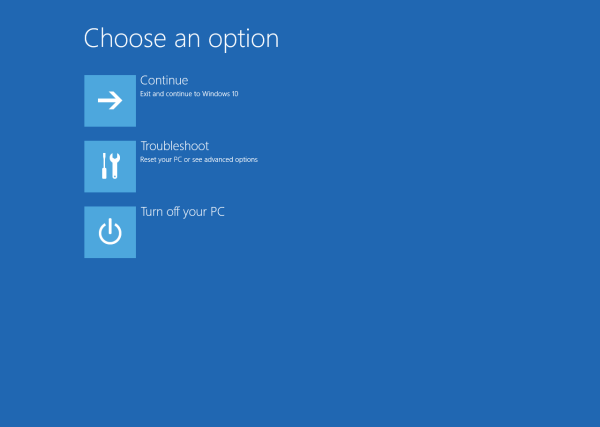 This is very useful if you have some issue that you cannot fix in the regular Windows 10 environment, for example, you may need to overwrite or delete some in-use files.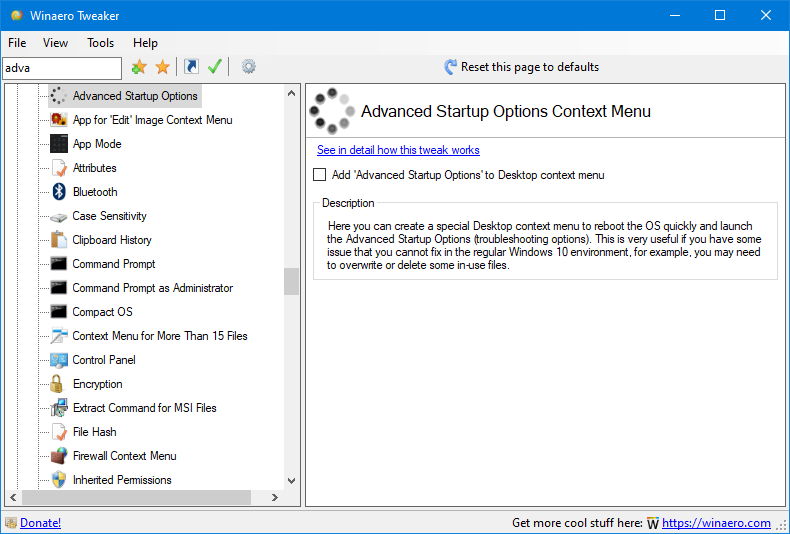 Open with for *.bat and *.cmd files
Batch files do not have the "Open With" option in Windows 10. You can add the "Open With" entry to the context menu of BAT files using a new option in Winaero Tweaker.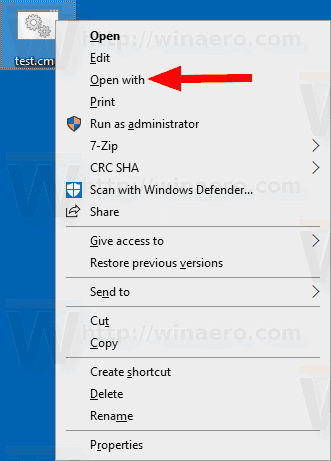 This can be done with one click.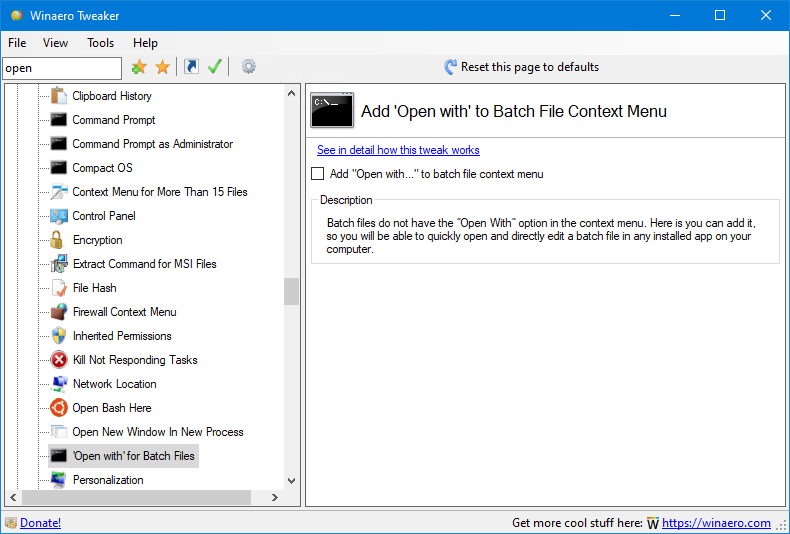 Traditionally, I would like to say BIG THANKS to each and every Winaero Tweaker user. Your support, reports and suggestions are always helpful.
Resources:
Download Winaero Tweaker | The list of Winaero Tweaker features | Winaero Tweaker FAQ
Support us
Winaero greatly relies on your support. You can help the site keep bringing you interesting and useful content and software by using these options:
If you like this article, please share it using the buttons below. It won't take a lot from you, but it will help us grow. Thanks for your support!