Winaero Tweaker 0.10 is out. It will allow you to disable Windows Update reliably  in Windows 10, get rid of update notifications, ads in Settings, Timeline and My People. Also, it comes with new tools and tweaks, and it properly works under Windows 10 version 1803 "Spring Creators Update".

New Features of Winaero Tweaker 0.10
Windows Update
I've created the Windows Update feature of Winaero Tweaker from scratch in order to get rid of the most annoying behavior of Windows 10 - forced updates and upgrades. Now it looks as follows: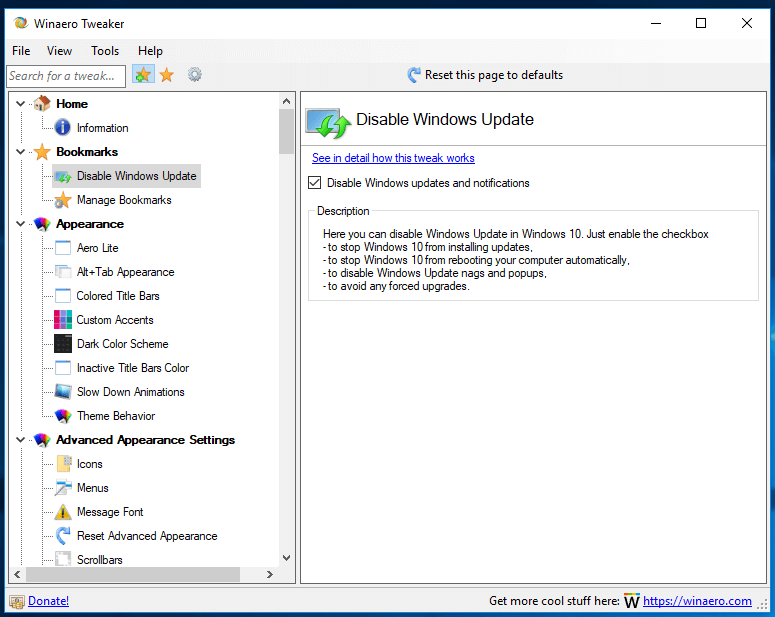 Turn on the check box, and you will not get updates in Windows. In Windows 10, it will block the operating system from enabling the Windows Update service and interrupting your workflow. Also, it blocks the apps which bring you annoying desktop notifications about updates.
By disabling the option you can restore defaults safely. The solution provided by Winaero Tweaker is safe and reliable. Also, the option now supports the import and export feature!
Get rid of ads in Windows 10
As you may already know, Winaero Tweaker allows disabling most of the ads in Windows 10. Recent Windows 10 versions come with more ads, including ads in Settings, Timeline, and People. Winaero Tweaker 0.10 allows disabling them.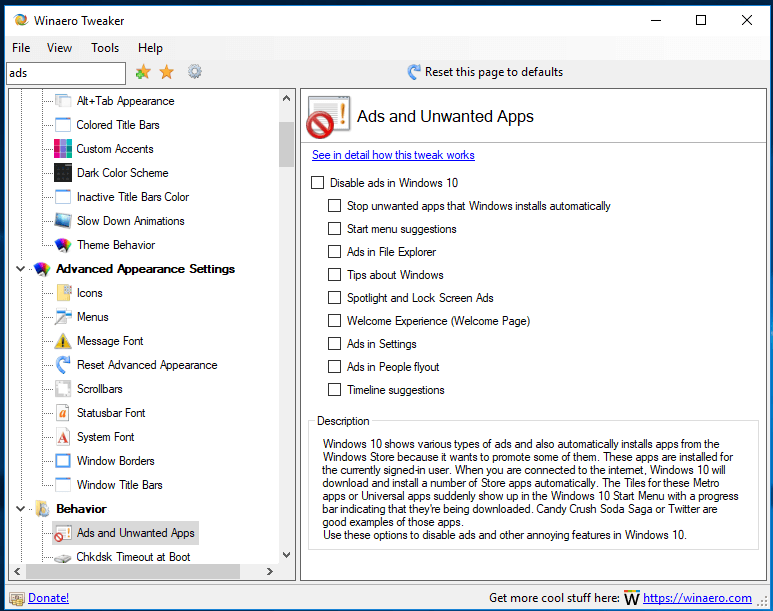 Disable Online and Video Tips in Settings
By default, the Settings app shows various tips, links to online tutorials and also videos for pages you open. Depending on your display size, they can appear below the page controls or on the right. If you find them useless or annoying, you can hide them.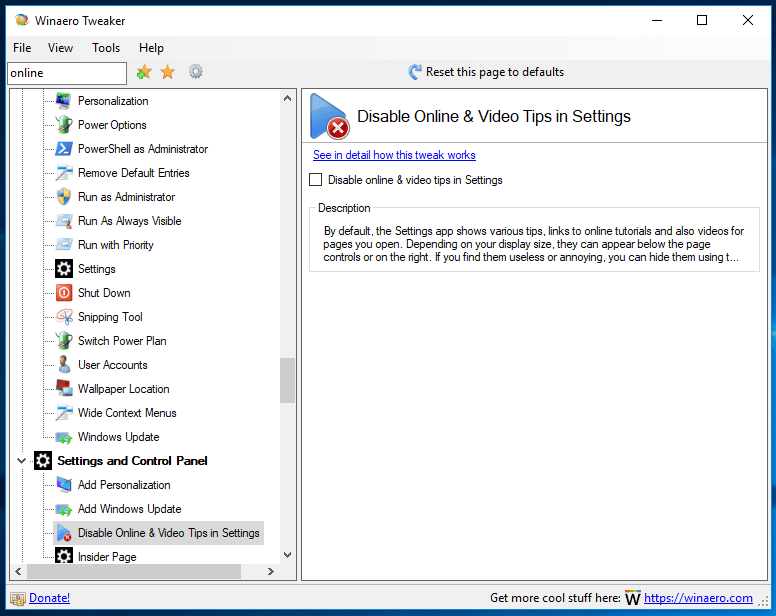 Disable Web search in the taskbar in Windows 10 version 1803
As you may already know, Windows 10 version 1803 doesn't allow disabling the Web search feature using the good old Group Policy tweak in the taskbar (Cortana), making Windows always search online for queries you type in the search box. Winaero Tweaker disables this behavior using an alternative method. The user interface hasn't changed.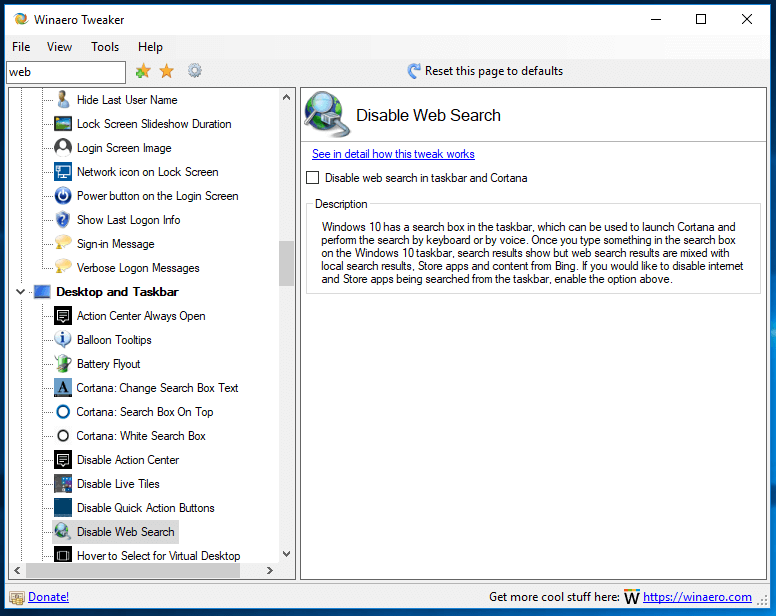 Change Drag and Drop Sensitivity
You can now change drag and drop sensitivity with Winaero Tweaker. This can be useful if you have a sensitive touchpad and want to make it less sensitive to accidentally moving or copying files in File Explorer and other apps. Or you just might be unhappy with the default setting which requires dragging only a few pixels.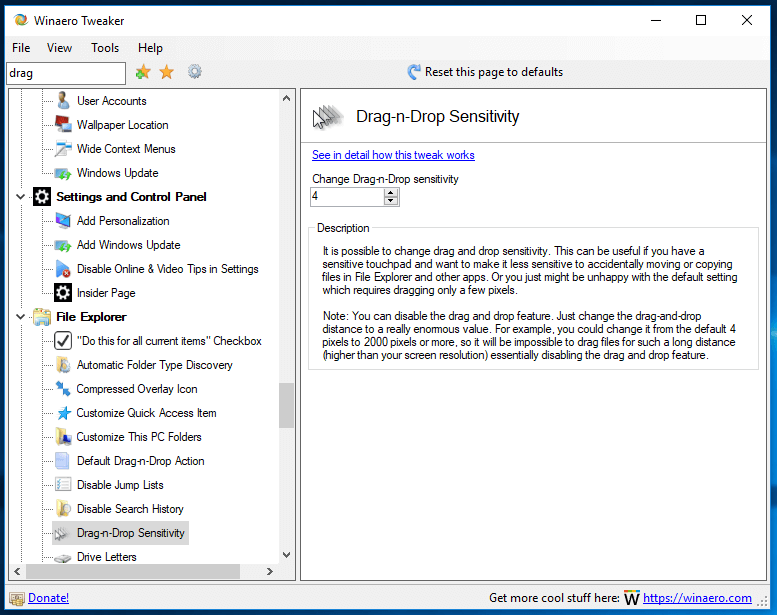 Make "Run as" Always Visible in Context Menu
The next option will allow you to make the "Run as different user" context menu command appear without holding the Shift key. Using it, you can start a batch file, an executable file or even an app installer as another user.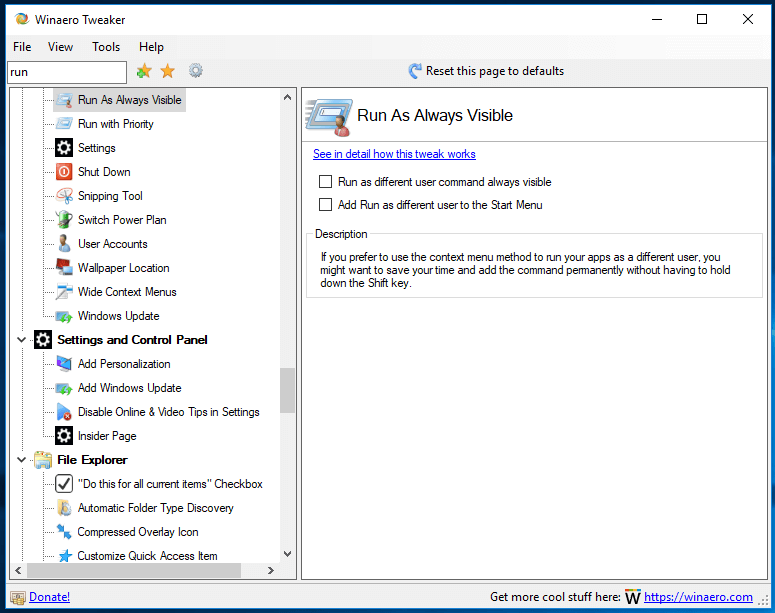 Using this option, you can also add the "Run as" command to the context menu of your Start menu items.
Add a Sign-in Message
You can add a special sign-in message that will appear for all users every time they sign in. The message can have a custom title and message text, so you can display any text message you want. Fill in the two text fields and you are done.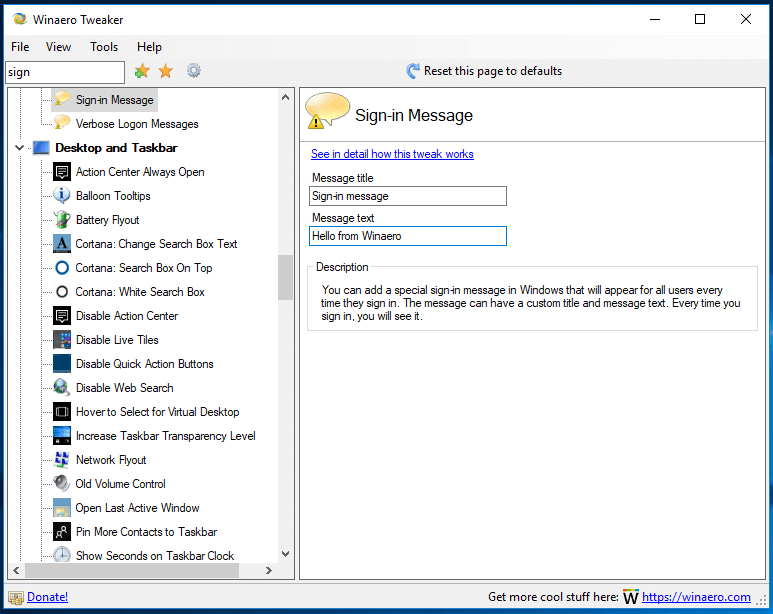 Prevent Windows 10 From Deleting Thumbnail Cache
In Windows 10, File Explorer is able to show small previews for image and video files you have stored on your disk drive. To speed up this process, it uses a cache file. When a file is cached, File Explorer re-uses the thumbnail from the cache to show it instantly. Windows 10 deletes the thumbnail cache automatically. When this happens, File Explorer becomes terribly slow because it takes time again to re-generate the thumbnail for every file and cache it, so the process creates a notable CPU load for no reason. This is very unfortunate when you are browsing a folder which contains lots of images. Starting with Windows 10 Fall Creators Update, the operating system keeps deleting the thumbnail cache after a restart or a shutdown, so File Explorer has to recreate the thumbnails again for your folders with images.
To prevent Windows 10 from deleting the thumbnail cache, enable this option: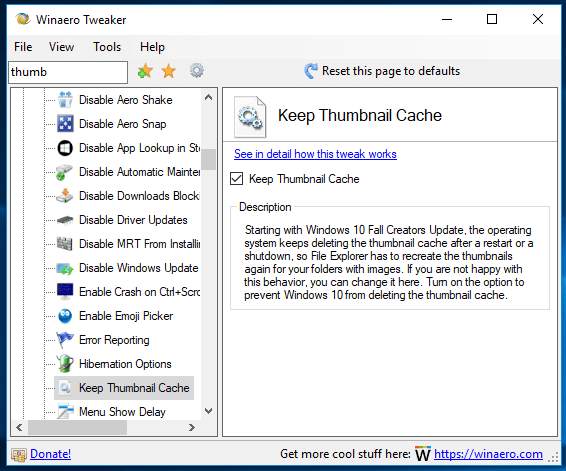 Disable Search History in File Explorer
Every time you search for some file name pattern or condition using the text box in the top right corner of the app's window, File Explorer saves it in the history. You can prevent it from saving your searches by enabling the next option.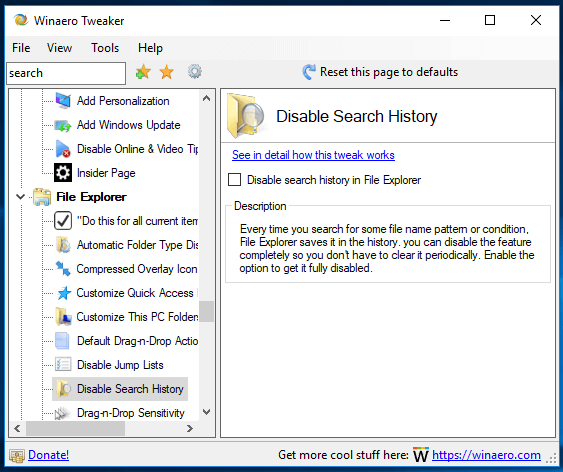 Change Taskbar Button Width
It is possible to change the minimum width of taskbar buttons. Using a new options of Winaero Tweaker, you can enlarge your taskbar buttons and make them more suitable for touch screens or high-resolution displays.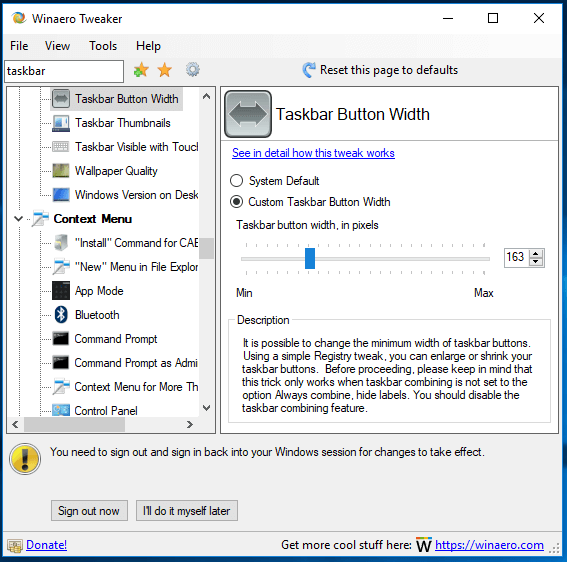 Default taskbar button width:

Large taskbar buttons:

The classic Shut Down Windows dialog shortcut
Starting with Winaero Tweaker 0.10, there is a new category of options called "Shortcuts". It combines a few previously available options with a new option, "Classic Shutdown Shortcut". Use it to create a shortcut to the classic Shutdown Dialog Windows dialog.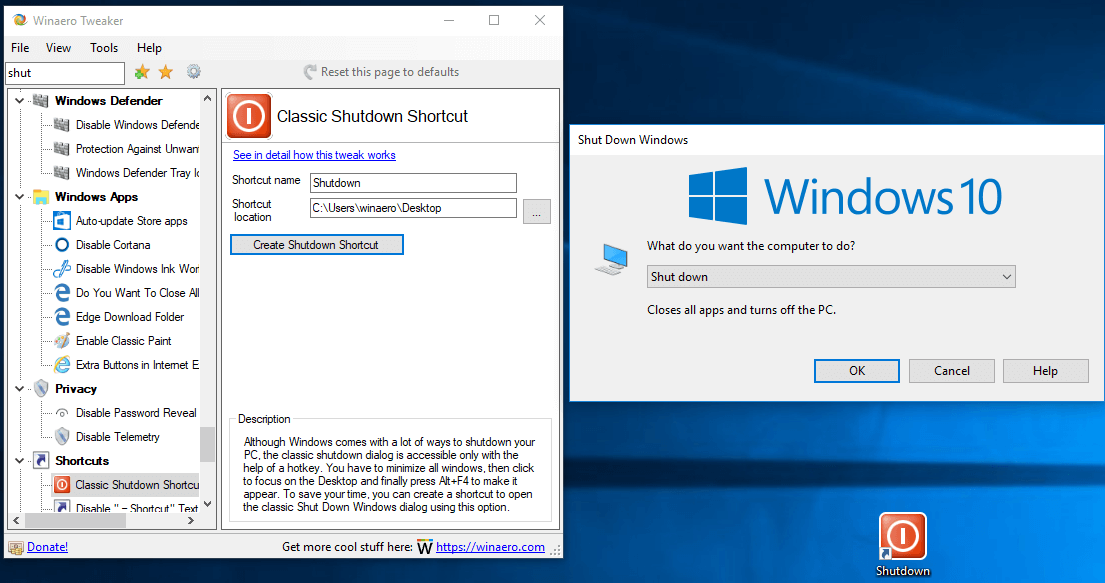 Improvements and fixes
The option to prevent Malicious Software Removal Tool from Installing is now available under Windows 7.
Fixed the broken import/export feature for the context menu option "Run command prompt as Administrator".
The option "Open Registry Key" now opens the Registry Editor when you hit the Enter key in the text box.
The search result pane and the category view now use double-click to open items.
Winaero Tweaker now remembers the collapsed state of nodes in the navigation pane between sessions.
Various minor fixes and improvements.
Resources:
Download Winaero Tweaker | The list of Winaero Tweaker features | Winaero Tweaker FAQ
Feel free to post your impressions, bug reports and suggestions in the comments! Your feedback is what makes this tool great so keep it coming!
Support us
Winaero greatly relies on your support. You can help the site keep bringing you interesting and useful content and software by using these options:
If you like this article, please share it using the buttons below. It won't take a lot from you, but it will help us grow. Thanks for your support!