A new build of Windows 10 has been released by Microsoft. Build 10130 features several changes from the previously released build of Windows 10 Insider Preview. Before you update your Windows 10 to build 10130, you might be interested in knowing what exactly has changed in this build. Here is a brief list of changes.

Customizable Start menu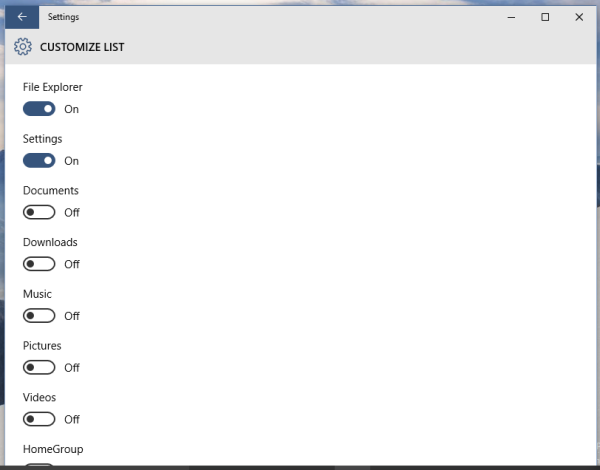 Microsoft has more added some customization options to the Start menu. New options in the Settings app will allow the end user to customize the items displayed in the bottom left area of the Start menu. Items like Documents, HomeGroup, User profile folder and several other commonly accessed locations can be added to that area. See more details here: How to customize the Start menu in Windows 10.
Icon design
Icons appearance was updated again to reflect the Microsoft design language, but keep a more consistent and cohesive look and feel with icons from Windows 7.
The last row represents the current icons in Windows 10. If you are interested in downloading these icons, please refer to the following article: Download icons from Windows 10 build 10125.
This build includes more polished-looking Jump Lists. Now it matches the rest of the new UI for Start and the Taskbar in Windows 10. Right-click on File Explorer if you have it pinned to your Taskbar and check out the updated Jump Lists.
Start menu/Continuum improvements
When in Tablet mode, you can now swipe from the top edge to open app commands if the app has them just like you could on Windows 8.1. Also, it is possible to pick an app from an alphabetical list:
Microsoft Edge / the "Spartan" browser
Microsoft Edge in this build got the ability to pin/unpin the Cortana pane, Favorites pane, Reading list pane, or any other pane in the browser.
Virtual Desktops
The taskbar in Windows 10 build 10130 shows only the current desktop apps by default. It can be changed as described here to show apps from taskbars on other desktops: How to show only the current desktop's windows on the taskbar in Windows 10
Cortana
Cortana got a keyboard shortcut, Win + C. Earlier, this hotkey was used to open the Charms in Windows 8/8.1. See the ultimate list of all Windows keyboard shortcuts with Win keys.
Microsoft Print to PDF
The feature in Windows 10 for printing to PDF is called "Microsoft Print to PDF". To try it out, simply select "Print" from an app and choose "Microsoft Print to PDF" as the printer. This isn't a groundbreaking improvement - you could install free desktop apps like doPDF to achieve the same thing on Windows 7 and earlier.
Additionally, Windows 10 features the ability to play videos fullscreen using the Movies & TV app.
Support us
Winaero greatly relies on your support. You can help the site keep bringing you interesting and useful content and software by using these options: