In Windows 10, you can view Reliability History to inspect faults and app crashes in a useful way. A special tool, Reliability Monitor, tracks system stability and related events. Let's see how to access this useful app.

To
view reliablity history in Windows 10
, open the Start menu and type
reliability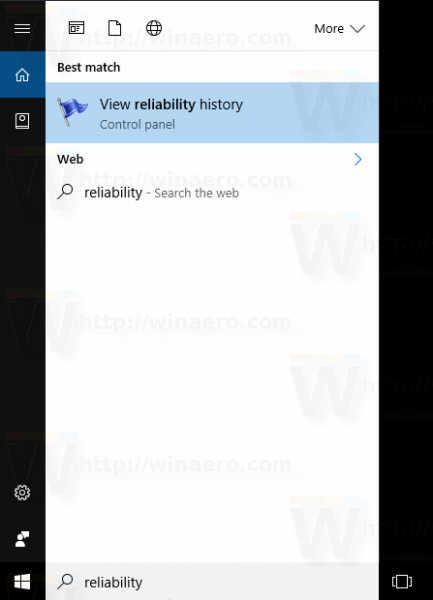 In the search results, click the item "View Reliability History", which opens the Reliability History report. You are done.
Here is how the reliability history report looks like: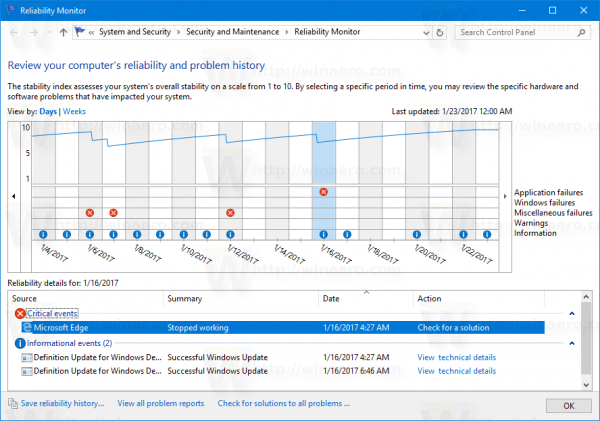 Basically, it looks like a graph with icons which match different events.
The information sign is used for software events like installation or uninstall of an app which finished successfully.
For software installs and uninstalls which failed, the graph shows a warning sign.
For software faults like crashes, an error sign is used.
You can click the appropriate icon to learn more about the past events. In my case, the reliability monitor show several crashes of Edge.
In the lower part of the window, you can learn more about the event. For information marks, you can see details by clicking the link "View technical details". For errors and faults, you can quickly look for available solutions.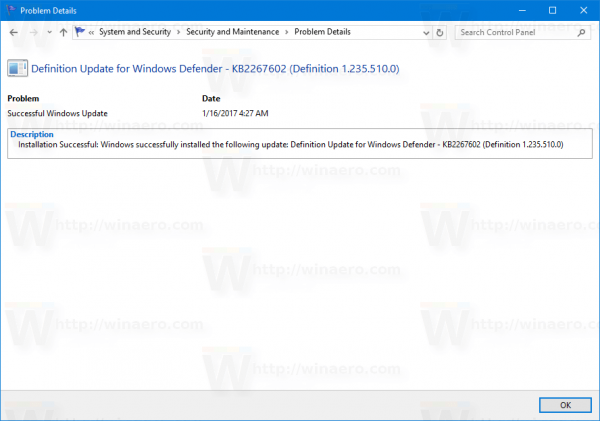 The graph value is shown using a special Stability Index. Its value can be from 1 to 10 and depends on the number of failures that have happened over a period of time. The greater the value, the more stable the operating system is.
Reliability Monitor analyzes the history of system stability for the last year. The graph you see in the history can be scrolled back and forward. It is arranged by date and out of the box it shows the most recent data aggregated by days. You can arrange its data by weeks.
In the History View, the most recent failures affect the Stability Index more than failures that have happened in the past. The days when your PC was not turned on are not included in the calculation and are excluded from the measurement.
It is possible to save the entire reliability history using a special link at the bottom of the window.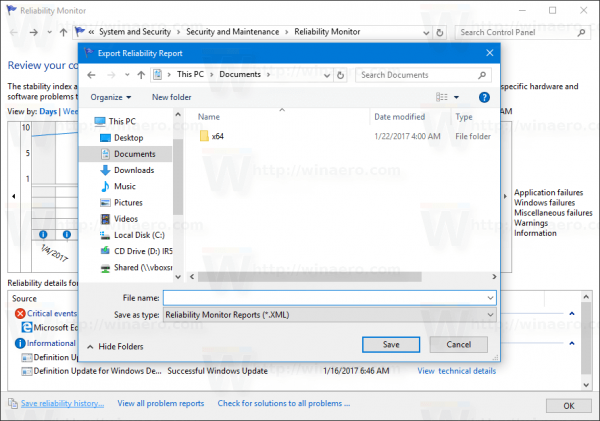 There, you can use two more useful links.
The link "View all problem reports" will allow you to view list of all reports which can be sent to Microsoft.
The link "Check for solutions to all problems" is useful to quickly check for available solutions. Windows checks for solution to errors online for apps and driver issues.
As of this writing, Reliability Monitor is available only in the classic Control Panel and has not been added to Settings yet.
Reliability History is a really useful tool when you need to check the stability of your operating system and learn about failures in detail. It exposes all software faults which you might have forgotten about and allows you to check for available solutions directly from the History user interface with one click.