Recently, we covered how you can create a shortcut to open the classic Shutdown dialog in Windows 10. While the mentioned trick works as expected, Windows 10 does not provide any way to change the default Shutdown command in the classic Shutdown dialog. In this article, we will see how to set that.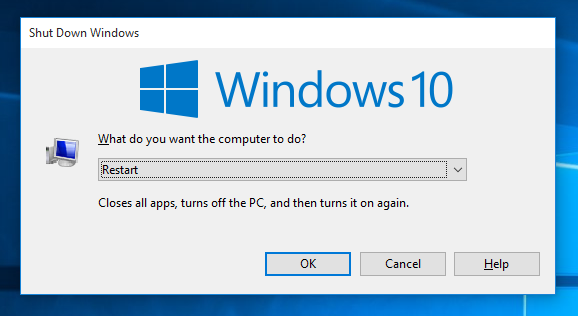 Personally, I like the classic Shutdown dialog more than the other possible ways to shutdown Windows 10 because it gives me a confirmation. Thankfully it is still possible to create a shortcut to open it. However, to change its default action, we need to use the Registry Editor. Microsoft removed all settings from the user interface, so it is not possible to tweak it from the GUI.
To set the default action for the Shutdown Dialog in Windows 10, do the following.
Open Registry Editor (see our detailed tutorial about Registry Editor if you are not familiar with the Registry).
Go to the following Registry key:

HKEY_CURRENT_USER\Software\Microsoft\Windows\CurrentVersion\Explorer\Advanced

Tip: See how to open the desired registry key with one click.

Create a new DWORD value named Start_PowerButtonAction. This value controls the default action in the classic Shut Down dialog which is displayed when you press the Alt + F4 hotkey at the Desktop.Set it to one of the following values in DECIMALS depending on what you want the default action to be:
2 = set "Shut down" as the default action
4 = set "Restart" as the default action
256 = set "Switch user" as the default action
1 = set "Sign out" as the default action
16 = set "Sleep" as the default action
64 = set "Hibernate" as the default action. Note that Sleep and Hibernate action can be unavailable in the Shut Down Windows dialog, if you have disabled them in the Power Options Control Panel or if your system does not support sleep mode.
To save you time, you can use Winaero Tweaker. The option is located under Behavior\Default Action for Shut Down dialog.
You can download the app from here:
That's it. Now you can set the desired action as the default for the Shut Down Windows dialog in Windows 10.
Support us
Winaero greatly relies on your support. You can help the site keep bringing you interesting and useful content and software by using these options: