In Windows 8, Microsoft introduced a feature for mouse users which can be accessed with a right click in the bottom left corner of the screen - the Win+X menu. In Windows 8.1 and Windows 10, you can simply right click on the Start button to show it. This menu has shortcuts to useful administrative tools and system functions. However, it is not a customizable part of the operating system. The user cannot add the desired apps and commands he wants to the Win+X menu. Today, we will see how to rename a Win+X menu shortcut without using third-party tools.
To access the Win + X menu in Windows 10, you have two options:
Right click the Start button. Instead of the context menu of the taskbar, Windows 10 shows Win + X menu.
Or, press Win + X shortcut keys on the keyboard.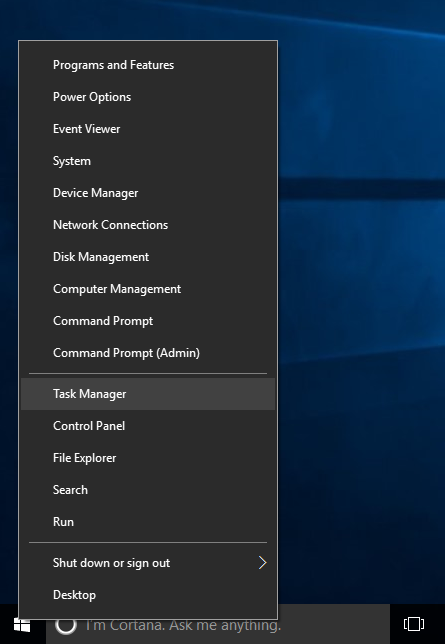 The Win+X menu entries actually are all shortcut files (.LNK) but customizing the Win+X menu is not an easy task because Microsoft intentionally made it harder to customize it to prevent third party apps from abusing it and putting their own shortcuts there. The shortcuts are all special - they are passed though a Windows API hashing function and the hash is then stored inside those shortcuts. Its presence tells the Win+X menu that the shortcut is special and only then it will show up in the menu, otherwise it will be ignored.
However, you can slightly modify the default shortcuts included in the Win+X menu. Changing the comment text field for a shortcut doesn't break its hash sum and still allows File Explorer to read it and use it as the name for the Win + X menu entry. This way, you can rename any shortcut in the Win + X menu.
To Rename Win+X Menu Shortcuts in Windows 10,
Go to the folder %LocalAppdata%\Microsoft\Windows\WinX. Paste this path to the address bar of File Explorer and hit the Enter key.
Open the folder Group1 (bottom), Group2 (middle), or Group3 (top) to find the required shortcut.
Right-click on the shortcut and select Properties from the context menu.
Type the new name you want to assign to the shortcut in the Comment field.
To make the changes take effect, you need to sign out and sign in to your user account. Alternatively, you can restart the Explorer shell.
Tip: You can open file or folder properties faster. See How to open file or folder properties quickly in Windows File Explorer.
Keep in mind that Microsoft can implement more changes in Windows 10, so this trick can stop working at any moment. If it does not work for you, please leave a comment and specify your Windows 10 version and its build number.
Note: To customize the Power user menu, you can use my Win + X Menu Editor app. Win+X Menu Editor is a free tool with an easy-to-use GUI that does not patch any system files to disable the hash check. Using it, you can add or remove shortcuts to the Win+X menu, change their names and order.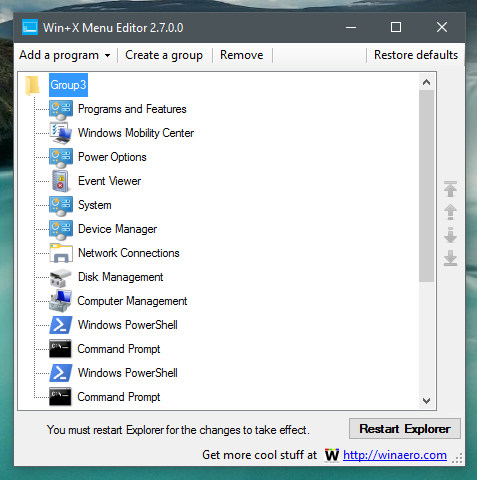 You can download Win+X Menu Editor from here.
That's it.
Support us
Winaero greatly relies on your support. You can help the site keep bringing you interesting and useful content and software by using these options:
If you like this article, please share it using the buttons below. It won't take a lot from you, but it will help us grow. Thanks for your support!