A new release of the popular Quinto Black CT skin for the good old Winamp player is available. This new version introduces a number of new features and improvements.
Winamp is one of the most popular media players available for Windows. It's also one of the oldest ones. From my personal experience, it is one of the most versatile and feature-rich media players, has an enormous variety of plugins and skins available and is stable enough for every day use.
Winamp still has plenty of users. Many people continue to create nice skins for this classic media player.  One of them is PeterK, who is the author of the popular Quinto Black CT skin. Quinto Black CT v2.3  comes with the following change log:
- added: Playlist Editor2 feature
- added: shadows to Main Player, Equalizer, VU Meter (analog & digital), Frequency Response Graph, Spectrum Analyzer
- added: CD case in real size
- added: A-B Repeat feature
- added: windows are now resizable: left, bottom left, bottom, bottom right, right
- changed: too long file names get "..." at the end in Track Bookmarks and Playlist Editor2
- changed: background color of selected track in Playlist Editor (from black to dark red)
- changed: made standard frame four pixel wider - more space for component name and caption buttons
- changed: AlbumArt has now NoFrame background instead of standard frame
- changed: standard button color from dark gray to dark blue
- changed: frame color in NoFrame is dark blue not black anymore

Important notes:

1) In order to see shadows you have to check "Enable Desktop Alpha Blending" in the Skin => Modern Skins => General tab of the Preferences.
2) You can easily scale the CD case using Scaling option from the main context menu if it is too big for you.
3) It is not possible to change the font size in those edit boxes in Playlist Editor 2 where you enter track numbers.
4) It might happen that there is a dark gray rectangle on the Playlist Editor2 window. The author is convinced that this glitch has to do with those <edit boxes> in which we enter digits. As soon as you move your mouse pointer it will disappear. The author has made a post about it, so let us hope this will be done in Winamp's coming update version.
5) Please remember to use ENTER on your keyboard instead of TAB after typing a digit in the Playlist Editor2 feature.
See the following screenshot: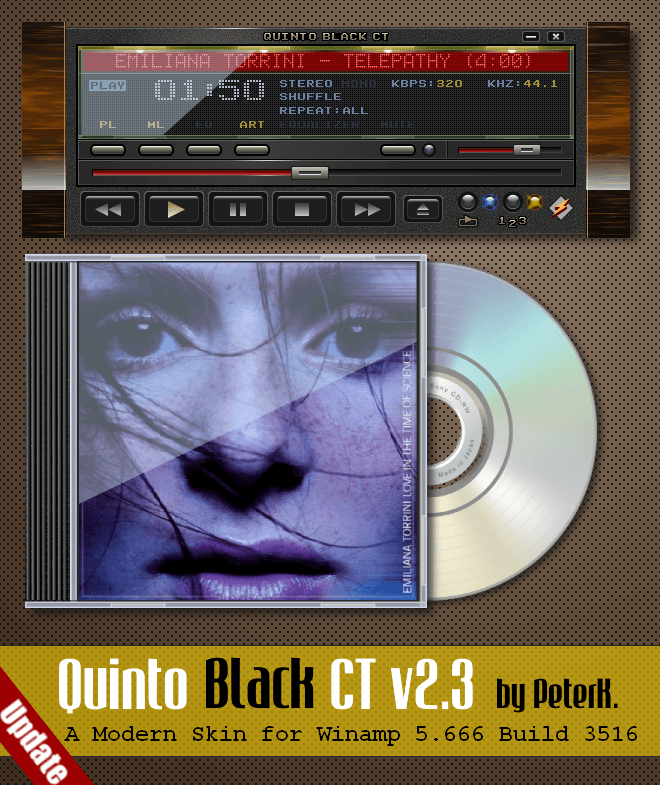 The Quinto Black CT skin is created by PeterK., who is known for his high quality skins for the Winamp app. While the Winamp application is not getting updates for several years, it still has plenty of users. Many of them are making new skins. Quinto Black CT is one such skin. It is a modern skin (*.wal) which utilizes all the rich features of Winamp's skin engine.
The skin supports several color themes: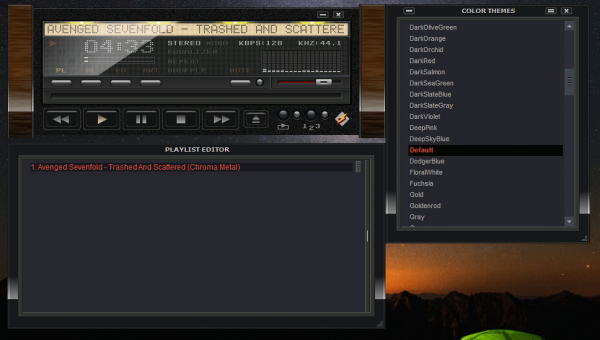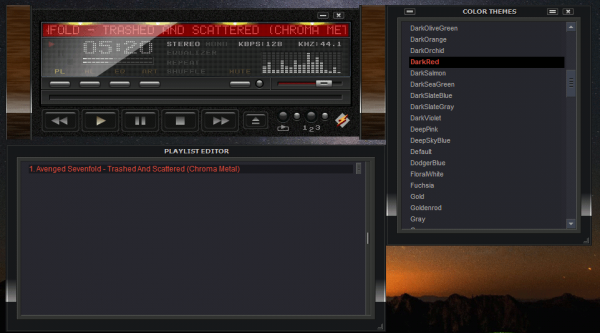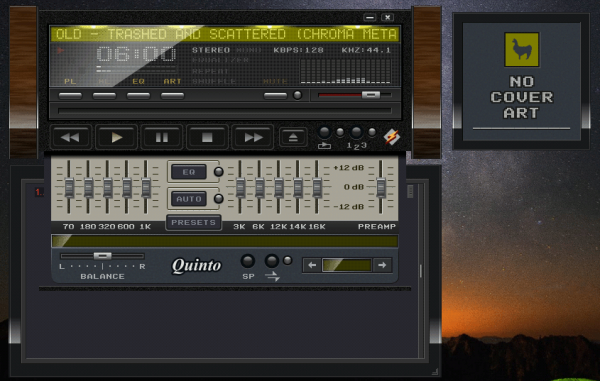 You can download the updated Quinto Black skin from here:
Here are some technical details you might find interesting.
Details:
Quinto Black CT v2.3 (Release)

Skin Name: Quinto Black CT v2.3
Author: PeterK.
Type: Modern Skin
File Extension: wal
SHA-1: D880EFB55DE26EEF1C4D1F4B57C595B01118D61D
Size: 2,55 MB
Many thanks to the author for sharing this skin with Winaero. All credits go to him.
There is an official forum thread for this skin HERE.
Tip: If you need to download the Winamp app, check out these links:
Alternatively, you might be interested in joining Darren Owen's (@The_DoctorO) Winamp Community Update Pack project. It can be found HERE.
Feel free to share your impressions about this skin in the comments!
Support us
Winaero greatly relies on your support. You can help the site keep bringing you interesting and useful content and software by using these options:
If you like this article, please share it using the buttons below. It won't take a lot from you, but it will help us grow. Thanks for your support!