I proud to introduce my latest work - User List Enabler for Windows 8. Today me and my friend Gaurav Kale, we have done the great research related to auto logging in the last user in Windows 8.
Version 2.0 is released, please update ASAP. See the change log for details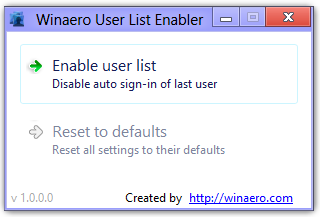 If you have multiple user accounts in Windows 8 (e.g. one for yourself and another for your family member), you may notice a new annoyance in Windows 8 – it signs in the last user automatically who shut down/rebooted the PC. This tool resolves the issue and brings back the users list for you with one click. You will be able to choose your user account at every startup.