A new developer build of Opera 62 is released today. Version 61.0.3268.0 includes a fix for the Telegram sidebar app, along with a new Start page option.
The official announcement highlights the following changes:
In this update you can find a fix to the crash at logging out from the Telegram sidebar app. We also added "Use bigger tiles" option to the Settings page and removed unused components from Easy Setup and the navigation bar.
Bigger Speed Dial Tiles
Here is the default size of Speed Dial tiles in Opera 62: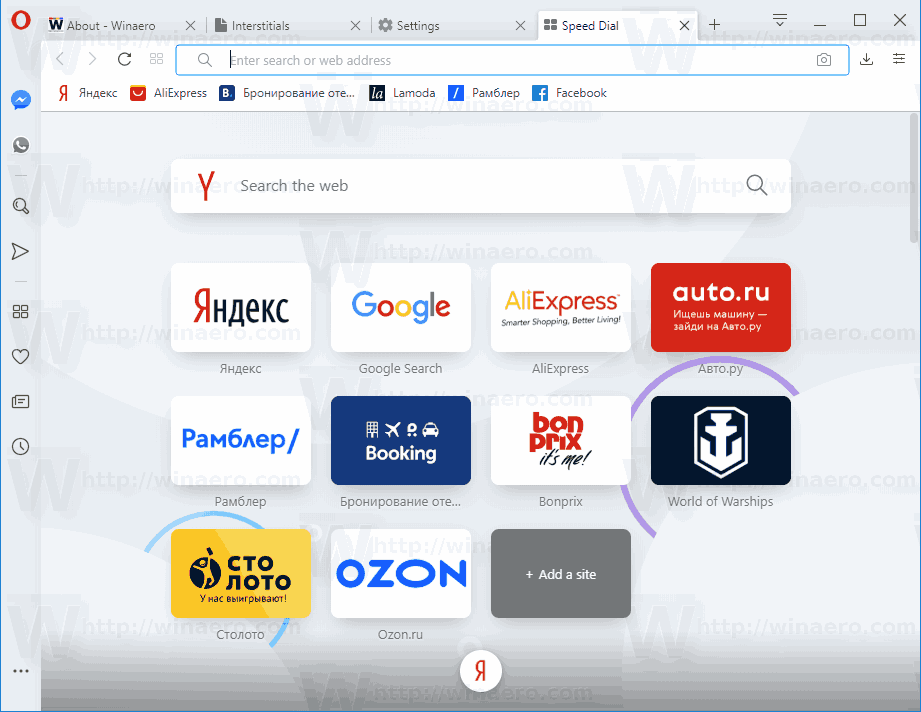 With new option is enabled, they appear as follows: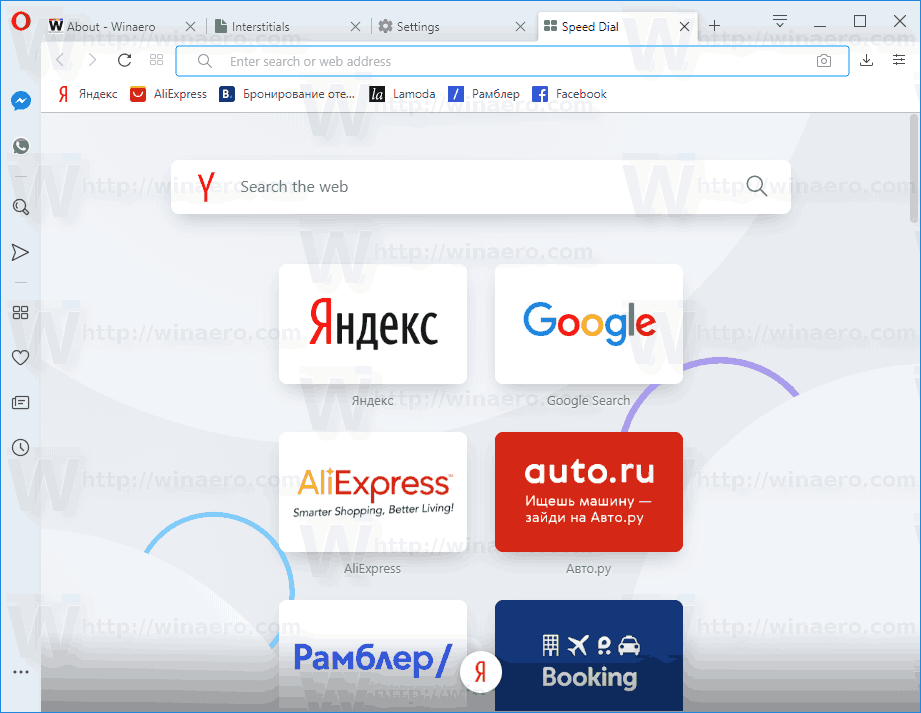 The new option can be found under Settings (Alt + P) \ Start page. Scroll down the right side to the Start page section and turn on the Use bigger tiles toggle options.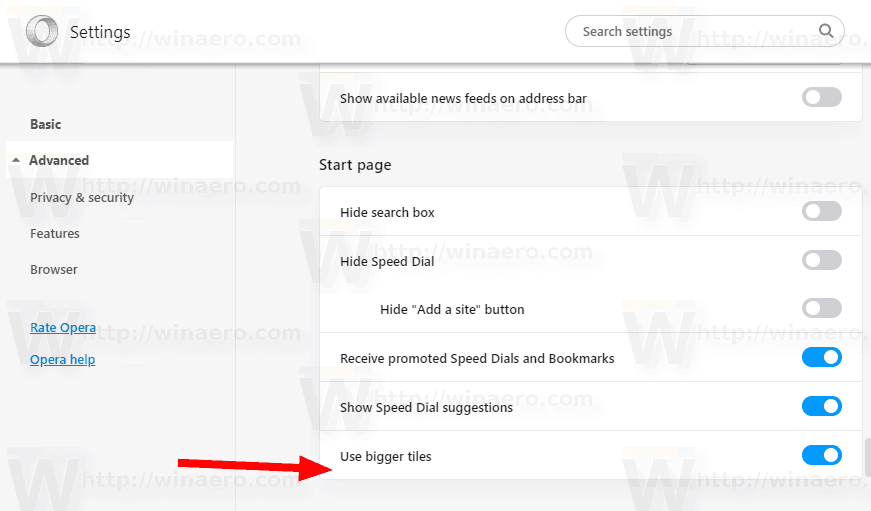 Other changes
DNA-75307 Icon refresh [Mac] Make it possible to easily use PNG images from resources
DNA-75997 opera_autoupdate.exe ran from scheduled task doesn't sent information about product edition
DNA-76359 Closing dev tools scrolls page to top
DNA-77084 Backport cache control fix for external suggestions to O60 stable
DNA-77149 Add redirect from old chrome://startpage/extensions to new chrome://extensions
DNA-77252 Pre-fill auth cache with Freedom proxy credentials
DNA-77290 [mac mojave] not possible to minimize Opera if it's inactive application
DNA-77368 EasySetup's styling in different languages breaks
DNA-77459 Requests bypass Freedom proxy in some NetworkService process crash cases
DNA-77481 [Mac] Use views for permission revoke popups
DNA-77522 Add "Use bigger tiles" option to Settings page
DNA-77701 article.css is parsed 50 times when loading the start page
DNA-77703 Embedded fonts on startpage takes 35 ms to parse
DNA-77707 Remove unused Easy Setup components
DNA-77710 Remove NavBar components
DNA-77785 [WinLin] Address bar icons – ugly highlight
DNA-77860 [Mac] [dark mode] Missing line under address bar
DNA-77862 [Mac] Recover button on opera:update problems with clicking
DNA-77948 Handle mojo connection errors in Freedom classes
DNA-77962 Zombie received -currentTab
DNA-77984 Move quality to opera_components
DNA-78016 [Windows] Confirm quit dialog has a wrong title
DNA-78037 Crash at base::Time::Explode(bool, base::Time::Exploded*)
DNA-78055 Memory leak in PrefProviderTest
DNA-78059 Missing dependency on theme_default_generated in theme_views.h
DNA-78060 Caret is not visible in ctrl+f search field
DNA-78068 FilePathWatcher destroyed on the wrong sequence
DNA-78071 Enable opera://conflicts
DNA-78081 [Mac][Lin] Sidebar menu button doesn't work
DNA-78082 Unexpected shadow on extensions page
DNA-78090 [Mac] Browser crashes when logging out from Telegram sidebar app
DNA-78091 [WinLin] Icon refresh – Replace all default-visible icons on toolbar
DNA-78118 Investigate how error-prone will checking the schema version against the schema contents during build time will be
DNA-78160 Use-after-free in BrowserCommandsTest.ExportBookmarksDoesNotCreateFileWhenUserSelectsCancelOnSaveAsDialog
DNA-78217 Change disposition from NEW_BACKGROUND_TAB to NEW_FOREGROUND_TAB
DNA-78241 Wrong number of open tabs and windows are displayed in warning dialog
Download links
Source: Opera
Support us
Winaero greatly relies on your support. You can help the site keep bringing you interesting and useful content and software by using these options:
If you like this article, please share it using the buttons below. It won't take a lot from you, but it will help us grow. Thanks for your support!