Developers of the very popular Adblock Plus extension for mainstream web browsers (Firefox, Chrome etc) today annouced their own browser for Android called "Adblock Browser". It is in the Beta stage at the moment of this writing. The main feature of the browser is that it blocks ads out-of-the-box. Once you install it, you need to install absolutely nothing else to get rid of ads on sites you visit.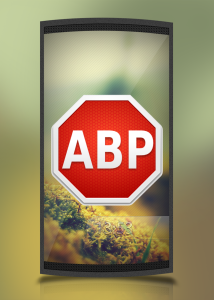 The Adblock Browser app is built on top of the open source Firefox 37 browser for Android. This is a very good thing about this browser, as Firefox is stable, secure and a very flexible browser on any platform it supports. Adblock Browser's developers have integrated the popular EasyList and Acceptable Ads lists directly, so the browser is able to remove most ads you usually see on your Android device while surfing the web.
The bad thing about the Adblock Browser is that the Adblock team has removed lots of features which Firefox for Android has built-in. Features such as Firefox Sync or even extension support have been removed from the Adblock Browser. This is a very debatable issue, as many users need these features and will never be able to switch to it if such radical changes are made to the core Firefox for Android feature set.
Personally, I think that some features were removed from the Adblock Browser to achieve better performance. Both Firefox (the stock one) and the AdBlock engine consume a lot of memory, so developers are trying to make it more lightweight.
Download Adblock Browser
To download the Adblock Browser, you must sign in to the Google+ community HERE. After you join the community, you need to follow the Beta Opt-In link.
Although the standalone Adblock Plus extension for the Android version of Firefox was available previously, it required an additional app and also some adjustments were required to settings. Adblock Browser simplifies this process and can change your mobile surfing experience. Unlike other solutions available for Android, the Adblock browser does not modify your HOSTS file, does not require root access, and does not use proxies etc. These things make it pretty unique.
While not everyone will like the simplified feature set in Adblock Browser, it is an interesting app to try. Its developers promise to keep Adblock Browser on the corresponding Firefox version and update it every time a new version of Firefox is rolled out.
Support us
Winaero greatly relies on your support. You can help the site keep bringing you interesting and useful content and software by using these options: