Microsoft is trying to achieve a consistent look for all the browser menus and panels. Recently, we have seen restyled Downloads, Favorites, and Collections options. Now it is time for the Site Info flyout to get a new look.
The Site Info pop-out is a dialog that appears when you click on the site icon in the beginning of the address bar. It provides some details about the website you have open.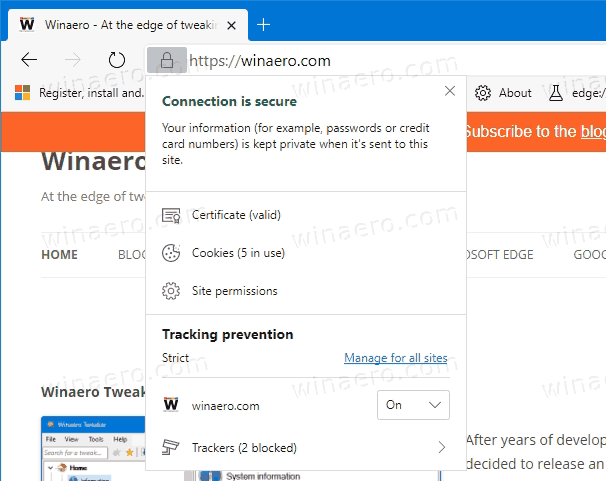 That includes the information about the secure connection state. You can see the SSL certificate details (if any available), check out site cookies, and directly go to the site permissions to allow or deny it from using your browsing data and devices.
Also, there is a dedicated section for Tracking prevention. You can either manage it for this particular site or adjust it for all web sites. In addition, you can see the blocked trackers (if any).
Redesigned View Site Info Flyout
In recent Edge Dev and Canary, Microsoft has restyled the Site Info view. Now it is more compact, and contains extra controls. To name one, there is now a clickable "Connection is secure" label.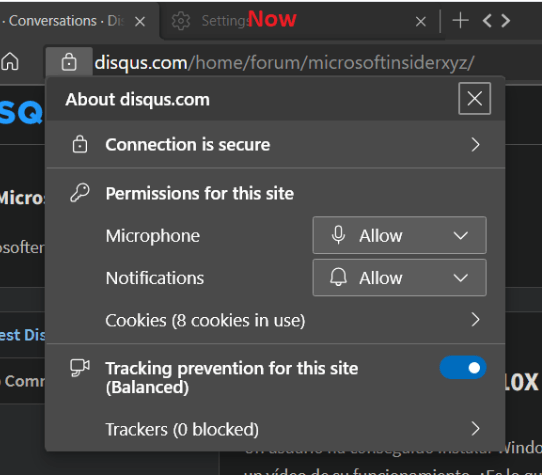 When you click on that label, you will see an explanation why Edge finds the connection secure. I don't see the certificate, SSL, and cookies options which are gone for now.

Similar to this, Tracking protection has its own page now.
The new style fits other design ideas of Microsoft Edge. In fact, that's obvious at a glance once you open it.
The above change has already landed in Edge and Canary releases of Microsoft Edge. However, it is under Controlled Feature Roll-out, so there is a high chance that you won't see it right now. Microsoft is learning users' reaction by making it available to a small group of Insiders. In case of positive feedback, it will become available to everyone.
For pre-release versions, Microsoft is currently using three channels to deliver updates to Edge Insiders. The Canary channel receives updates daily (except Saturday and Sunday), the Dev channel is getting updates weekly, and the Beta channel is updated every 6 weeks.
Thanks to Leo for tipping me and for images.