A new minor change has landed in the Microsoft Edge browser. It is possible now to apply a custom visual theme from the New Tab page options.
Microsoft Edge supports Chrome themes natively, since both browsers share the underlying project, Chromium.  The user can install the desired theme in Microsoft Edge, any of the variety of Chrome themes that are available.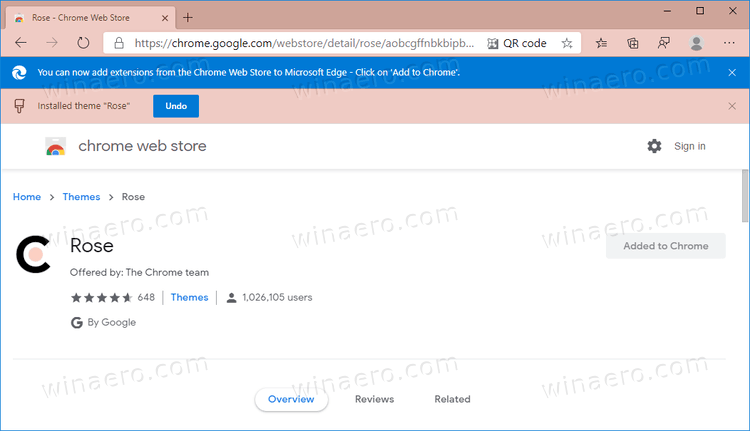 Starting in Microsoft Edge Canary 86.0.622.1, you also change the theme from the New Tab page options.
To get it done,
Open a new tab in Edge.
Click on the settings button with the gear icon.
From the menu, select the Custom entry.
Under Background, select Custom theme, and click on the Manage button. This will lead you to the Appearance page in browser's settings. There you will able to customize the theme.
So, the new feature is actually just a shortcut to the appropriate option. However, it may save time for some users, and make the theme support more discoverable.
Actual Edge Versions
---
Download Microsoft Edge
You can download pre-release Edge version for Insiders from here:
Download Microsoft Edge Insider Preview
The stable version of the browser is available on the following page:
Download Microsoft Edge Stable
---
Note: Microsoft has started delivering Microsoft Edge to users of Windows via Windows Update. The update is provisioned for users of Windows 10 version 1803 and above, and replaces the classic Edge app once installed. The browser, when delivered with KB4559309, makes it impossible to uninstall it from Settings. Check out the following workaround: Uninstall Microsoft Edge If Uninstall Button is Grayed Out