Microsoft has announced a security processor that will be made available in addition to the normal CPUs for upcoming Windows 10 PCs. This is intended to provide additional protection against physical attacks or malware and thus prevent user data from being accessed.
It is a collaborative project between Microsoft, AMD, Intel and Qualcomm to improve the security of future processors. It will protect consumers from various types of attacks using a chip-cloud approach pioneered on the Xbox One and Azure Sphere consoles.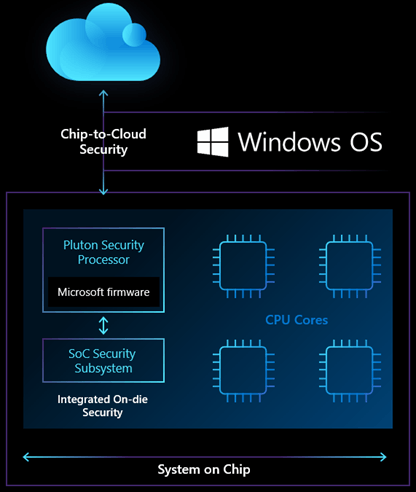 Windows devices with Pluton will use the Pluton security processor to protect credentials, user identities, encryption keys, and personal data. None of this information can be removed from Pluton even if an attacker has installed malware or has complete physical possession of the PC. This is accomplished by storing sensitive data like encryption keys securely within the Pluton processor, which is isolated from the rest of the system, helping to ensure that emerging attack techniques, like speculative execution, cannot access key material.
This new Pluton will be an improvement over existing Trusted Platform Module (TPM). TPM is known to be vulnerable to techniques of interception data transferred between the CPU and TPM. The new chip will change the situation. It will support security features of Windows 10 as Windows Hello and Bitlocker.
Also, the new chip will be able to update device's firmware by utilizing the cloud and Windows Update.
Intel, AMD and Qualcomm intend to include Pluton chips in future products. The exact date when we will see such devices has not yet been announced.