The Linux Mint team today released the final version of the "Ulyana" distro, which is Linux Mint 20. It is the first release that comes as 64-bit only OS with snapd disabled, relying on classic repository apps, and flatpak.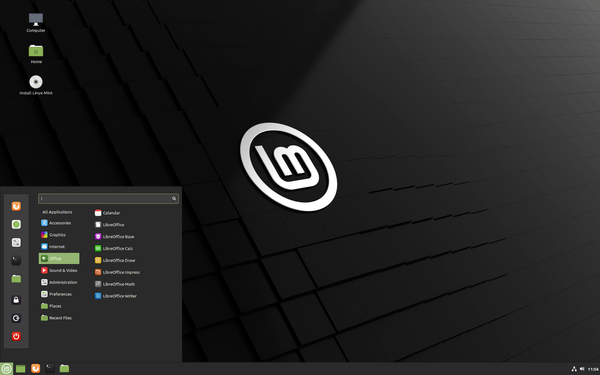 Interested users can download Cinnamon, MATE, and Xfce editions of Linux Mint 20. It features Cinnamon 4.6, Xfce 4.14, MATE 1.24, a Linux kernel 5.4 and an Ubuntu 20.04 package base.
Linux Mint 20 will receive security updates until 2025. Until 2022, future versions of Linux Mint will use the same package base as Linux Mint 20, making it trivial for people to upgrade. Until 2022, the development team won't start working on a new base and will be fully focused on this one.
Linux Mint 20 is notable for the following changes.
Snap is disabled
Snapd is disabled by default and APT packages are not allowed to install it.
The Snap Store, also known as the Ubuntu Store, is a commercial centralized software store operated by Canonical. Similar to AppImage or Flatpak the Snap Store is able to provide up to date software no matter what version of Linux you are running and how old your libraries are.
Although it is open-source, Snap on the other hand, only works with the Ubuntu Store. Nobody knows how to make a Snap Store and nobody can. The Snap client is designed to work with only one source, following a protocol which isn't open, and using only one authentication system. Snapd is nothing on its own, it can only work with the Ubuntu Store.
This is a store we can't audit, which contains software nobody can patch. If we can't fix or modify software, open-source or not, it provides the same limitations as proprietary software.
Following the decision made by Canonical to replace parts of APT with Snap and have the Ubuntu Store install itself without users knowledge or consent, the Snap Store is forbidden to be installed by APT in Linux Mint 20.
if you want to use the Snap Store, re-enabling and installing it is very easy.
sudo rm /etc/apt/preferences.d/nosnap.pref
apt update
apt install snapd

Home directory encryption
Home directory encryption, which was removed in Ubuntu, will continue to be available.
Nemo

The team looked at the performance of the file manager and changes are being made to the way Nemo is handling thumbnails. Although the generation of new thumbnails was done asynchronously, loading existing ones could sometimes have an impact on browsing content and navigating directories.
The main idea behind these changes is to prioritize content and navigation and to delay thumbnails as much as possible. As a result, the content of directories shows up with generic icons before the thumbnails are rendered, but the improvement in performance is quite noticeable.
Cinnamon 4.6
In Cinnamon the most notable features are the ability to change the monitor refresh rate and support for fractional HiDPI resolutions. The systray applet will also delegate support for indicators (libAppIndicator) and StatusNotifier (Qt and new Electron apps) icons to the Xapp StatusIcon applet directly.

Blueberry, mintupdate, mintreport, nm-applet, mate-power-manager, mate-media, redshift, rhythmbox all use XAppStatusIcon and give the tray a consistent look in Mint 20.
Cinnamon will let you choose the frequency of your monitors. This is a feature that has been requested a few times and which is available in other desktop environments.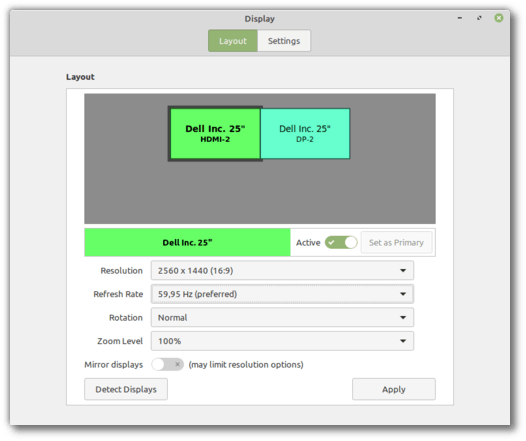 Cinnamon 4.6 also introduces fractional scaling. At the moment your scaling is either 100% (normal mode) or 200% (HiDPI mode) and it is the same for all your monitors. The scaling will be able to be different for each monitor, and you'll be able to set it to values in between 100% and 200%.
Other Cinnamon changes
Middle-clicking the keyboard applet cycles keyboard layouts.
Cinnamon screensaver supports custom commands, making it possible to use alternative screen lockers with Cinnamon.
Warpinator
Devs have decided to use 'Warpinator' as the permanent app's name.
There were quite a few good names, but the funny ones didn't sound as good as the original and the serious ones sounded too much like a Web 2.0 service. So after looking at names such as "Ethernator", "Datanator", "XFiles", "Overcast", "Capsule", "DropZone", we finally went back to the original name and decided to stick to it. "Warpinator" does sound ridiculous, but many people liked it and after hearing it so much we kind of get used to it.
Wrapinator replicates the now-missing functionality of Linux Mint 6. It was powered by a third-party app Giver, which is now discontinued. To fill the gap, Warpinator will allow the user to easily share files across the local network. Without any server or configuration, computers would automatically see each other and you could simply drag and drop files from one to another.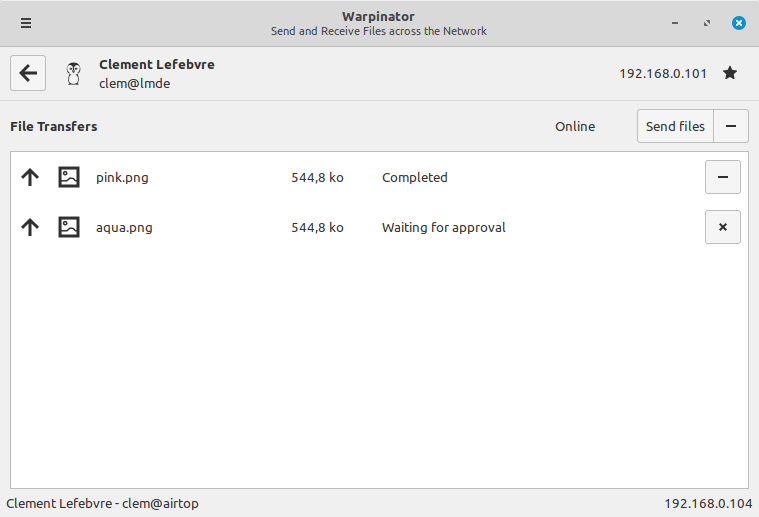 Warpinator now encrypts communication on the network and includes all the planned features.
Gdebi
Gdebi will feature a revamped user interface: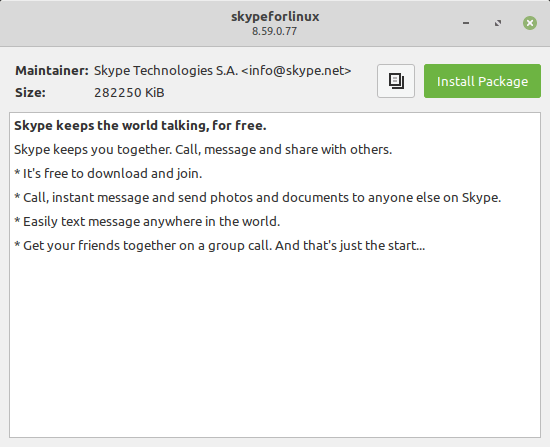 Desktop Backgrounds
Linux Mint 20 features a new set of desktop wallpapers.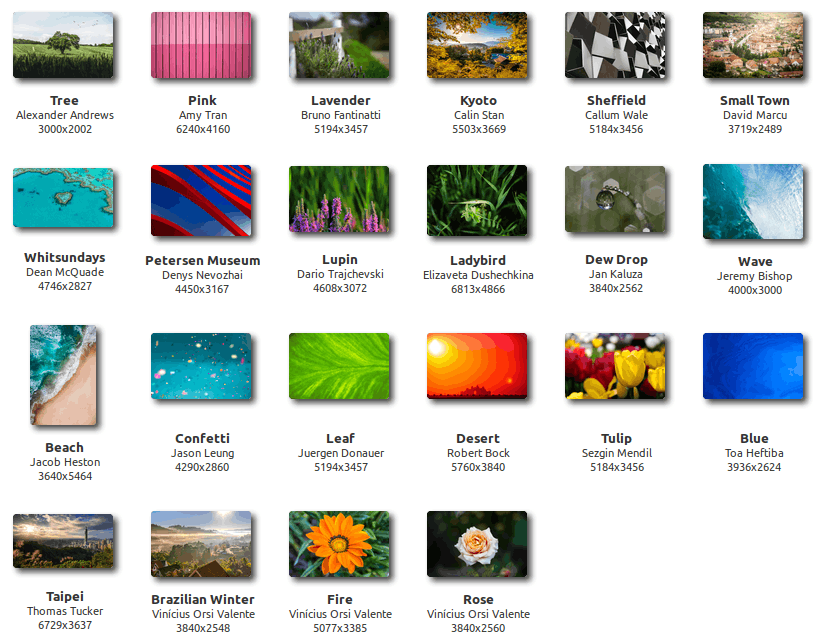 Mint-Y Theme Update
The Mint-Y theme will provide much brighter colors than before. The new color pallet is pleasant without being overwhelming, and the resulting GTK theme is nice to use. Here's a comparison of some of the old colors (on the left) with some of the new ones (on the right):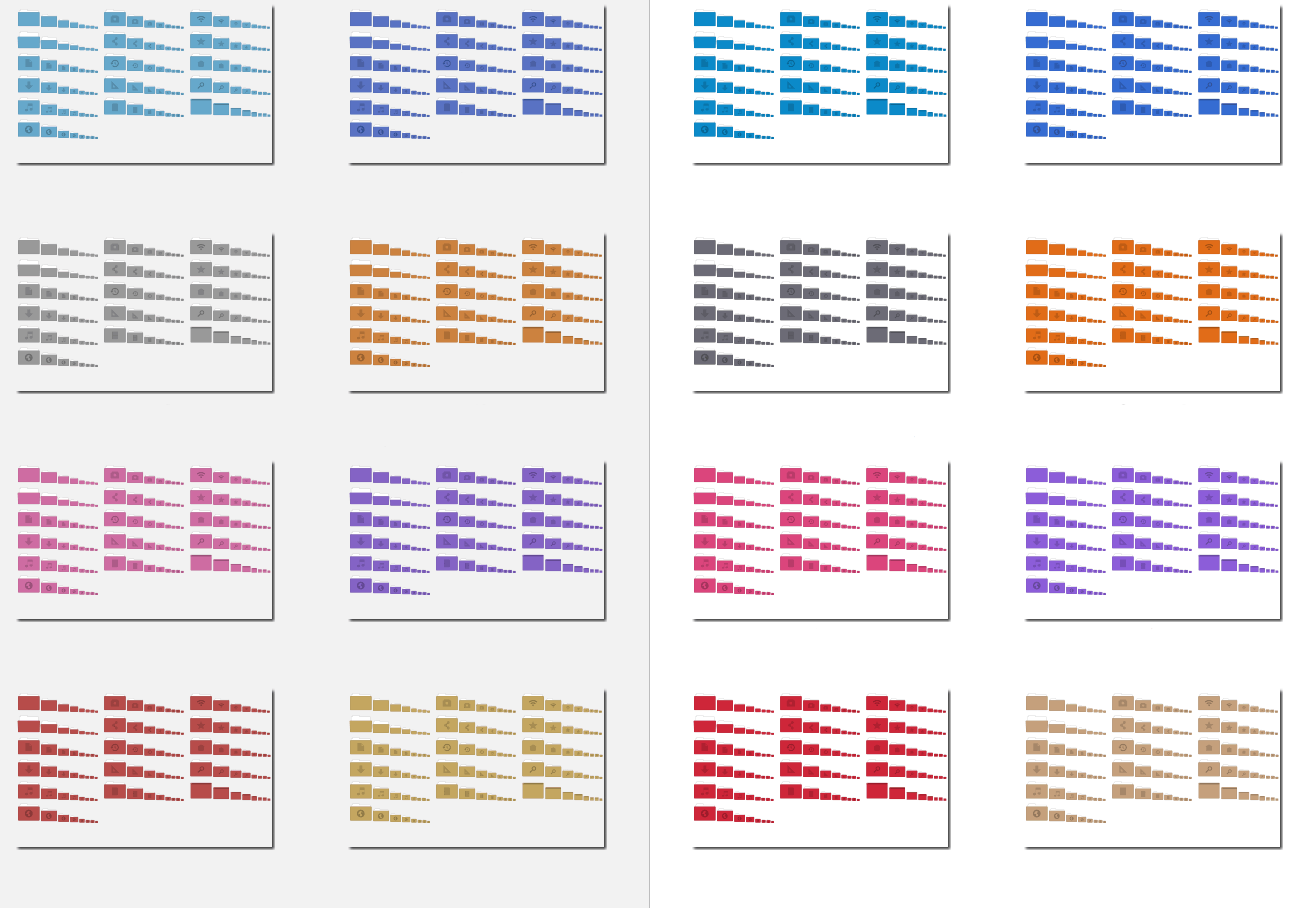 Old Mint-Y blue: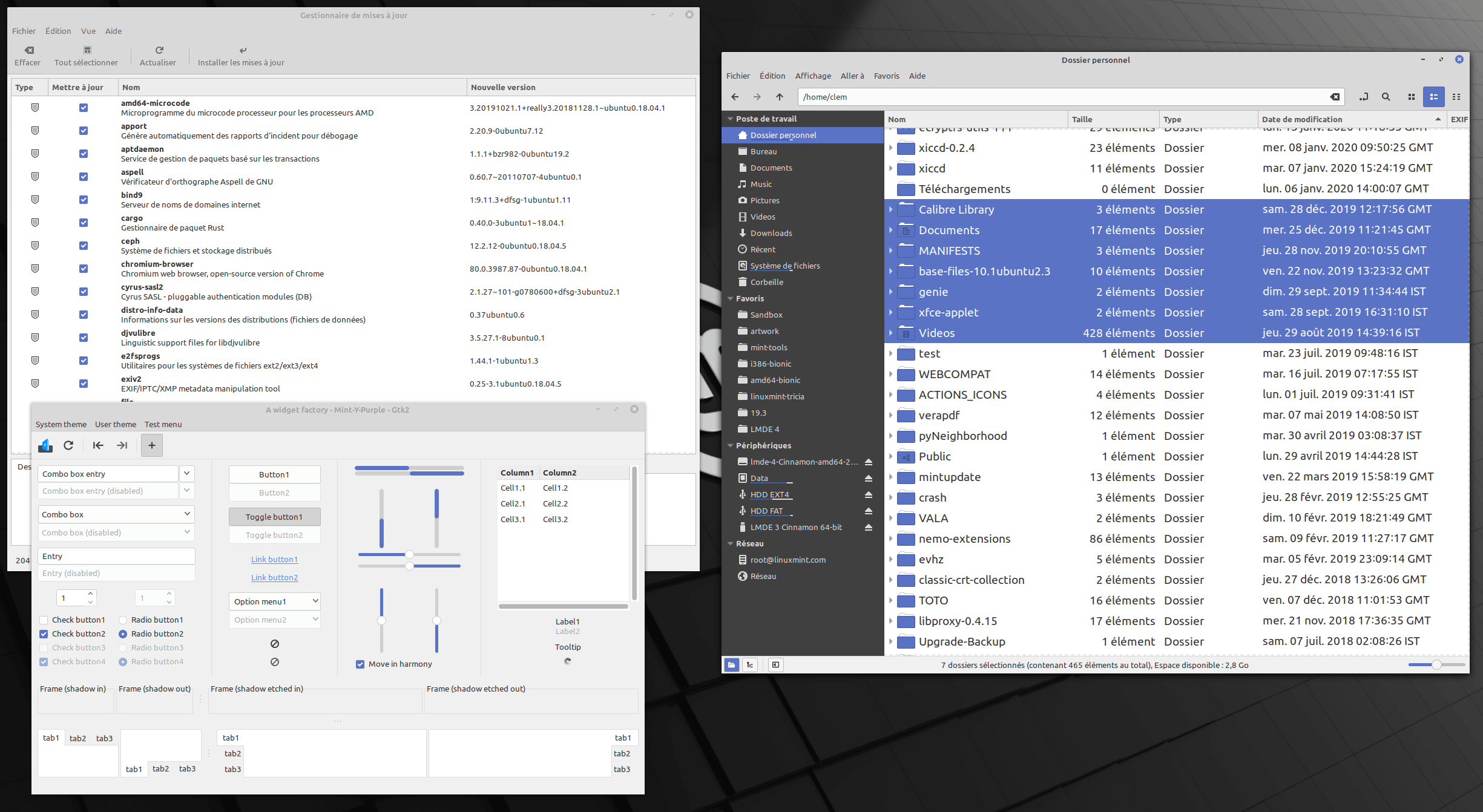 New Mint-Y blue: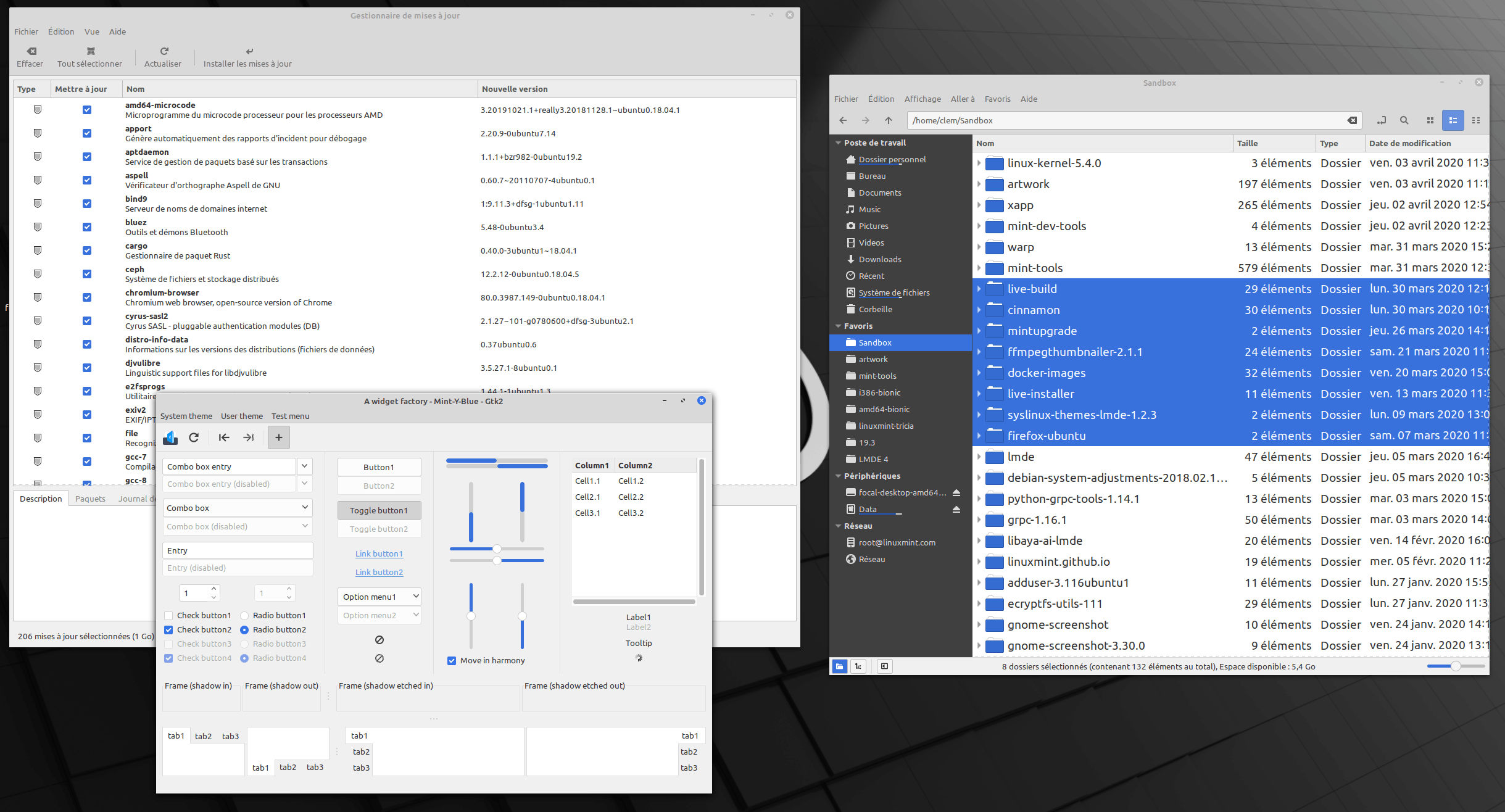 Yellow folders will also be available.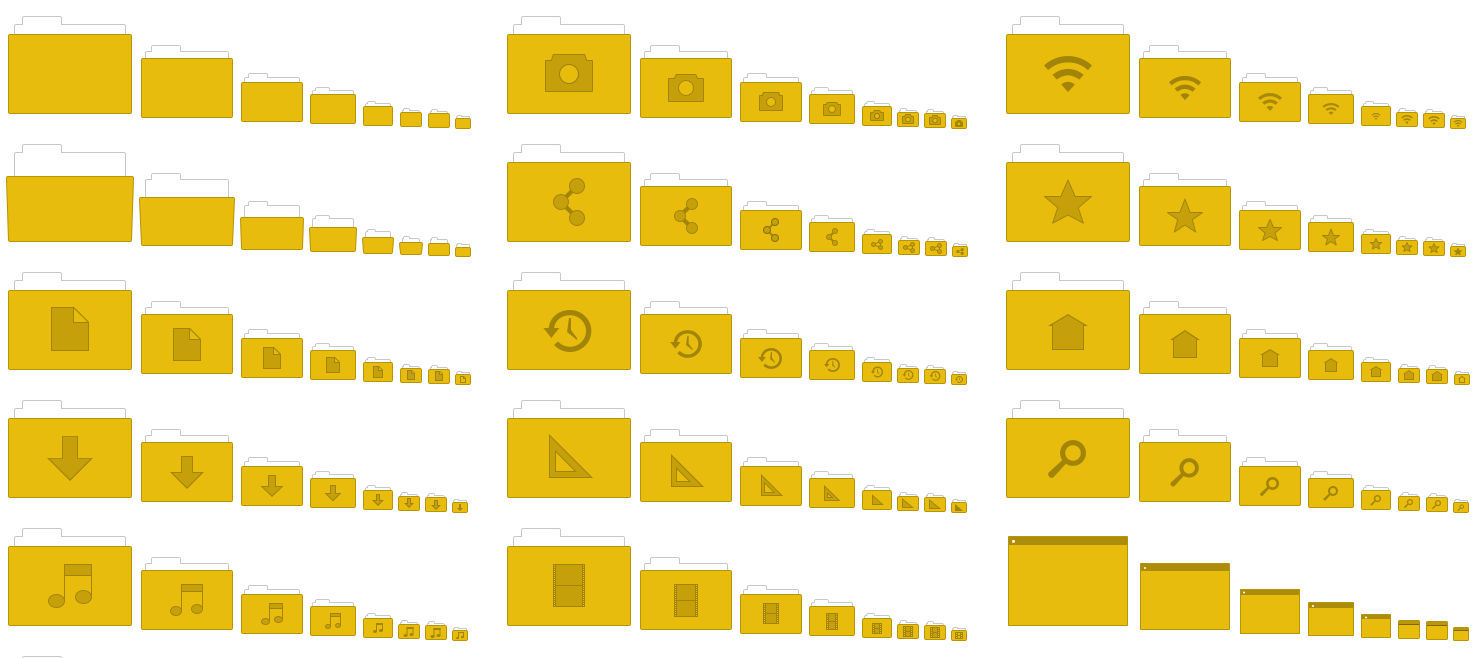 New welcome screen
Finally, a reworked welcome screen applet will allow you to pick a Mint-Y color, and directly switch between the dark and light theme variations.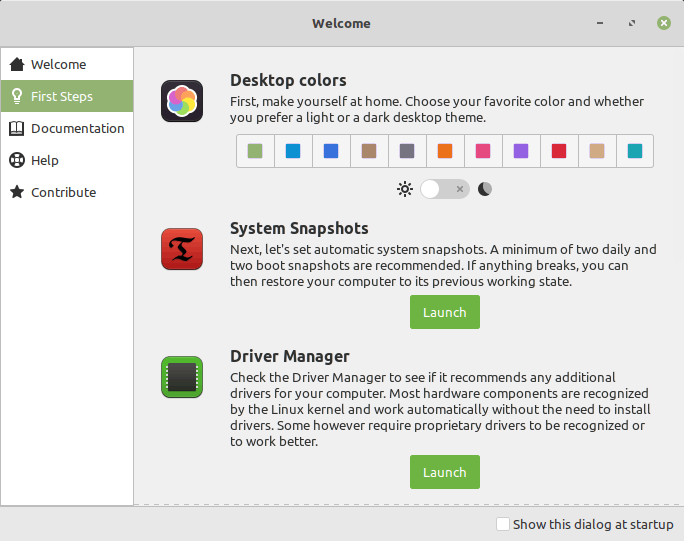 NVIDIA Optimus
Linux Mint 20 features improved support for NVIDIA Optimus.
The NVIDIA Prime applet now shows your GPU renderer and you can select which card to switch to straight from its menu.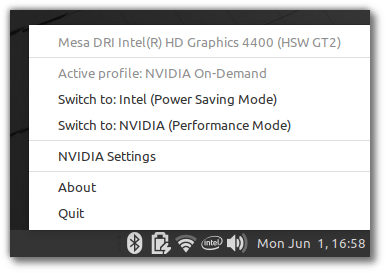 The NVIDIA "On-Demand" profile is also now fully supported. When you run in that mode, it is your Intel card which renders the session and a menu option is available to let you offload a particular application to your NVIDIA card.
Select an application in the menu, right-click and select "Run with NVIDIA GPU".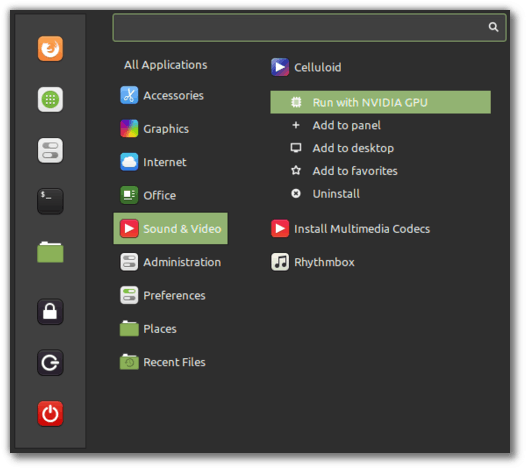 From the command-line, two new commands are available to offload to GLX or to Vulkan:
nvidia-optimus-offload-glx
nvidia-optimus-offload-vulkan
XApps improvements
Xed received the ability to join lines together and to remove trailing whitelines before saving files.
Xviewer received fullscreen and diaporama toolbar buttons and remembers if its window was maximized.
In Xreader a print button was added to the toolbar.
To guarantee better support for modern Electron apps and indicators XappStatusIcon received mouse wheel support and SNI (StatusNotifier, libIndicator) support.
Other changes
The Grub boot menu is now always visible.
Apturl switched backend from Synaptic to Aptdaemon.
APT recommends are enabled by default for newly installed packages (not for upgrades).
Snapd is disabled by default and APT packages are not allowed to install it.
Live sessions running under Virtualbox automatically get their resolution bumped to a minimum of 1024x768.
This release ships with linux-firmware 1.187 and the Linux kernel 5.4.
Download Links for Linux Mint 20
The download links can be found in the official announcement
Support us
Winaero greatly relies on your support. You can help the site keep bringing you interesting and useful content and software by using these options:
If you like this article, please share it using the buttons below. It won't take a lot from you, but it will help us grow. Thanks for your support!