We wondered some time ago and concluded that Microsoft might kill the Control Panel completely with future updates to Windows. Today, it became official. Microsoft wants you to learn the new Settings app and forget about other PC management tools.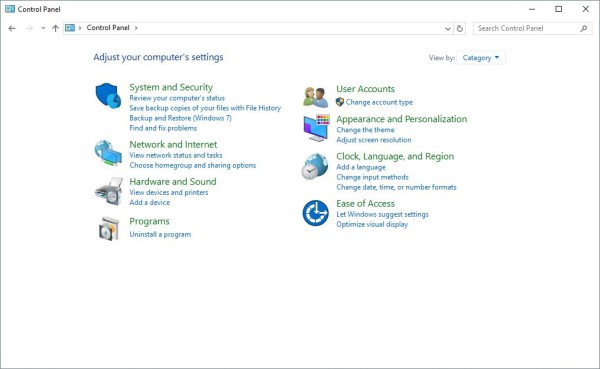 Gabriel Aul, who is Vice President, WDG Engineering Systems at Microsoft and the spokesperson for the Windows Insiders program, confirmed today that the classic Control Panel is about to die in the future:
@billybobjoe2211 @brandonleblanc Having two separate implementations means more code complexity and disk/mem usage. Getting to one is leaner

— Gabriel Aul (@GabeAul) October 4, 2015
This is bad news for all users who prefer to use the classic Control Panel and avoid using the Settings app. Personally, I find the classic Control Panel app faster, more advanced, more suitable for mouse and keyboard usability, and better organized than the Settings app. The Settings app is slower and requires more clicks or keystrokes to change anything because it is organized into categories and pages. It also requires more scrolling because of the touch-friendly design and many of the settings are simplified, so some advanced settings are eliminated. The Metro controls used in the Settings app are not at all friendly for mouse or keyboard usage and even the colors are depressing. The Settings app was acceptable for touch devices, but for classic keyboard+mouse users, it is a disaster.
Also, it is a very dubious statement that having the classic Control Panel will cause additional disk or memory usage. User interfaces do not occupy disk space or tax resources, the underlying code and the components determine the resource usage. It is not clear how/why this controversial statement was made. The classic Control Panel mostly requires a number of ActiveX components (and their Class IDs) to be registered in the Registry, but those components are not running until you open the appropriate Control Panel applet. So it is unrelated to system resource usage.
The next major update to Windows 10, Threshold 2, is expected in November 2015. The next build for Windows Insiders might be build 10559. It is not clear when exactly the Control Panel will be removed from Windows 10 but we do know that the new Start Menu already does not have any link to open it. Microsoft is making the Settings app so simplified that it is quite possible that advanced settings which the Control Panel carries will no longer be available in the UI of the Settings app. What happened to "Personalizaton" is a good example of such a change in Windows 10 RTM.
What do you think about this change in Windows 10? Will you be happy with the Settings app only?
Support us
Winaero greatly relies on your support. You can help the site keep bringing you interesting and useful content and software by using these options: