Today, I would like to introduce you to one useful, free and cool service we have on the web, courtesy of Google - Google+ Hangouts. Now you may wonder what is special about Hangouts when you have literally hundreds of free solutions - Facebook video chat, Microsoft's Skype, Yahoo! Messenger, Apple's FaceTime and several dozen others. Well, let's see what makes Hangouts great.
For those who are not aware of Google+ Hangouts, it's a free, in-browser chatting and video calling service operated by Google.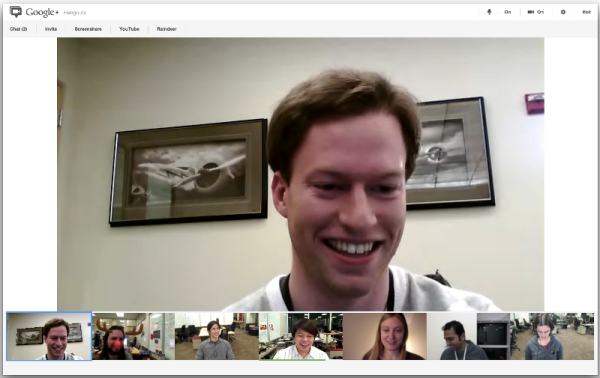 It's a feature of Google+ actually but even if you use Facebook as your social network, you could try Hangouts. Hangouts uses several technologies such as Adobe Flash and Google's own VP8 video codec which they acquired from On2 Technologies. Unlike Skype which uses a P2P infrastructure and is today incredibly popular (I use Skype too), Hangouts is fully based on a client-server model, backed by Google's powerful cloud infrastructure.
Previously, Hangouts used H.264 for video but recently Google has started rolling out VP8 for some users as it enables HD video chats without the processing overhead required for H.264, while maintaining the same great quality.
Free conference calls
Google+'s Hangouts is fast becoming one of the most popular ways to chat with friends and do free audio calling and have rich video conversations. And that is because Hangouts has free video conferencing for up to 10 people in the Hangout! Now this is something really special.
It's the quality that matters
Okay, so free multi-person video calling doesn't convince you? Well, that's not all, the quality of Hangouts audio-video calling, from my own personal experience, is also simply outstanding. The audio is crystal clear and the video quality is great even at low bandwidth internet connections. On faster connections, it will give you and your friends and family free HD calling.
...as well as the user experience
After Microsoft discontinued Windows Live Messenger much to the chagrin of millions of users, and shoved users towards Skype which has an altogether different experience, I decided to try Hangouts and found it a better quality experience than most others. Windows Live Messenger was a great client but Microsoft ruined it with the 2011-2012 versions and then killed it completely. Skype is good currently but I have no faith in Microsoft that they will not do to Skype what they did to Windows Live Messenger, that is why I decided to use something else.
Hangouts is very simple currently, it doesn't have the bells and whistles that rich clients such as Yahoo! Messenger or Skype have but it just works for high quality video calls. Currently, Hangouts makes use of the same plugin that is used within Google Talk for video conversations. However, Google is also working on reworking it so it doesn't require any browser plugins and can operate using open standards such as WebRTC.
Creating a Hangout is easy, you create a Google+ profile if you don't already have one, sign in at plus.google.com/hangouts and if your contact knows the URL of the hangout or is invited, he or she can join it instantly. Participants also share the URL of the hangout to invite more people.
For mobile devices, there is a Hangout App for Android 2.3+ and for iOS as well. You can also live broadcast your Hangouts with the Hangouts-On-Air feature or record them for later viewing.
Hangouts also has some cool features - for example, if you have a business meeting or conference scheduled, you can call your contact(s) in advance, join the Hangout yourself and wait till they arrive, at which point, they will be able to seamlessly join you. If your connection or your contact's connection breaks while you're in a video call, the other person doesn't even have to reconnect or initiate the call all over again. When you're reconnected, the Hangout resumes automatically.
Hangouts also supports plugins or apps - whatever you call them. Some of them are built-in and additional ones can be downloaded. The built-in ones are Screenshare, Capture and Google Effects. The Google Effects app includes a bunch of silly but fun effects that modify the video captured by your webcam in real time to add make Hangouts a fun experience - like how Live Messenger had Winks or similar to OS X's Photo Booth app.
Give Hangouts a try - you may be surprised by its quality and simplicity. Even if you don't use other features of Google+, this is a service worth trying.
Tell us in the comments which video calling solution you use - whether it's Skype or Yahoo! or FaceTime - and why you prefer it.
Support us
Winaero greatly relies on your support. You can help the site keep bringing you interesting and useful content and software by using these options:
If you like this article, please share it using the buttons below. It won't take a lot from you, but it will help us grow. Thanks for your support!