The Favorites bar in Internet Explorer is a very useful way to visit your favorite websites with one click. It is a toolbar located below the address bar. The user is able to add sites to the Favorites bar by dragging the URL from the address bar or clicking the 'Add to Favorites bar' button. Additionally, RSS feeds which have been added to the Favorites bar can be checked with one click. In this article, we will see how to customize the appearance of the Favorites bar and switch its view between icons, short titles and long titles.

First, you may need to enable the Favorites bar. Right click the IE title bar or the white icons on the top right site of the browser's window and click the Favorites bar item in the context menu to turn it on, as shown below: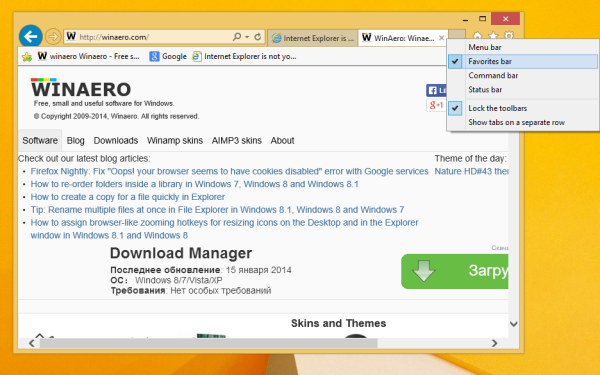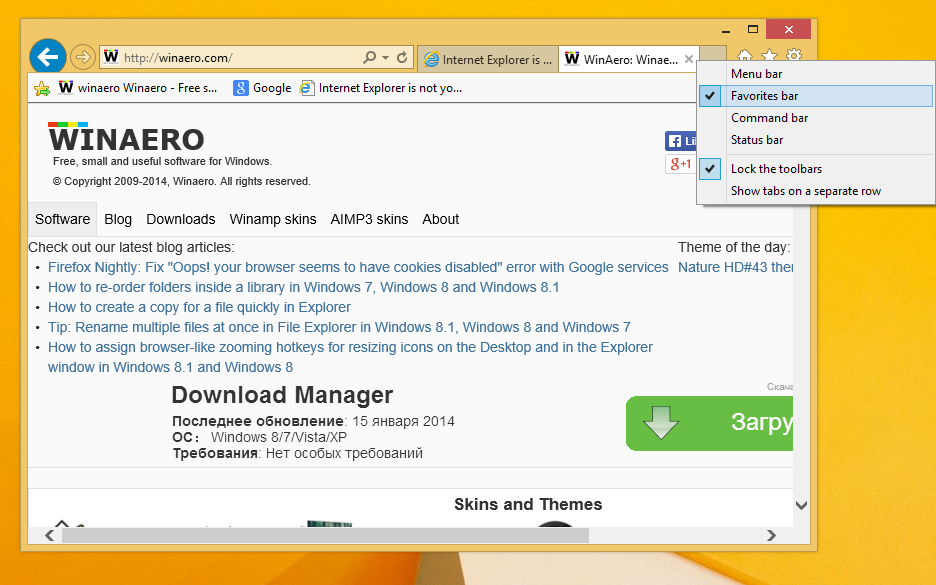 The Favorites bar will become visible. The items you have added there can be displayed in three different modes - icons, short titles and long titles.
The Long titles option is the default view. It shows your favorite sites as a button with icon and full text description. It is suitable for users with the wide screen size.

Short titles is similar to the long titles view, however, the title is truncated to save space horizontally. It can be useful for people with a non-widescreen display, or any other user who has lots of favorites and wants shorter titles.

The Icons view provides the most compact view of sites the Favorites bar by not showing any text titles at all unless you hover over the icon. It is useful for smaller screens or if you have a very large number of favorites.

You can switch between these three views via the context menu of the Favorites bar. Right click on any site on the Favorites bar and expand the Customize title widths items. There you can choose between the three views:

The title widths can also be set via a registry tweak, so if you reinstall Windows, you can straightaway do this Registry tweak to prevent manually changing it every time from Internet Explorer.
Close Internet Explorer.
Open Registry Editor.
Go to the following key:

HKEY_CURRENT_USER\Software\Microsoft\Internet Explorer\LinksBar

If you do not have this key, then just create it.
Tip: You can access any desired Registry key with one click.

Set the DWORD value named DefaultItemWidth to 0, if you need to set the Long titles view.
If you want to use Short titles, you must set DefaultItemWidth to 1, and for Icons set it to 2. That's it.


Bonus tip: You can control the visibility of the Favorites bar via the LinksBandEnabled DWORD value which is located in the following registry key:

HKEY_CURRENT_USER\Software\Microsoft\Internet Explorer\MINIE


Set it to 1 to enable the Favorites bar, or 0 to disable it. You must edit the parameter when IE is not running so the changes will be reflected in the new IE session.

Support us

Winaero greatly relies on your support. You can help the site keep bringing you interesting and useful content and software by using these options: