Although Microsoft released a convenience rollup for Windows 7 which is like Service Pack 2, that includes most of the post-SP1 security updates, non-security updates and hotfixes by request, they gave no instructions on how to make Windows Update work properly after the rollup has been integrated using DISM. Let's see what you need to do to create up-to-date ISO of Windows 7 with updates up to April 2016 so Windows Update works after you install it.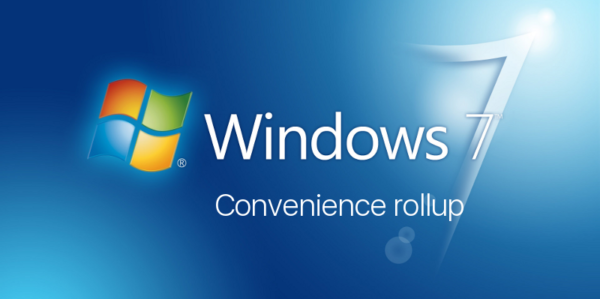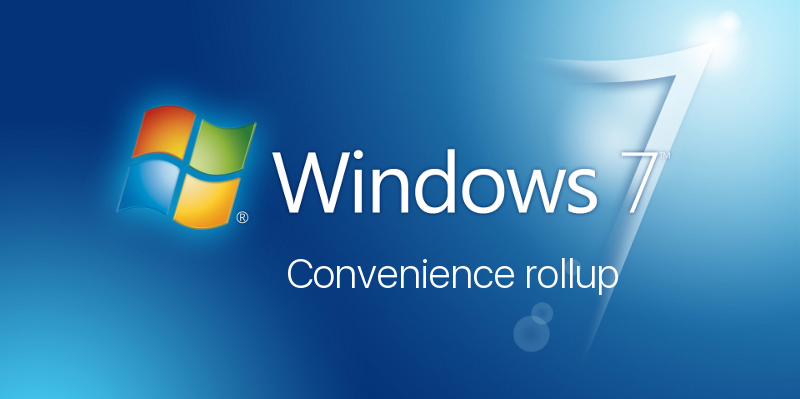 First determine if you are running 32-bit Windows or 64-bit and obtain the ISO with Setup files for your appropriate edition and version of Windows 7 with SP1 integrated.
Copy all the files from Windows 7 SP1 setup media (DVD or ISO or USB) to a folder, let's say it will be C:\ISO\Win7SP1.
Open an elevated command prompt.
At an elevated command prompt, type the following command:

Dism /Get-WIMInfo /WimFile:C:\ISO\Win7SP1\sources\install.wim

It will show you the indexes of the images contained in the WIM file. Note the edition of Windows 7 for which you have the product key and its appropriate index. Suppose for example, you are using Windows 7 Ultimate.

Type the following command to mount the offline Windows image.

Dism /Mount-WIM /WimFile:C:\ISO\Win7SP1\sources\install.wim /Name:"Windows 7 Ultimate" /MountDir:C:\ISO\unpacked

This command will mount the Windows 7 SP1 Ultimate edition files to the folder C:\ISO\unpacked. The folder must exist on your system, otherwise correct the path.

Now comes the important and hard part. Microsoft did not care to mention that Windows Update will break after you integrate only the Servicing Stack update and the Convenience Rollup. When you install Windows 7 using an ISO that only has these, Windows Update keeps forever checking for updates and never finishes. The whole purpose of the Convenience Rollup was that so you needed to install updates released only after April 2016. To get Windows Update working and minimize the amount of updates it downloads, you need to integrate several other updates that are released before and after the Convenience Rollup so Windows Update works.We have made it easy for you by compiling a list of updates that are good to integrate to make Windows 7 up-to-date with modern hardware. You just need to download each update from Microsoft.


Visit the KB articles for each of these and download the MSU files:

KB3020369 (April 2015 Servicing stack update)
KB2670838 (Platform Update which updates DirectX, Windows Imaging Component, Windows Advanced Rasterization Platform (WARP), Windows Animation Manager (WAM), XPS APIs, H.264 Video Decoder and JPEG XR codec)
KB2685811 (Kernel-Mode Driver Framework 1.11)
KB2685813 (User-Mode Driver Framework 1.11)
KB970985 (Remote Server Administration Tools for server admins)
KB975541 (Active Directory Lightweight Directory Services)
KB971033 (Update for Windows Activation Technologies)
KB2900986 (IPv6 Readiness Update)
KB2990941 (NVMe/PCI Express SSD drivers with TRIM support)
KB3087873 (Hotfix for NVM Express drivers)
KB3059317 (Security Update for common controls)
KB3064209 (Intel CPU microcode update)
KB3102810 (Update to fix high CPU usage and slow installation and searching for updates)
KB3138612 (Windows Update Client: March 2016)
KB3140245 (TLS 1.1 and TLS 1.2 in WinHTTP)
KB3145739 (Security Update for Windows Graphics Component)
KB3153199 (Security update for Windows Kernel-Mode Drivers)
KB3156017 (Security update for Windows Kernel-Mode Drivers)
KB3156417 (May 2016 update rollup for Windows 7 SP1)
KB3071740 (Hyper-V integration components update for Windows virtual machines)
KB969168 (Microsoft Agent or Office Assistant on Windows 7)
KB917607 (WinHelp support on Windows 7)

Internet Explorer 11 and its prerequisite updates:

KB2533623
KB2639308
KB2729094
KB2731771
KB2786081
KB2834140
KB2882822
KB2888049
KB2841134 (IE11-Windows6.1-xxx-en-us.exe) which includes:
IE-Win7.cab
IE-Spelling-en.msu
IE-Hyphenation-en.msu

Updates required for Remote Desktop Protocol 8.1:

KB2574819
KB2592687
KB2830477
KB2857650
KB2913751

Updates required for Windows Virtual PC:

And finally, the Windows 7 Convenience Rollup Update:

KB3125574

Integrate each of the above downloaded updates using DISM into Windows 7 Setup. Type the following command for each of these:

Dism /Image:C:\ISO\unpacked /Add-Package /PackagePath:Path_to_MSU_file

Correct the file paths and file names as necessary.

There is an easier way to integrate all of these updates without typing the names and paths to each update. Put all the MSU files in one folder (**except KB3125574 which is the Convenience Rollup**). Open an elevated command prompt at that folder where you put the MSU files.

Without closing the elevated command prompt, open Notepad, and paste this into it:

for %%U in (*.msu) do Dism /Image:C:\ISO\unpacked /Add-Package /PackagePath:"%%U"

Save the file as "Slipstrm.cmd" in the same folder where you put the MSU files and close Notepad.

Now, at the elevated cmd prompt, just type:

Slipstrm.cmd

All the MSU files will be integrated into Windows 7 Setup image that you mounted. Wait till it is done.

Now integrate Convenience Rollup (KB3125574)
Once this is done, type the following command to commit the changes and unmount the image.

Dism /Unmount-WIM /MountDir:C:\ISO\unpacked /Commit

The Install.wim file in C:\ISO\Win7SP1\sources will now be up-to-date till April 2016!
You can copy the updated install.WIM to your USB stick or build a new ISO. When you install Windows 7 now using this updated image, it shows this when you go to Control Panel -> Installed Updates.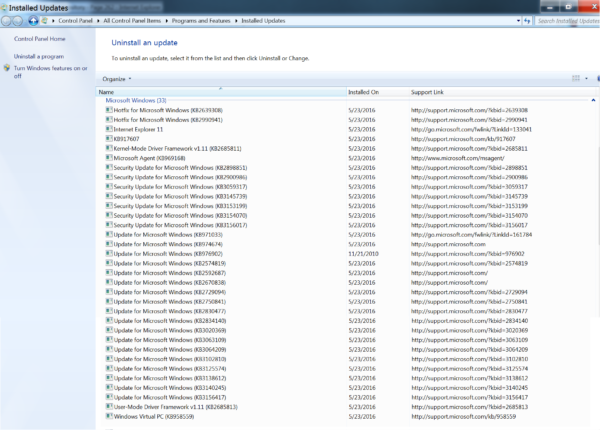 When you check for updates, it will finish scanning in just 5-7 minutes and show very less updates to download.
I hid all the drivers (since I already installed OEM drivers) and language packs, as well as updates to upgrade to Windows 10 or add telemetry.

When I checked for updates in May 2016 after integrating the above list of updates, it showed me only 34 updates (about 150 MB):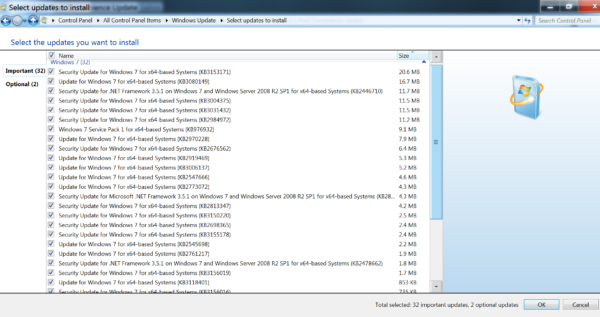 Of course, over time, as more updates are released again for Windows 7, the list of updates to download will grow bigger and we might need another Convenience Rollup or a proper Service Pack.
Support us
Winaero greatly relies on your support. You can help the site keep bringing you interesting and useful content and software by using these options:
If you like this article, please share it using the buttons below. It won't take a lot from you, but it will help us grow. Thanks for your support!