If you do not have an optical drive for reading DVDs or Blu-Rays in your PC but have an ISO image of Windows 7 or Windows 8.1, you might be interested in learning how to create a bootable USB stick from the ISO file. It can be done without using any third party software in Windows 8.1 or Windows 8, but in Windows 7 you need some tool to extract the ISO file. Personally, I always use the USB stick to install Windows because it works much faster than the DVD drive and is easy to update. Let's see how you can create it.

Warning! You will need to erase all data from the USB flash drive you use for this, so make a backup of the important data on it before you proceed.
You need to unpack the ISO file of Windows 7 setup to extract its contents. The free and open source 7-zip archiver can perfectly extract the contents of the ISO image. Alternatively, there is Virtual CloneDrive software which is also free. It creates a virtual drive which can mount ISO images and you can work with them like a regular DVD disk inserted in the physical DVD drive.
In Windows 8 and Windows 8.1, you don't need any third-party software to extract the ISO's contents to the USB flash drive: Windows 8 and Windows 8.1 have built-in support for ISO images. Simply double click the ISO to mount it; Windows 8 will create a virtual DVD drive in the This PC folder. Then you can just copy and paste files from the virtual DVD drive to your USB stick.
Important Note: You cannot create a bootable 64-bit (x64) Windows USB stick from a 32-bit (x86) version of Windows. Use a 64-bit version of Windows to create a 64-bit USB stick. However, you can create a USB drive with 32-bit (x86) version of Windows from a 64-bit edition of Windows. Also, you can create a bootable USB stick with Windows 7 from the Windows 8 environment and vice versa.
Open an elevated command prompt
Type the following:

diskpart


Diskpart is a console disk management utility which is shipped with Windows by default. It allows you to perform the full set of disk management operations from the command line.

Connect your USB stick.
Type the following in diskpart's prompt:

list disk

It will show a table with all your disks, including the connected USB stick. Note the number of the USB stick drive.
In my case, it is Disk 1


You need to select your USB disk in diskpart. Type the following:

sele disk #

Where # the number of your USB stick drive. In my case, it is 1, so i have to use the following command:

sele disk 1

Type the following command:

clean

It will erase all data from your USB drive.
Note: you can skip this step if you are an advanced user and know that your USB stick has a proper filesystem. If you are not sure, it is better to clean the partitions and data.


Type the following command:

crea part prim

This will create a primary partition which will store your data.


Now you need to format the partition. Use the following command:

format quick

Type the following command:

active

This is to allow your USB stick to be able to load some bootloader.


You are finished with diskpart. Type 'exit' to leave it. You will return to the elevated command prompt - do not close it.
Double click the ISO image in Windows 8 to mount it, and copy all files from the ISO image to the USB stick. This will take a few minutes depending on the speed of your USB flash drive. On Windows 7, open the ISO with 7-Zip and extract to the drive letter of your USB stick.
The final part: you need to write a bootloader to your USB stick. Suppose your mounted ISO image has the drive letter, D: in the This PC/Computer folder, and your USB stick has the drive letter E:
Then you need to type the following command:

D:\Boot\Bootsect /NT60 E: /force /mbr

This will write the NT6 boot sector to your USB stick. Replace the letters in my example with appropriate letters in your OS.

That's it! Now you can use this USB stick to boot and install Windows on any computer that supports booting from USB.
In fact, once you make the USB drive bootable by writing the boot sector, as long as you don't format the drive, you can simply erase all the files on it and copy newer files from an updated ISO to the same flash drive, and it will still boot.
Windows 7 USB/DVD Download Tool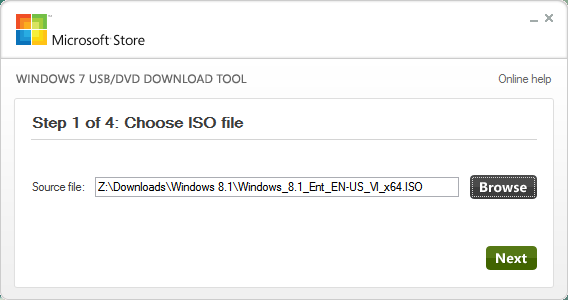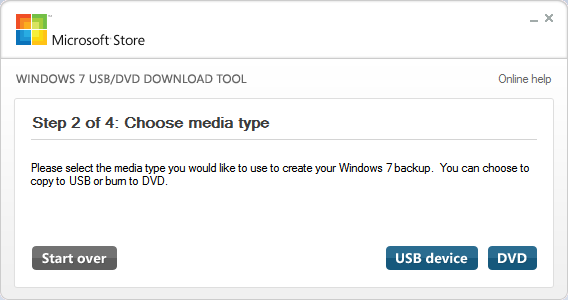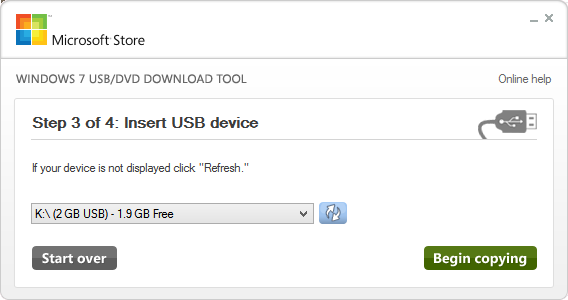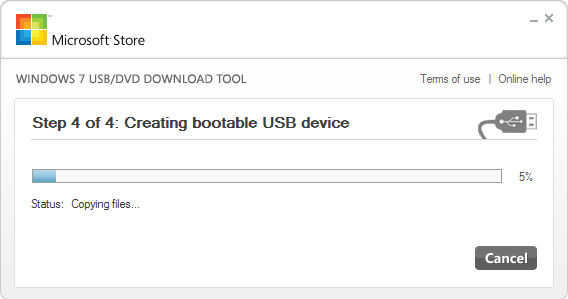 If you wish to use a far more simpler way than doing all of the above steps to create a bootable Windows USB flash drive, use Microsoft's official tool. Download it from this page. Don't worry, even if it says Windows 7 in the title, Windows 8 ISO images can be used with this tool.
Support us
Winaero greatly relies on your support. You can help the site keep bringing you interesting and useful content and software by using these options:
If you like this article, please share it using the buttons below. It won't take a lot from you, but it will help us grow. Thanks for your support!