Windows 8.1 is the latest version of the client operating system from Microsoft available for end users. Although it is designed to be stable and supports various hardware, sometimes it can hang for some reason. If you are one of those unlucky users who experiences Windows 8.1 hangs or freezes, here are some basic tips for you which can help to resolve the problem.
Check your hardware
Make sure that you have all the hardware connected properly and not misconfigured. Also make sure that your GPU and CPU have no overheating issues. Use apps like AIDA64 to perform the stability test of your PC.
Use the Windows Troubleshooters
Open the Control Panel (see all the possible ways to open Control Panel in Windows 8.1)  and go to the Control Panel\System and Security. Click the Troubleshoot common computer problems link under the Action Center.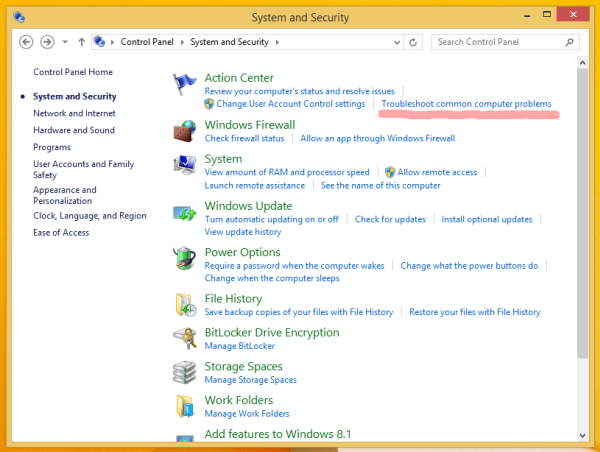 The Troubleshooting item will be opened. Run the 'System and Security' item.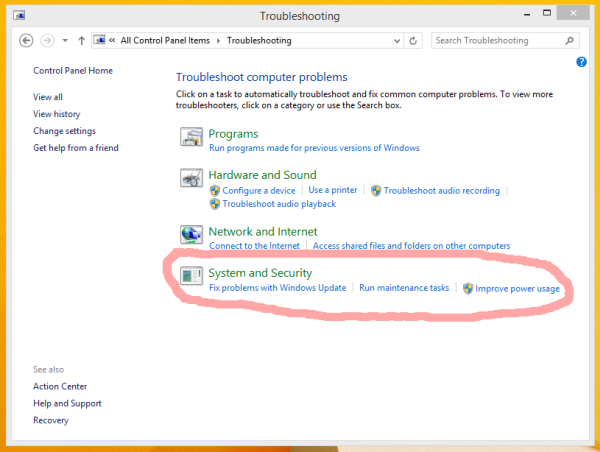 Click the 'System Maintenance' item: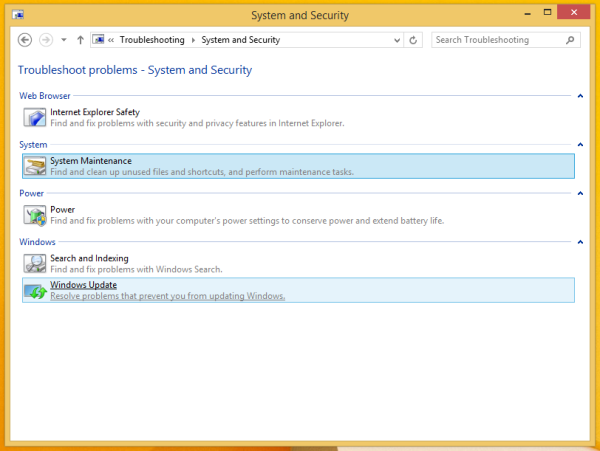 The 'System Maintenance' wizard will appear on the screen. Click 'Advanced' and allow it to run as Administrator to increase the chances of the issue being fixed.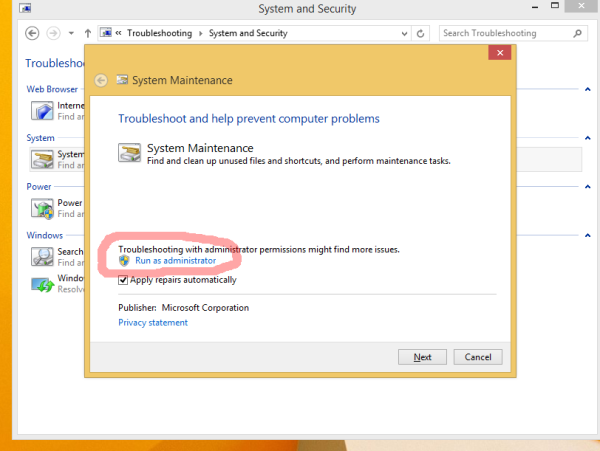 Follow the wizard instructions.
Organize your startup
Disable all third-party apps from the startup. In Windows 8.1, use Task Manager to see what you had in the startup list: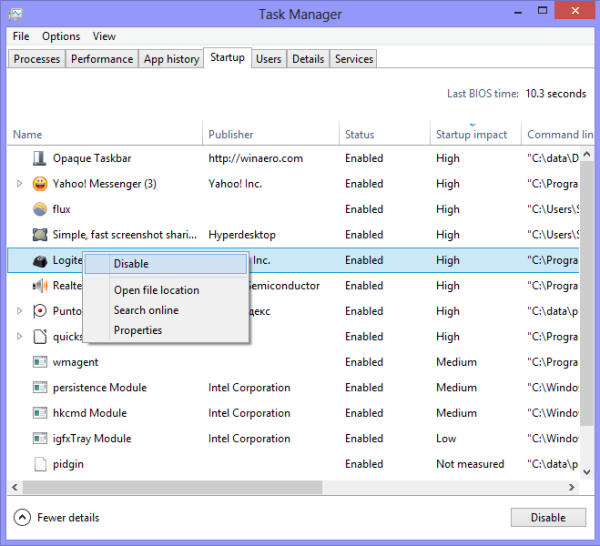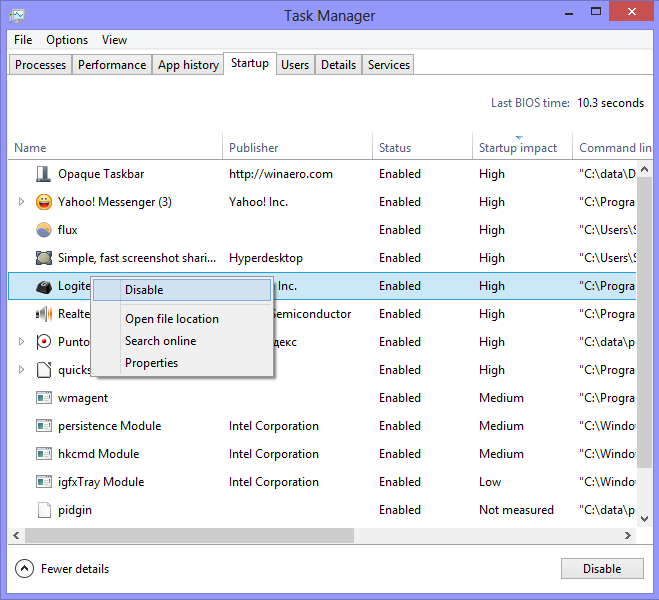 If your OS hangs, it can be caused by some third party app, which starts with Windows. Enable your apps one by one to see which software exactly causes the issue.
Obviously, the less apps you have at startup, the faster Windows will start. From the following tutorial, you can learn how to significantly improve the startup time of you OS: Speed up your Windows startup with these tricks
Update your drivers or uninstall some buggy driver
All drivers for your hardware should be correctly installed and you should use the latest available drivers for your hardware. If you don't know where to get drivers, check on Windows Update. If you don't find drivers on Windows Update, search for the manufacturer's website and download them. Install them using Device Manager and see if that helps. If you recently installed a new device driver and started experiencing hangs or crashes, enable the Last Known Good Configuration feature, restart Windows and restore your last stable hardware configuration.
If a new driver gives you problems, you can also press Rollback Driver from Device Manager to revert to an earlier stable version of the driver. Try to diagnose your drivers to see if one of them is the cause of freezes and hangs.
In the command prompt, type

mmc.exe C:\Windows\system32\devmgmt.msc

This will open Device Manager.

Check the drivers of the following devices:
Audio card (shown under Sound, Video and Game Controllers in Device Manager)
WiFi/Network cards (shown under Network adapters)
Card reader
Video card (Display adapters)Expand the device category and then right click on the device in Device Manager and choose 'Properties' from its context menu. Switch to the 'Driver' tab and try to disable the device and then boot into the normal session to see if it helps. If you are sure that you have all the necessary drivers, then you can also try to uninstall the problematic driver.

Check your system for malware
Malware can definitely cause hangs or crashes. Install a good, free anti-malware such as Avast, Avira or AVG. Avoid relying on Microsoft Security Essentials are it doesn't protect you 100% against all kinds of threats. After installing a good anti-malware, scan your system to make sure it is clean.
Check the Event Logs
Windows maintains a log of all events on the system called the Event Log. Start Event Viewer (EventVwr.exe) from Administrative Tools and expand the Windows Logs category. Check the System log and Application log for any serious errors that may be causing Windows to hang or crash.
When you open the System Log or Application Log, you can use filtering to hide events which are 'Information' and 'Audit'. Right click the System Log and set up filtering to show only Errors and Warnings so you can narrow down the problem. Events are usually sorted by time and date so check for the most recent events in the System log and Application log to determine what may have caused the hang.
Last try: disable the dynamic processor ticks

I do not recommend you this solution. Use it at your own risk if you have tried everything else, because it is very tricky. Use it only if you are sure that other steps are not helpful for your problem.
The CPU of your PC ticks at a certain rate. Applications and Windows are using these ticks to perform various internal tasks. Even when your PC is idle, CPU continues to tick.
The new power management concept of Windows 8 is about maximum power saving to be energy-efficient on tablets, so it uses dynamic ticking. This new concept involves processor coalescing or batching together ticks when idle, only delivering them when some specific event happens. So, with dynamic ticks the ticking cycle is reduced.
If all your hardware, drivers and apps are configured correctly and your system is malware-free, then try to disable the dynamic ticks to get rid of any hangs you may be experiencing because of this Windows 8.1 feature.
To disable them, open an elevated command prompt and type the following command:
bcdedit /set disabledynamictick yes
Reboot your PC and see if it helps.
To enable them back, use the following command (also type it in an elevated command prompt):
bcdedit /set disabledynamictick no
That's it. Please let us know exactly which solution was helpful for you. These are the most common causes of PCs hanging or crashing.
Support us
Winaero greatly relies on your support. You can help the site keep bringing you interesting and useful content and software by using these options:
If you like this article, please share it using the buttons below. It won't take a lot from you, but it will help us grow. Thanks for your support!