If you are running the recent Windows 10 build 10130 for Windows Insiders, you might have faced a strange issue that the Start menu does not open reliably. Most of the times although not always, when you press the Win key on the keyboard or when you click the Start button, nothing happens. I faced with this issue recently and it just wasn't working for me. Luckily I found a trick to resolve it. Here is what helped me.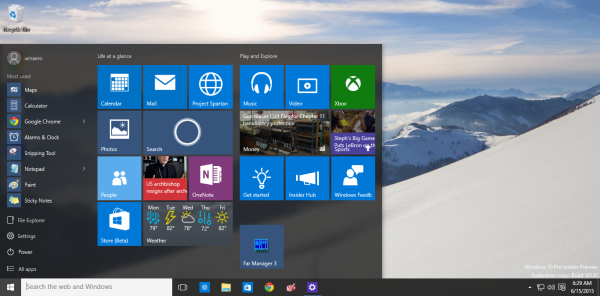 To resolve the issue and get the Start menu working, I tried to restart the Explorer shell first. However, it does not help and the Start menu still does not appear.
Next, I tried to reboot the PC, but it too was not helpful to me.
Finally, I did the following to get it working:
Switch Windows 10 to Tablet mode.
In Tablet mode, wait for half a minute and click the Start button. After some delay, the full screen Start menu will be opened.
Now, disable Tablet mode and click the Start button once again.
That's it. The Start menu still works for me a few days after this. Please reply in the comments if this helped you too or not or if you have found another way to resolve this issue. See how to resize Windows 10 Start Menu to the single column.