Besides the new Australis UI coming soon to Firefox, Mozilla now plans to show ads on the new tab page of Firefox as a revenue source required to support the browser. These changes are very frustrating for those users who are used to having a customizable and ad-free web browser. Although Mozilla will most likely make those ads unobtrusive, many Firefox users may want to stop using the vanilla Mozilla Firefox build. Let's see where you can migrate and try to analyze what the alternatives are to Firefox.

Firefox has some excellent defining characteristics which make it great:
an open source freeware application.
has an extremely flexible user interface which can be tweaked by end users and developers.
powered by thousands of free add-ons.
has excellent cross-platform support.
Let's look at the browsers market.
Google Chrome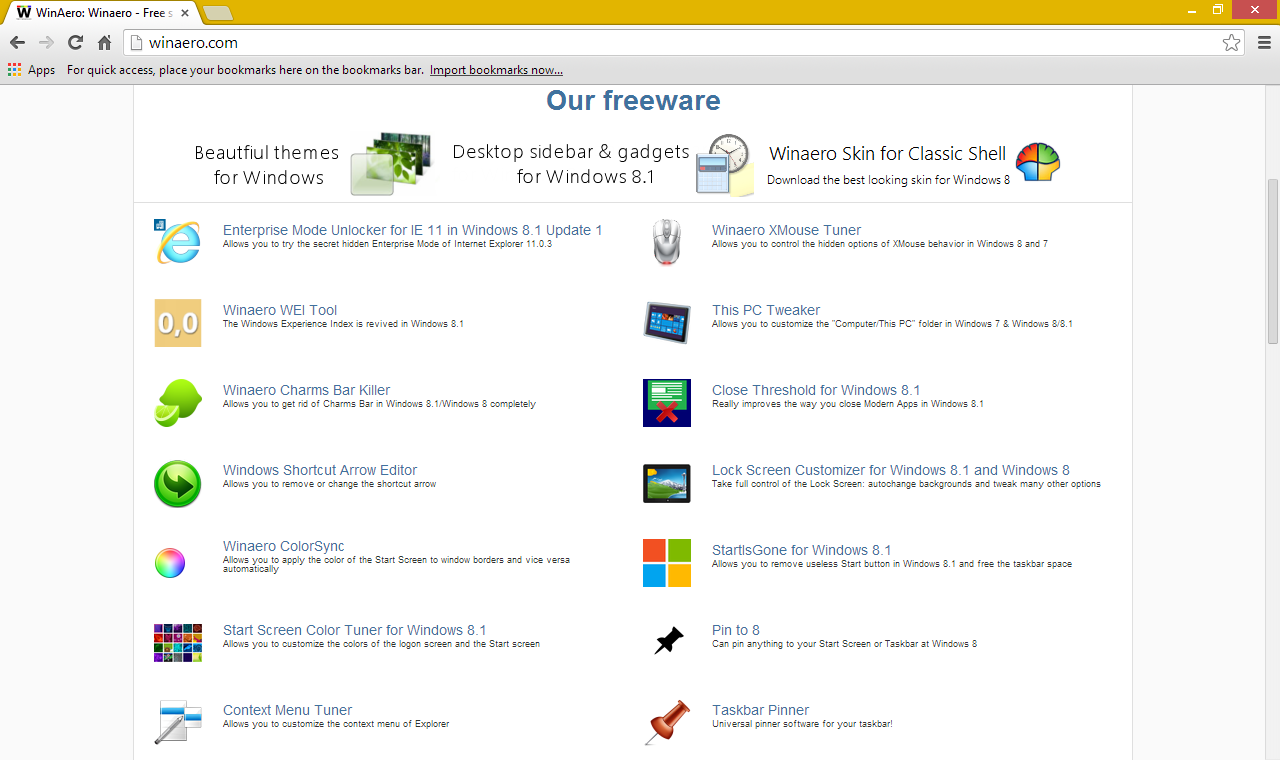 Google Chrome is a free browser developed and maintained by Google. Google proclaims it as an open source project, but that is not exactly true. While you can access Chrome's source code (which is called Chromium), you cannot push your own changes into the development branch to see them later incorporated upstream into the stable release. This is not the open source ideology, definitely.
Google Chrome can offer you a wide range of add-ons which can be installed inside the browser and extend its features. If addons are that important to you, Chrome can be a good alternative as it is quite full-featured as long as the proper addons are installed.
However, the user interface of Google Chrome is hardcoded and can't be customized that much according to your personal preferences. It is really minimalistic and may not satisfy the needs of experienced users and geeks. For example, it has no add-ons bar by default and all addons place their buttons in the top right panel next to the address bar.
So, Google Chrome can be used as an alternative simplified browser, complemented by addons, by those users who don't care about having a customizable UI and or it not being truly open source.
SeaMonkey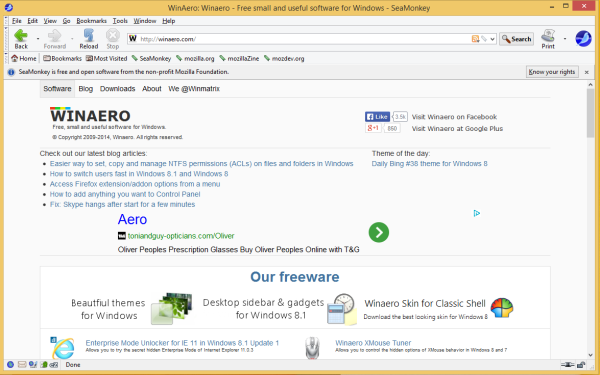 SeaMonkey is an old-school fork of the Mozilla Suite. Several years ago Mozilla had a product which included a browser, an email client, an IRC chat client and an HTML editor. All those applications had a common engine and could be launched from each other. Later, Mozilla split them into Firefox, Thunderbird, Composer and so on. The SeaMonkey project continues the tradition of having one integrated suite. It is still an all-in-one product based on the latest Mozilla engine. It includes an Internet browser, email & newsgroup client with an integrated RSS feed reader, an HTML editor, IRC chat and web development tools. SeaMonkey is designed for power users, as they say on their front page.
SeaMonkey still has a status bar/add-ons bar and ships without ads and the Australis UX. It has the layout of classic Netscape/early Mozilla products. SeaMonkey also supports Firefox's Sync server protocol, which is extremely useful for those who prefer having their own Sync server instead of using Mozilla's cloud sync service.
SeaMonkey can be the best alternative for all current Firefox users who are not happy with the upcoming changes.
Opera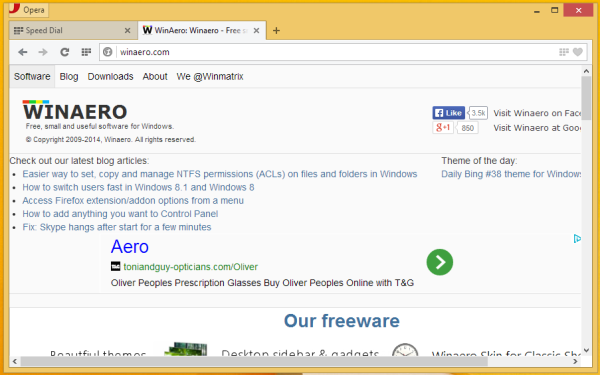 Opera Software ASA, the developer of the most feature rich browser in the past, has today discontinued its classic offering. Today, they develop the new Opera browser, which is based on the same technologies and software frameworks that Google Chrome uses. It it slightly different from Google Chrome in terms of appearance and features. Opera promises that it will get more features in the near future although I doubt that it will ever be as full-featured and as customizable as classic Opera. Opera also supports add-ons, but has the same limitations that Google Chrome has as far as UI customization is concerned. Also, Opera lacks Linux support.
To be honest, I do not expect anything great from the new Opera browser. However, if Google Chrome is suitable for you as a Firefox alternative, you can look at Opera too to see if some of its exclusive features are of use to you.
QupZilla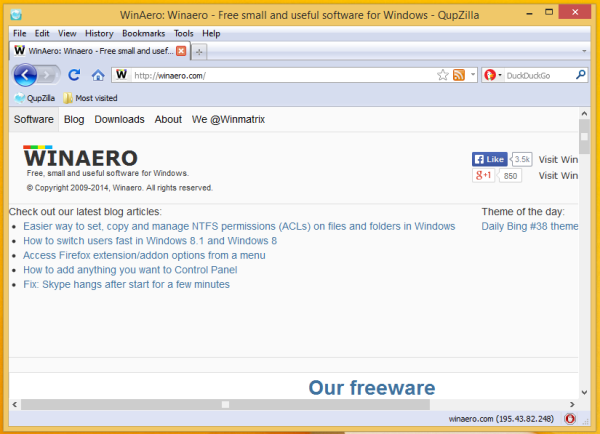 QupZilla is a new WebKit-based open source browser which reminds me of Firefox 3.6 from its look. It is fast and useful, and has its own add-ons engine. It comes with some add-ons pre-installed such as Ad Block and Flash Block. It is highly customizable and can be a really good alternative, but it has some issues:
QupZilla addons are binary files and are not compatible with any of the mainstream browser extension formats. A this moment, this browser has a small user base and only few add-ons. This may prevent it from gaining the popularity that mainstream browsers enjoy.
Unfortunately, it has some stability issues and bugs. The version I tried a few months ago had issues with saving images.
However, QupZilla is actively developed and the bugs which I discovered are already fixed.
I will keep an eye on how QupZilla develops. If it is continuously developed, it may get some significant market share. If you have never used it, I recommend you to try it at least once because it is usable for everyday tasks.
Other software
There are, of course, plenty of other browsers which you can use instead of my recommendations. There are a number of Firefox forks like CyberFox, WaterFox, Pale Moon etc which are built only for Windows with their own optimizations. Windows users can also try Internet Explorer as their primary web browser, and Linux users have plenty of Linux-only apps like Rekonq, Aurora, Epiphany, Midori etc. But most of these browsers are restricted to one platform and lack the feature set of Firefox.
Closing words
Even though Firefox will remain usable after the upcoming changes, the changes it is soon going to introduce are highly unwelcome and pretty good reasons for many users to switch their browser. I see only two good alternatives: SeaMonkey and QupZilla. Personally, I plan to switch to SeaMonkey in the near future.
What about you? Which browser do you use currently, and will you switch? Do you know any good alternatives that I missed out? Feel free to share your opinion with us.
Support us
Winaero greatly relies on your support. You can help the site keep bringing you interesting and useful content and software by using these options:
If you like this article, please share it using the buttons below. It won't take a lot from you, but it will help us grow. Thanks for your support!