Mozilla has released Firefox 115, a new version of their web browser. This version falls under the extended support period (ESR) branch, ensuring ongoing updates throughout the year. Additionally, an update has been made available for the previous long-term support branch, version 102.13.0, with two more updates (102.14 and 102.15) expected in the future. Firefox 116 is now in the Beta channel and is scheduled for release on August 1st.
Users on Windows 7 and Windows 8 will automatically be migrated to the ESR 115 version of Firefox so that they continue to receive important security updates.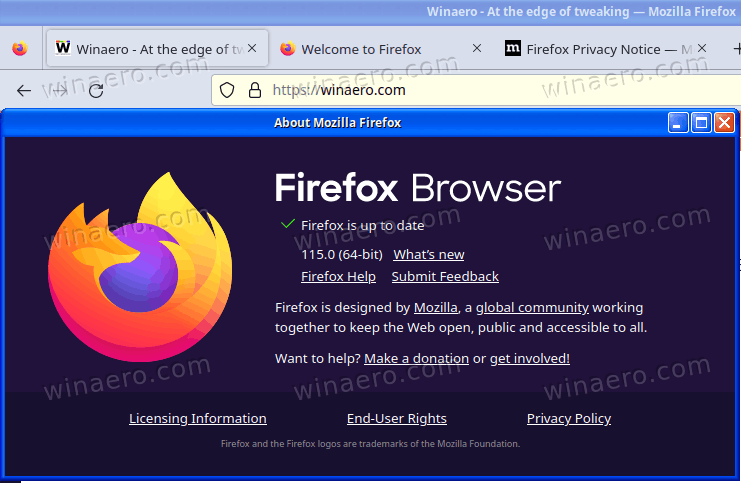 What's new in Firefox 115
When importing browsing data from Chrome and Chrome-based browser, you can now import the saved payment method to Firefox.

The user interface for importing data wizard has also been updated.

The drop-down list of tabs shown when clicking on the "V" button (Tab Manager) now includes close buttons, so you can close tabs more quickly.
Linux devices with Intel GPUs now have hardware-accelerated video decoding enabled.
Users without platform support for H264 video decoding can now fallback to Cisco's OpenH264 plugin for playback.
A new feature has been introduced on the Linux platform. It allows opening the URL in the clipboard by middle-clicking on the new tab button in a new tab. So if the clipboard contains a URL, the browser will open the link. If it contains text, it will be treated as a search query for the search engine.

To disable this feature, open the about:config page and change the browser.tabs.searchclipboardfor.middleclick option.

Users who disable automatic updates of add-ons and use a color theme selected using the previously removed built-in Colorways add-on will be automatically switched to the same external theme from addons.mozilla.org.
Support for Undo and Redo has been added to the password entry fields.
The "extensions" flyout can now show a warning if some extension can't work on the currently open website. The warning is related to a new security measure that restricts the usage of add-ons that haven't been verified by Mozilla on certain websites. To disable this protection, you can modify the extensions.quarantinedDomains.enabled setting on the about:config page.
Fixes
Windows Magnifier now follows the text cursor correctly when the Firefox title bar is visible.
Windows users on low-end/USB wifi drivers and with OS geolocation disabled can now approve geolocation on a case by case basis without causing system-wide network instability.
Besides, Firefox 115 fixes 24 vulnerabilities. 15 vulnerabilities are marked as dangerous, of which 13 vulnerabilities (CVE-2023-37212 and CVE-2023-37211) are caused by memory problems, such as buffer overflows and access to already freed memory areas. These issues can potentially lead to malicious code being executed when a specially designed page is opened. Two more dangerous vulnerabilities are caused by use-after-free memory access in the certificate creation code for WebRTC and SpiderMonkey.
Download Firefox 115
You can update to the latest version of Firefox by going to the About Firefox section of the browser's menu. Alternatively, you can download the installers here: https://releases.mozilla.org/pub/firefox/releases/115.0/.  There, pick the browser that matches your operating system, language and platform. Files in there are organized into subfolders by a platform, UI language, and include full (offline) installers. The official release notes are here: https://www.mozilla.org/en-US/firefox/115.0/releasenotes/.
Support us
Winaero greatly relies on your support. You can help the site keep bringing you interesting and useful content and software by using these options:
If you like this article, please share it using the buttons below. It won't take a lot from you, but it will help us grow. Thanks for your support!