Windows 10 can enter a special low power mode if supported by hardware, called Sleep. The computer can return from sleep mode faster than from a cold boot. Depending on your hardware, there can be a number of sleep modes available on your computer.
The OS supports multiple power states that correspond to the power states defined in the Advanced Configuration and Power Interface (ACPI) specification.
The following table lists the ACPI power states from highest to lowest power consumption.
Power state
ACPI state
Description
Working
S0
The system is fully usable. Hardware components that are not in use can save power by entering a lower power state.
Sleep

(Modern Standby)

S0 low-power idle
Some SoC systems support a low-power idle state known as Modern Standby. In this state, the system can very quickly switch from a low-power state to high-power state, so that it can respond quickly to hardware and network events. Systems that support Modern Standby do not use S1-S3.
Sleep
S1

S2

S3

The system appears to be off. Power consumed in these states (S1-S3) is less than S0 and more than S4; S3 consumes less power than S2, and S2 consumes less power than S1. Systems typically support one of these three states, not all three.

In these states (S1-S3), volatile memory is kept refreshed to maintain the system state. Some components remain powered so the computer can wake from input from the keyboard, LAN, or a USB device.

Hybrid sleep, used on desktops, is where a system uses a hibernation file with S1-S3. The hibernation file saves the system state in case the system loses power while in sleep.

Note  SoC systems that support modern standby (the low-power idle state) do not use S1-S3.

Hibernate
S4
The system appears to be off. Power consumption is reduced to the lowest level. The system saves the contents of volatile memory to a hibernation file to preserve system state. Some components remain powered so the computer can wake from input from the keyboard, LAN, or a USB device. The working context can be restored if it is stored on nonvolatile media.

Fast startup is where the user is logged off before the hibernation file is created. This allows for a smaller hibernation file, more appropriate for systems with less storage capabilities.

Soft Off
S5
The system appears to be off. This state is comprised of a full shutdown and boot cycle.
Mechanical Off
G3
The system is completely off and consumes no power. The system returns to the working state only after a full reboot.
As follows from the table above, states S1, S2, S3, and S4 are the sleeping states. A sleeping system retains memory state, either in the hardware or on disk. The operating system need not be rebooted to return the computer to the working state.
To find the available sleep states in Windows 10, do the following.
Open an elevated command prompt.
Type or copy-paste the following command:

powercfg -a
In the output, you will find all the sleep modes supported by your PC.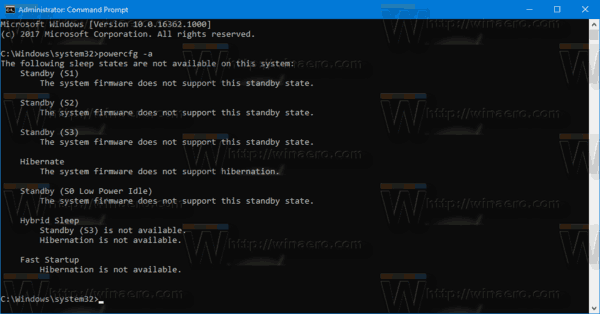 Articles of interest:
Source: System Sleep States.
Support us
Winaero greatly relies on your support. You can help the site keep bringing you interesting and useful content and software by using these options:
If you like this article, please share it using the buttons below. It won't take a lot from you, but it will help us grow. Thanks for your support!