With Windows 10 Spring Creators Update version 1803, Microsoft introduced a new power scheme - Ultimate Performance. It is designed to reduce micro-latencies and will require the system to consume more power to give full performance. This power plan is not available on systems powered by batteries (such as laptops). Unfortunately, Microsoft has restricted the new power scheme to a new edition: Windows 10 Pro for Workstations. With a simple trick, you can get it enabled in ANY edition of Windows 10 version 1803.
The new power plan was announced as follows:
A new power scheme – Ultimate Performance: Demanding workloads on workstations always desire more performance. As part of our effort to provide the absolute maximum performance we're introducing a new power policy called Ultimate Performance. Windows has developed key areas where performance and efficiency tradeoffs are made in the OS. Over time, we've amassed a collection of settings which allow the OS to quickly tune the behavior based on user preference, policy, underlying hardware or workload.

This new policy builds on the current High-Performance policy, and it goes a step further to eliminate micro-latencies associated with fine grained power management techniques. The Ultimate Performance Power plan is selectable either by an OEM on new systems or selectable by a user. To do so, you can go to Control Panel and navigate to Power Options under Hardware and Sound (you can also "run" Powercfg.cpl). Just like other power policies in Windows, the contents of the Ultimate Performance policy can be customized.

As the power scheme is geared towards reducing micro-latencies it may directly impact hardware; and consume more power than the default balanced plan. The Ultimate Performance power policy is currently not available on battery powered systems.
As you may already know, existing power plans are listed under the Registry key HKEY_LOCAL_MACHINE\SYSTEM\ControlSet001\Control\Power\User\PowerSchemes.
In my build 17133, the Ultimate Performance power scheme is also there!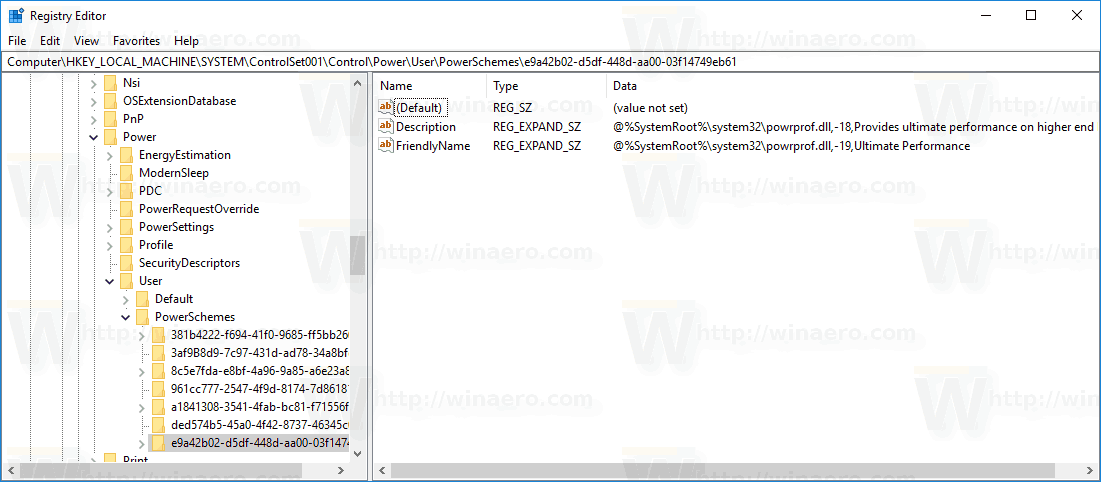 However, it doesn't appear in the list of schemes neither in the Control Panel or powercfg:

The operating system checks for the current edition. If it is not "Pro for Workstations", it simply hides the Ultimate Performance power scheme (ID e9a42b02-d5df-448d-aa00-03f14749eb61) everywhere. It looks like it uses the ID value to hide the scheme, since if you clone this power plan, it appears instantly. Let's see how to unblock the Ultimate Performance power scheme in any edition.
In our previous article, How to Create a Power Plan in Windows 10, we saw how to duplicate a power plan with powercfg.exe. Today we will use the same trick to unblock the Ultimate Performance power scheme.
To enable Ultimate Performance in any Windows 10 edition, do the following.
Type or copy-paste the following command: powercfg -duplicatescheme e9a42b02-d5df-448d-aa00-03f14749eb61.
Now, open the Power Options applet and choose the new plan, 

Ultimate

 Performance.

You are done!
This power plan can be deleted at any time.
To save your time, you can download the ready-to-use POW file to import the Ultimate Performance power plan quickly, as follows.
Add Ultimate Performance Power Plan in Windows 10
Download the ultimate_performance.zip file from here: Download the Ultimate Performance Power Plan.
Unblock the downloaded ultimate_performance.zip file.
Open the zip file, and extract the Ultimate_Performance.pow file to any folder.
Open an elevated command prompt.
Type the following command in the elevated command prompt, and press the Enter key to import the power plan.
powercfg -import "Full path to the Ultimate_Performance.pow file".
Correct the path to the file to the actual path value on your computer, e.g.

powercfg -import "C:\Users\Winaero\Desktop\Ultimate_Performance.pow"
That's it! Now you will be able to select the "Ultimate Performance" power scheme as your current power plan.
Support us
Winaero greatly relies on your support. You can help the site keep bringing you interesting and useful content and software by using these options:
If you like this article, please share it using the buttons below. It won't take a lot from you, but it will help us grow. Thanks for your support!