How to Enable or Disable Blocking Redirect Trackers in Enhanced Tracking Protection 2.0 in Mozilla Firefox
Mozilla has introduced the Enhanced Tracking Protection (ETP) 2.0 feature in Mozilla Firefox 79. Starting today, the company starts rolling out a new Redirect Tracker protection that defends the user from being tracked with a special in-the-middle URL, known as bounce tracking.
Firefox 79 introduced Enhanced Tracking Protection 2.0, which includes protection for unwanted first-party cookies. This is enabled default. The browser is using the Disconnect.me to detect cookies for trackers, and also removes them automatically daily. By default, the option is set to compatibility mode, but the user can customize it by selected one of the available options.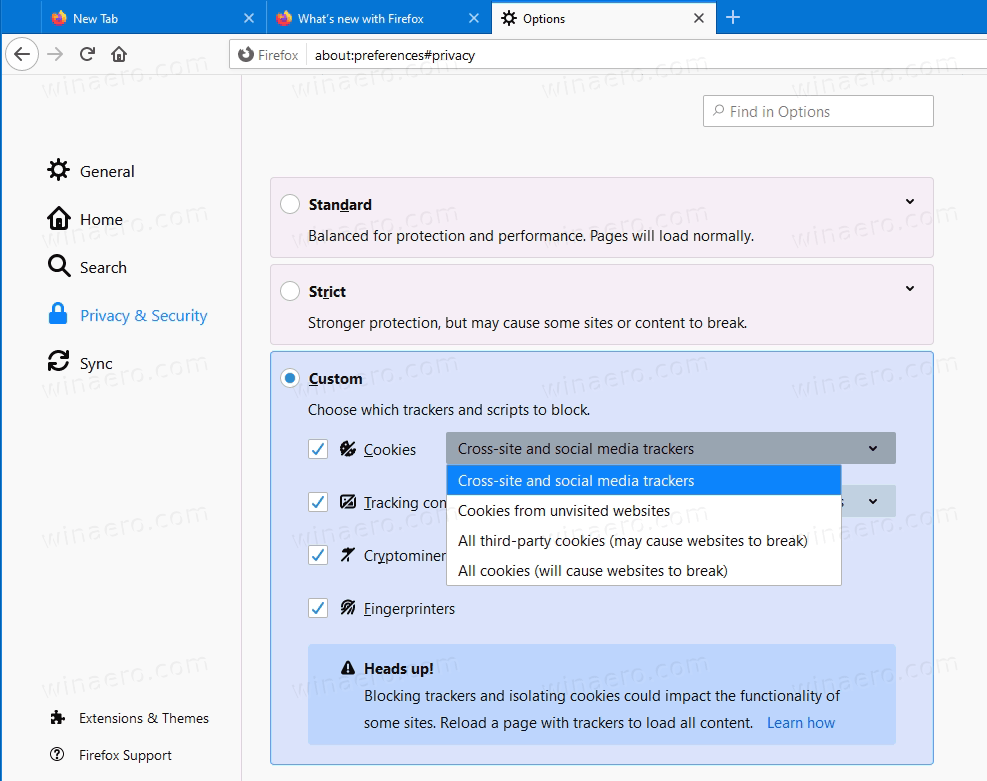 In addition to the cookie cleanup, Firefox 79 includes one more option as part of Enhanced Tracking Protection 2.0. It performs blocking of redirect trackers.
Redirect tracking
Redirect tracking is an abuse of cross-site navigation in which a tracker momentarily redirects a user to their website for the purpose of using first-party storage to track that user across websites. Redirect trackers work by forcing you to make an imperceptible and momentary stopover to their website as part of the web navigation. So instead of navigating directly from the review website to the retailer, you'll end up navigating to the redirect tracker first rather than to the retailer. This means that the tracker is loaded as a first party. The redirect tracker associates tracking data with the identifiers they have stored in their first-party cookies and then forwards you to the retailer.
Redirect tracking protection in Firefox
To protect against redirect tracking Firefox periodically clears cookies and site data from trackers.
Firefox will clear the following data:
Network cache and image cache
Cookies
AppCache
DOM Quota Storage (localStorage, IndexedDB, ServiceWorkers, DOM Cache, etc.)
DOM Push notifications
Reporting API Reports
Security Settings (i.e. HSTS)
EME Media Plugin Data
Plugin Data (e.g. Flash)
Media Devices
Storage Access permissions granted to the origin
HTTP Authentication Tokens
HTTP Authentication Cache
For websites that use redirects as part of their software, this may cause false positives, and lead to authentication issues if a website is using cookies. So, to workaround this, Firefox will automatically make an exception if you have interacted with the website's pages explicitly, e.g. you have spent some time on its page, scrolled it, used its other links or images. For such exceptions, the data prepared for the removal will be kept for 45 days instead of being deleted daily.
Mozilla is currently rolling out this redirect tracker blocker feature to the public. In Firefox 79, you can enable it right now if you want to give it a try. Or, you can disable it if you found it giving you browsing issues.
To Enable or Disable Redirect Tracker Blocking in Firefox ETP 2.0,
Open the Firefox browser.
Enter about:config into the address bar, and confirm your intention.
Type privacy.purge_trackers.enabled in the search box.
To enable Redirect Tracker Blocking, set the  privacy.purge_trackers.enabled to true.
To disable Redirect Tracker Blocking, set the  privacy.purge_trackers.enabled to false.
You are done!
Some users will definitely welcome this change in Firefox. Others may have an opinion that the browser should remain the app that only displays web content, without changing it and applying extra restrictions. There were always extensions for interested users to control and block trackers and other resources on the Internet. Sadly, these days extensions in Firefox are restricted with what they allowed to do, and the good old feature-rich XUL add-ons are deprecated.
So, what's your take on this change? Do you support this move from Mozilla? Share your opinions in the comments below.