How to edit saved passwords in Google Chrome
Google Chrome finally allows editing saved passwords. The team behind the Google Chrome browser has added a new useful feature to the browser. It now allows editing the passwords you have saved for websites.
Each time you enter some credentials for a website, Google Chrome asks you to save them. The next time you open the same web site, your browser will auto-fill the saved credentials. If you are signed in to Chrome with your Gmail account, you can use your passwords on various devices like PCs, tablets and laptops, and smartphones running Android, Windows, macOS, and Linux, as they will be synced.
If you changed a password, you should have wait for the Chrome offer to update the password. Now you can instantly edit it on your own without removing or updating your saved credentials for a website.
The new option can be found in Chrome > Settings > Autofill > Passwords.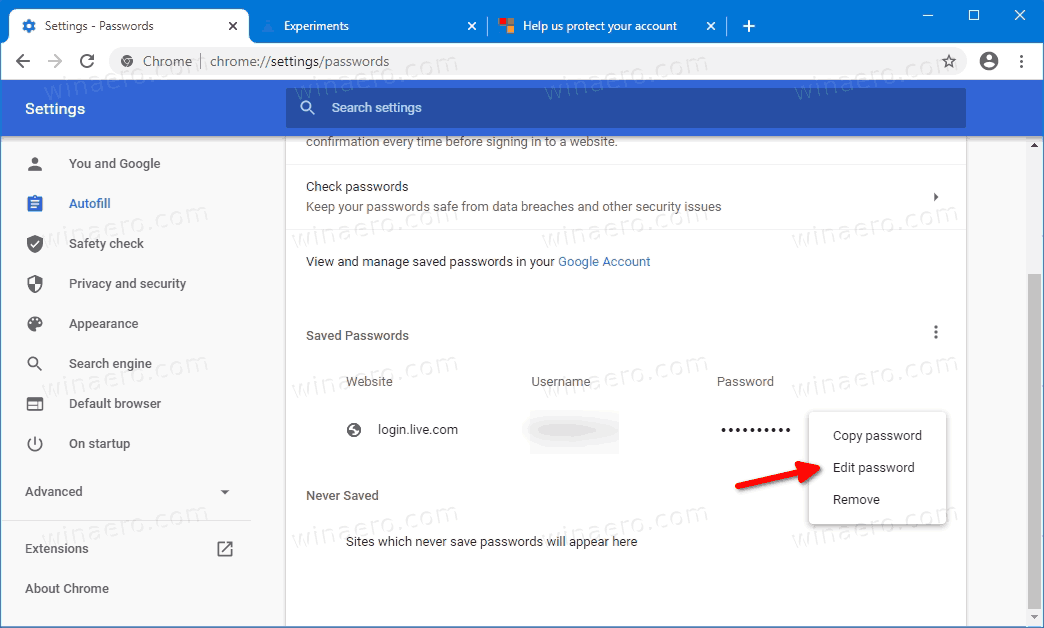 The option, while being an experimental feature, can be already enabled in Chrome Canary. Here's how to enable the feature, assuming that you have installed the Canary version.
To Edit Saved Passwords in Google Chrome,
Open Google Chrome.
Type the following in the address bar, and type Enter: chrome://flags/#edit-passwords-in-settings.
Turn on the flag by selecting Enabled from the drop-down menu next to the flag name.
Restart the browser.
Open the menu (Alt+F), and select Chrome > Settings > Autofill.
On the right, click on Passwords.
Click on the menu button with next to the saved password line and select "Edit password". You'll be able to change it.
You are done.
Sooner or later, this new feature will reach the stable branch. Once it leaves its experimental state, enabling the flag will no longer be required.
The ability to edit saved passwords is not something that we need for every day use, but it is nice to have such a feature in Chrome.