As you may already know, the recently released Firefox version 59 features a reworked user interface for web site permission options. A new section under Privacy in settings allows the user to control Location, Camera, Microphone and Notification permissions. It is not obvious, but you can use these options to disable notification permission requests for all web sites at once.
Many modern web sites come with an option to send a notification when a new content becomes available. Blogs notify users about new posts, YouTube shows notifications about recommended videos.
Many users find these notifications very annoying. Every second web site is asking for permission to send you notifications, which is hell for a user who find no use for such popups. There are plenty of users who consider web notifications redundant and disturbing. Finally, Firefox 59 allows disabling them with a few clicks.
The only problem is that this useful option is buried inside the Privacy options, and it is not so easy to spot it. Let's see how it can be done.
To disable notification requests for all sites in Firefox, do the following.
Open the Firefox browser.
Click on the hamburger menu button (the last button on the right in the toolbar).
The main menu will appear. Click on Options.
In Options, click on Privacy & security on the left.
On the right, go to Permissions.
Click on the Settings button next to Notifications.
The Notification Permissions dialog will open. There, turn on the option Block new requests asking to allow notifications.
You are done! From now, all notification requests will be disabled for all web sites.
Tip: you can use the list in Notification Permissions dialog to whitelist certain web sites and allow them to show notifications. In the following example, YouTube is allowed to show notifications.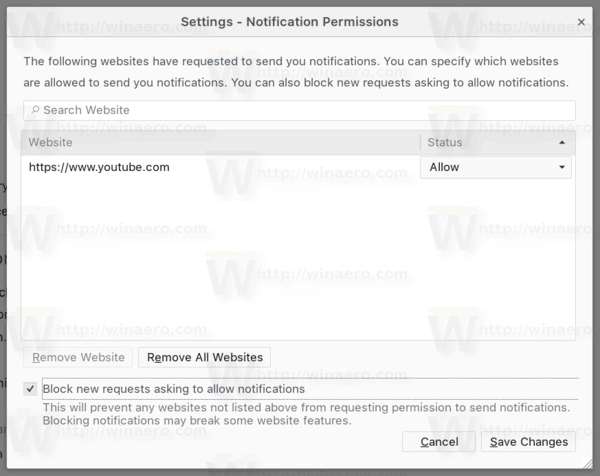 If you are interested in editing the about:config flags, there is a corresponding value dom.webnotifications.enabled. Set it to false to block notifications for all web sites and you are done.
Do you find web notifications useful or you prefer to keep them disabled? Share your preferences in the comments!