A sad announcement came from the developer of the popular Classic Shell app today which restores the Windows 7 or XP style Start menu along with some classic XP-era Windows Explorer features. Ivo Beltchev, who is the person behind the project, today announced that he has discontinued the development of the app but anyone else is free to continue working on it because it is now open source.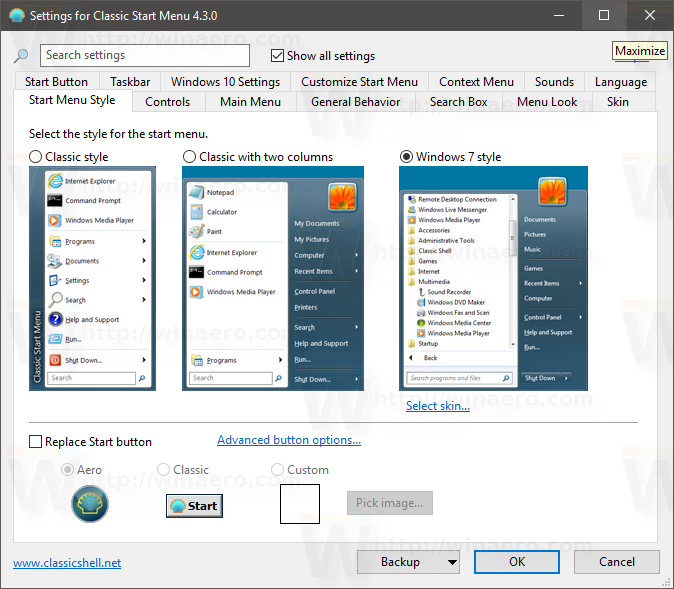 The author cites several reasons for ending development, including change of interests, lack of time, and continual changes in Windows 10 which cause testing and stability issues. According to him, every other update to the OS was breaking things in Classic Shell and the APIs and hooks it relies on to integrate with Explorer. Windows 10 has also moved away from classic Win32 app development and all the focus now is on Universal Windows Platform/Store apps. It is hard to maintain the app and keep it bug-free and working on recent builds of Windows 10. There have been constant crashing or freezing issues with Explorer.
The official announcement of termination of Classic Shell development states the following:
Sad news, everyone.
After months of deliberation, I have decided to stop the development of Classic Shell.
It was a great adventure for me that lasted 8 fun and exciting years. It started back in 2009 as a simple weekend project and over time grew to be a hugely popular software brand with many millions of downloads. It was in large part due to all of you, the active Classic Shell community, that reported issues, suggested features, provided translations, developed new skins and participated in forum discussions. My thanks go to you for your continued support and encouragement.
And of course, special thanks to Gaurav Kale, who stuck with me from the early days to the end. His passion for all things Windows was instrumental to the Classic Shell success.
There were few factors that led to my decision:
1) Lack of free time. I have other hobbies that demand my time, some related to software and some not. It requires a lot of effort to add new major features to Classic Shell and keep it relevant. Even keeping it running on newer version of Windows is a lot of work. That leads me to point #2
2) Windows 10 is being updated way too frequently (twice a year) and each new version changes something that breaks Classic Shell. And
3) Each new version of Windows moves further away from the classic Win32 programming model, which allowed room for a lot of tinkering. The new ways things are done make it very difficult to achieve the same customizations
So, moving forward, I am making the latest version of Classic Shell open-source and adding it back to SourceForge (https://sourceforge.net/projects/classicshell/), where it all began. I encourage other people to fork it and go with it.
I will keep the MediaFire download mirror for another 6 months. The forum on http://www.classicshell.net/forum/ will stay open until the end of 2018, however I will not frequently participate in the discussions.
Thanks again, everyone
All the best
Ivo Beltchev
The source code of the app is published on the SourceForge web site, so anyone interested can fork it and continue the app's development.
This is an enormously sad outcome. For me, Classic Shell was the ultimate Start menu solution - customizable and feature rich! It was the best way to get rid of the Start screen of Windows 8/8.1 and also a faster and more feature-rich alternative to the Start menu in Windows 10. The Windows 10 menu with its tiles, promoted/advertised apps and touch-focused experience did not suit my requirements. In comparison, Classic Shell's menu was endlessly customizable, offered all the features of the Windows XP and 7 Start menus, and had a powerful classic search, similar to the one in the Windows 7 Start menu. There was no Cortana or web search integration which was a blessing for me. Classic Shell made me feel at home, regardless of which Windows version I was using.
Classic Shell has run successfully for 8 long years and has a huge fan following and passionate community.
What about you? Will you miss the app? Tell us in the comments how you feel about the end of Classic Shell.
Support us
Winaero greatly relies on your support. You can help the site keep bringing you interesting and useful content and software by using these options:
If you like this article, please share it using the buttons below. It won't take a lot from you, but it will help us grow. Thanks for your support!