A few days ago, Cinnamon 2.8 was released. This is the flagship desktop environment of the Linux Mint distro. It combines modern technologies invented by Gnome 3 developers with the traditional Desktop look. Cinnamon 2.8 features a number of interesting changes.

First, it comes with new and improved applets for the panel.
The Sound applet got a new layout. Track information and media controls are now part of a new overlay which sits on top of the cover art. For the Banshee app, it also shows a progress bar right in the tray pop-up.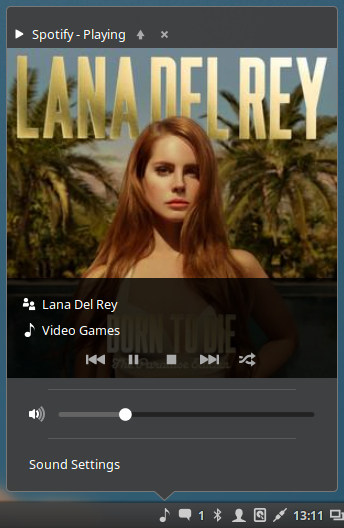 Input controls, applications and output devices were moved to the right-click context menu.
The Power applet received many bug fixes and the way it detects and handles multiple batteries was significantly improved.
Connected devices and batteries are now displayed using the data provided by their manufacturer. In the screenshot above for instance, what was generically described as a "Wireless Mouse" in Cinnamon 2.6 is now described more accurately as a "Logitech M325".
The Workspace switcher applet is now able to show a visual representation of your workspaces, with little rectangles corresponding to each window inside of them.
The System tray shows indicators in addition to tray icons. Indicators are rendered by Cinnamon, follow the current theme/style and have a context menu which looks like the context menu of the panel itself. This allows you to have a more stylish appearance for your workspace.
Thumbnail previews in the panel
The window list in the panel is now able to show window thumbnails. This might remind you of the appearance of Windows and its Aero-powered features:
Visual improvements
The traditional animation effect for minimizing windows was fixed and it is now working with multiple panels.
Some polish and slight visual improvements were applied to both the classic and preview Alt-Tab application switchers.
Box pointers (the little arrows joining applet menus to the panel) received some attention and now look much better than before when close to the edge of the screen.
The Alt-F2 Run dialog received bug fixes and better auto-completion.
Other notable changes include the following:
The display settings now show both, the name of your monitors and the name of the output plug they're connected to. These are known as "output names".
In "Account Details" and "Users and Groups", a strength indicator was added to the dialog window which lets you change passwords.
Better HiDPI support.
Improved window management and rendering performance.
A quick rename feature in the file manager.
Cinnamon 2.8 will be part of Linux Mint 17.3 and will get updated for existing Mint installations via the stock update system. More details you can find in the official blog.
Support us
Winaero greatly relies on your support. You can help the site keep bringing you interesting and useful content and software by using these options: