Google is working on adding support for native Windows notifications in the Chrome browser. This will allow the browser to show native notification toasts, which will appear in the Action Center.
Currently, the browser shows notifications from web apps and web sites using its very own notification system. They do not fit the appearance of the OS, but look nearly similar across all the supported platforms.
This will change for Windows 10 users. The browser will support native notifications with inline replies, images, lists, progress bar
Initially, this feature will be implemented as a flag that interested users can enable manually:
Windows Native Notifications: Enable flag toggling on Windows.

This allows the user to manually opt into using Windows native
notifications instead of Chrome's version of the notifications.

Note: This flag is ignored on versions of Windows old enough
not to support native notifications.
The "old enough" versions of Windows include Windows 10 versions below Anniversary Update, Windows 8.1 and Windows 7. For these operating systems, the browser will continue using its built-in notification system.
Here is how native Chrome notifications look: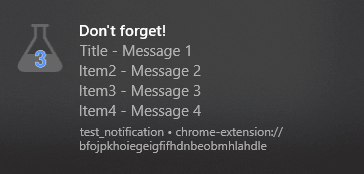 It is not known when the feature will reach the stable version of Google Chrome.
Source: reddit, bug tracker.