Windows 10 includes a new Mail app which is simplistic and allows you to send and receive e-mail from multiple accounts. It looks like Microsoft is working to make the app show ads for non-office 365 subscribers.
RECOMMENDED: Click here to fix Windows errors and optimize system performance
Windows 10 comes with a Universal app, "Mail". The app is intended to provide basic email functionality to Windows 10 users. It supports multiple accounts, comes with preset settings to quickly add mail accounts from popular services, and includes all the essential functionality to read, send and receive emails. The user can customize the app's background image. See Change Mail App Background to Custom Color in Windows 10. Also, Mail for Windows 10 allows taking notes on pictures or adding a drawing using a pen or your finger.
Microsoft is currently testing banner ads in the Mail app for Windows 10.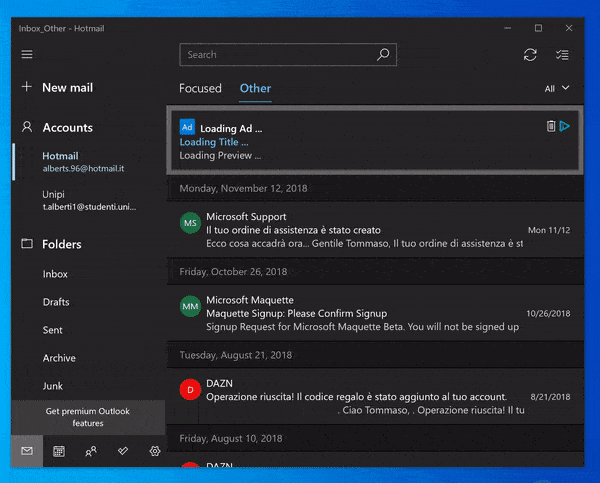 The ads are visible for users who have no Office 365 subscription. It is not known if they can be personalized. Currently, ads in Mail do not include promotions for third-party apps and services and are limited to the Office 365 offer.
The typical static advertisement shown in Universal apps is usually a simple banner or text ad, which leads the user to the Store page of a promoted app and takes the focus away from the currently opened app. On the Store page, the user can read the description of the app, watch its screenshots or videos and then decide to try it or navigate away from that page.
The change has been spotted in the Mail app 11605.11029.20059.0. As of this writing, they appear only in the 'Other' folder of the app, but this may change at any moment.
Source: Aggiornamenti Lumia
RECOMMENDED: Click here to fix Windows errors and optimize system performance