Windows 10 comes with a Universal app, "Mail". The app is intended to provide basic email functionality to Windows 10 users. It supports multiple accounts, comes with preset settings to quickly add mail accounts from popular services, and includes all the essential functionality to read, send and receive emails.

RECOMMENDED: Click here to fix Windows errors and optimize system performance
One of the features of the Mail app in Windows 10 is the ability to customize the app's background image. The app allows you to pick a solid color from hardcoded presets, or use one of the built-in background images, or load a custom image. However, the app doesn't allow you to use a custom color for the background.
Instead, Microsoft made it follow the accent color (the color of the window frame) that you chose in Windows Settings app. Here is how to bypass this limitation.
Open the Paint app. You can use the classic Paint app even if you are running Windows 10 Creators Update.
Fill the image background with any color you like:
Save your image to a PNG file. Use any name you like:
Open the Mail app. You can find it in the Start menu. Tip: Save your time and use the alphabet navigation to quickly get to the Mail app.
In the Mail app, click the gear icon to open its Settings pane. See the screenshot below.
Scroll down to the Background section. There, click the Browse button:
Pick the image file you created with Paint.
Congrats, by using a solid color and saving it as an image, you just applied a custom color for the background of the Mail app in Windows 10.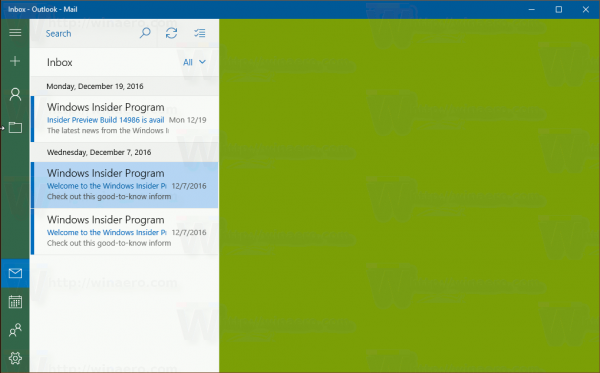 This color can be separate from your Windows global accent color.
RECOMMENDED: Click here to fix Windows errors and optimize system performance