A new build is out to the Slow Ring insiders. Windows 10 Build 18362.10022 represents the next feature update to the OS, known as "version 1909".
RECOMMENDED: Click here to fix Windows errors and optimize system performance
This build includes the improvements and fixes from KB4515384 patch issued on September 10, 2019, along with general improvements to the overall quality of 19H2.
NOTE: For an explanation as to why the 19H2 build number in the Slow ring is different than the 19H2 build number in the Release Preview ring – see this blog post. Microsoft are working to move Insiders in the Slow ring to 19H2 Build 18363 builds.
Microsoft also announced yesterday that we will begin making pre-release Windows 10 feature updates available to IT administrators using Windows Server Update Service (WSUS). For all the details, check out this blog post from Aria Carley. Also, Windows Insider Program for Business customers can now request Microsoft Support for Windows 10 Version 1909 (19H2) builds in the Release Preview and Slow rings.
Windows 10 Version 1909 is the upcoming feature update to Windows 10. Unlike all its predecessors, it won't be released as a full OS image. Instead, Microsoft is about to push it as a cumulative update over the Windows Update.
Windows 10 19H2 is a minor update with a smaller set of enhancements focused primarily on select performance improvements, enterprise features, and quality enhancements.
Microsoft is going to ship Windows 10 19H2 as a cumulative update to Windows 10 users once its development is finished. It will be available to Windows 10 May 2019 Update users as a regular update package, just like the monthly cumulative updates that Microsoft issues for supported Windows 10 versions.
Сheck out the following blog post: Microsoft Details Its Plans for Windows 10 19H2.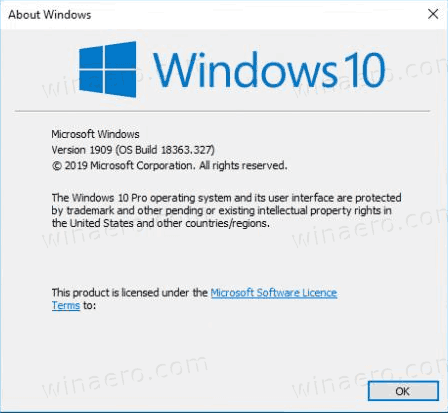 See all the changes introduced in version 1909:
What's New in Windows 10 Version 1909 (19H2)
Also, check out System Requirements for Windows 10 Version 1909. to find if your PC is capable to get the update.
Source: The official Windows Insider Program Blog.
RECOMMENDED: Click here to fix Windows errors and optimize system performance