A new version of the popular Mozilla Firefox browser is out. Version 54 features Screenshots, Mobile bookmarks, a refined user interface for downloads and multiprocess content processes.

RECOMMENDED: Click here to fix Windows errors and optimize system performance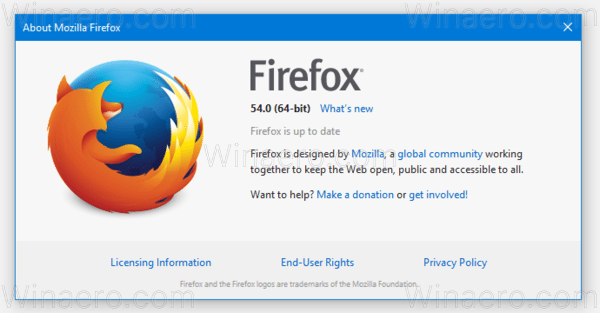 Starting with version 54, the multiprocess content feature (e10s) is enabled by default. This improves the reliability of Firefox, because if one tab crashes, the other will continue working. Besides the main process, which handles the user interface, Firefox 54 starts up to 4 processes for content. The user can configure the number of process by visiting about:config and setting the variable dom.ipc.processCount.
Firefox 54 comes with a refined user interface for downloads which now shows extra details in the download panel. The appearance of the download button and the download status panel is also updated.
A new section was added to the bookmarks menu and on the bookmarks panel. It is called "Mobile Bookmarks". It stores a list of bookmarks which were synced with mobile devices.
Firefox Screenshots is a new system add-on. It allows you to capture a screenshot of the opened web page and quickly share it with your friends. The screenshot can be uploaded online and shared over Facebook, Twitter and Pinterest. We have reviewed this feature in detail here: Firefox Is Getting The Screenshots Feature.
The server-side software of Firefox Screenshots is open source. Interested users can install it on their own hardware.
Besides these changes, there are lots of security issues which were resolved and tons of improvements were added to developer tools.
You can learn about all the smaller changes in the full change log at the official announcement page.
If you already have Firefox installed, you can press the Alt key on the keyboard to show the menu and select Help - About. This will make Firefox check for updates and download the new version. Otherwise the browser can be downloaded from Mozilla's server using the following link: